clearing out all my spares & frames to leave me the bits to build one bike to keep.
the following parts havent made the cut and are up for what i think is a fair price (but please make me an offer if you think i am out) daft offers welcomed for job lots or a really daft offer for everything is welcome to save me ebaying everything next week!
i am open to swaps on... an 18/19" frame, trek, spesh etc. dont really interest me but am open to the idea of another orange, marin, kona or something a little different - a rock lobster frame perhaps would be great. I have paypal dollars waiting for a frame so pm if you have something i might be intersted in. also would consider a short-ish (100-110mm travel) lockout fork to match (19" c-t orange / 18" marin size is ideal for me for a frame)
so, in no particular order... (prices do not include postage, i will work this out for job lots etc. to make it better value for you)
m510 deore components.
1 x nos front hub (silver) £5
2 x pairs silver V brakes with pads (used but some life left) £15 for 4 arms... no noodles or boots though, sorry
silver control set (right sti unit, left shifter & brake lever for 1x9/3x9 switching) £20
tatty but works fine black rear mech £8
crank set 175mm arms £10 with loads of heelrub added free of charge!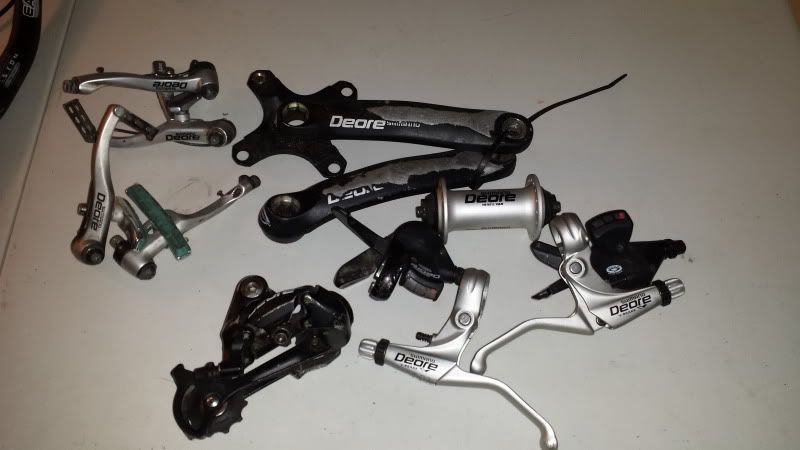 other shimano...
m530 deore front mech, dual pull £10
m530 shifters £18
m581 lx rear mech £15
m770 xt front mech, bottom pull only i think (more used to sram mechs) £16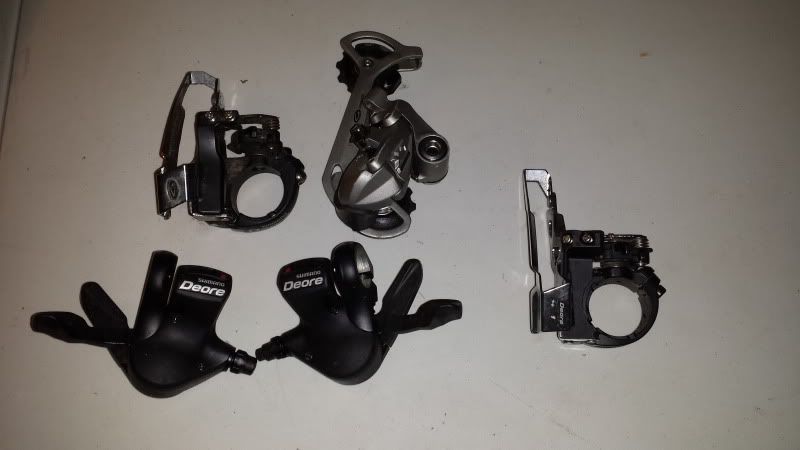 bars / stems / posts
titanium brahma bar £30
easton ea30 £10
koski stem £5
koski seatpost 27.2mm £8
madison cromo post 26.8mm £8
misc. bits
shimano at10 cranks 170mm £10
1" quill flexstem - tatty but good rubber £10 (includes 1 1/8 shim)
tioga t-bone 1 1/8" x 130mm £8
syncros 110mm grey, tatty, top caps gone walkies hence £10
clarks lock-ons, white rubber, red ano collars, boxed but grubby £5
red ano ging tensioner, boxed, fitted but not ridden £7
1 1/8" quill - ahead adaptor £6
avid sd 1.9 levers £5
avid sd7 levers (grraphite) £13
fsa 68x110mm BB new £8
not pictured...
charge spoon, black, white stitching, red logo £15
charge stool, brown £12.50 (comfier than the spoon but not as sleek or light)
finally, 17" orange gringo frame, blue powdercoat in very good condition, slight damage to seattube decals (bb and 170mm race face ride chainset not included but can be for extra £35) will include a no name headset & plain black seat post clamp & collar £60
if you are interested in the frame & some components I would do the frame, bb, crank, deore m510 group (m530 front mech) koski post & stem, random saddle, plain black lock on grips and easton bar for £130 (just add wheelset and forks for a complete bike)
as above - offers readily accepted so long as they are sensible. please allow a few days for me to get to the post office with parts (anything heavy ish will be sent by yodel24 or similar service to avoid daft rm charges)