CLAUD BUTLER ~ CAPE WRATH, Size 16", £145 ovno. Collection only for sale of Mountain Bike.
Excellent condition, rides great, perfect fit for persons 5´8" - 5´ 1".
Specification Summary:
Frame: 16" Alloy
Suspension Forks: Rock Shox Judy TT, SPRING adjustable, Aheadset 1" 1/8th.
Gears/Groupset: Shimano Deore Lx.
Wheels: Mavic 117 rims & Shimano Deore Hubs.
Brakes: Shimano Deore BR-M495 Cable Pull Disc brakes.
Extras: Bike Speedo, MudGuards CrudCatcher, Barends Alloy,
Front rechargeable Light, Rear Light, Water bottle/holder & quality coil lock.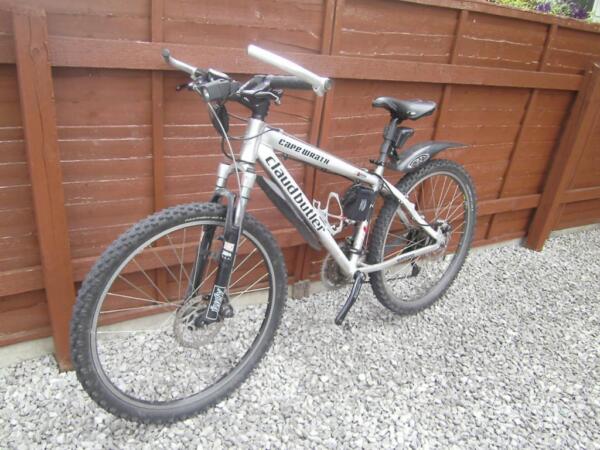 FULL SPECIFICATION:
FRAME ALLOY 7005 SERIES, TAPERED ROUND TO SQUARE, 16"
FORK ROCK SHOX JUDY TT: 10cm travel. Dual Stage: Coil & elastomer spring
1 top cap preload adjuster, L/H crown: Clockwise ~ Harder. Anti-Clockwise ~ Softer
Weight: 3.96 lb. (1.80 kg = 1800 Grams). 1 1/8" steerer, unbranded Aheadset, Bearings 5/32"
WHEELS MAVIC 117 rims, S/S spokes, DEORE hubs with Quick Release.
Front= HB-M475 (With 3/16" bearings, 10 each side in cage, total of 20 Bearings)
Rear= FH-M475 (With ¼" bearings, 9 each side loose, total of 18 Bearings)
TYRES TIOGA XC TYRES 26" x 1.95
FRONT/REAR MECH SHIMANO DEORE (3spd Front Mech [31.8Ø] x 9spd Rear Mech = 27 spd)
STEM KORE AHEADSET ALLOY (AHEADSET UNBRANDED) 1 1/8" (Bearings 5/32")
HANDLEBARS TIOGA ALLOY RISER
CHAINSET TRUVATIV FIVE-D 22/32/43 (BB AXLE L: = 11.4cm = 114mm approx, Shell W: 68mm)
FRONT BRAKE DEORE FRONT CABLE PULL DISK BRAKE (BR-M495 with pads M08)
REAR BRAKE DEORE REAR CABLE PULL DISK BRAKE (BR-M495 with pads M08)
SADDLE & SEAT POST TIOGA SEAT. SEAT POST 27.2Ø LENGTH: 32CM. Q/R clamp:31.8Ø Bolt:M6 L:4cm
FRONT MUDGUARD DOWNTUBE CRUD CATCHER
REAR MUDGUARD SEAT POST CRUD CATCHER
BARENDS ALLOY 'L' END
FRONT LIGHT NITE RIDER ROADRAT, Halogen 100w Bulb rechargeable (850g: Lamp, bracket & battery 6V 6ah)
REAR LIGHT CATEYE BULB
PEDALS SHIMANO CLIPLESS SPD'S DEORE (PD-M520 use with Cleats SM-SH51)
MTB SPEEDO ECHO W1 WIRELESS
BOTTLE & HOLDER SPECIALIZED PLASTIC

_________________
Cheers Stephan

Giant Trance x1 ~ 2008