Bit of a mixture of things, mostly more modern and some retro too but easier to list all in one place. Prices inc post so happy to combine stuff and more details / pics on request.
EDIT : New things at the bottom of this list
Stems ...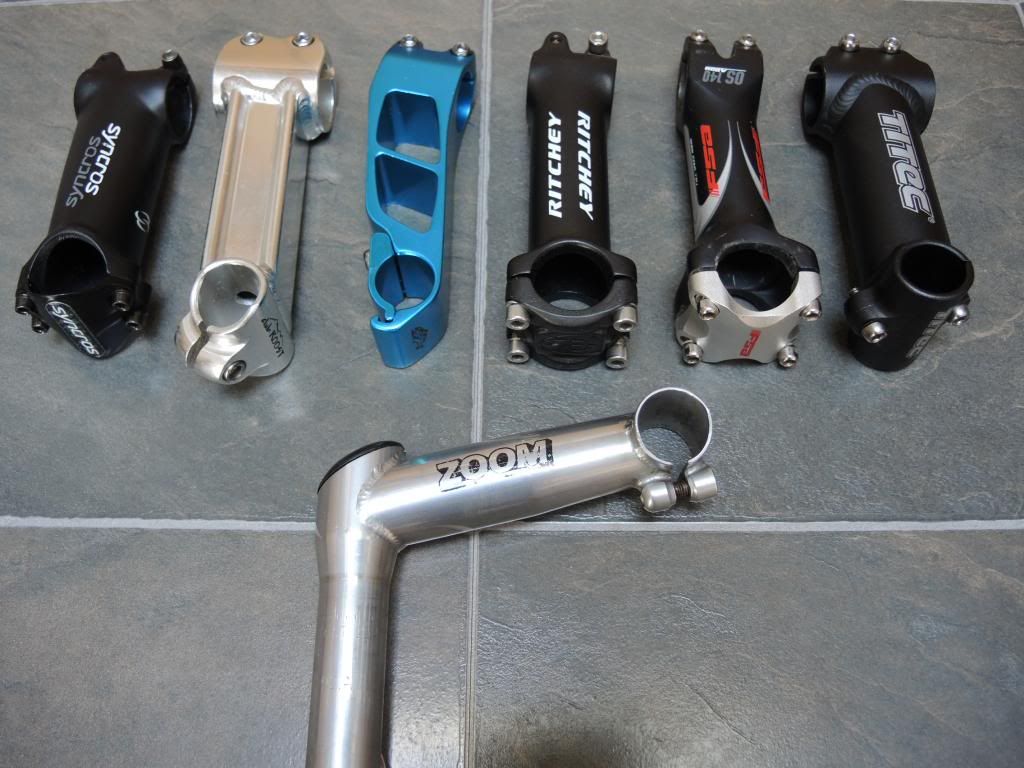 All are 1 1/8th steerer
Syncros FL 110mm all black, OS, like new condition £12.50
SWAPPED
Club Roost I beam stem 135mm, new, very shiny and square £10
Fred Salmon 110mm in lovely anno blue, NOS £12.50 (removed from sale)
Ritchey 120mm black, OS, new, £10
FSA XC 140 120mm (low stack) OS, £10
Titec 120mm new black £10
Zoom quill stem satin silver, very good condition, inc top cap £7.50
SOLD
Cranks, BB's, pedals, XTR cassette ...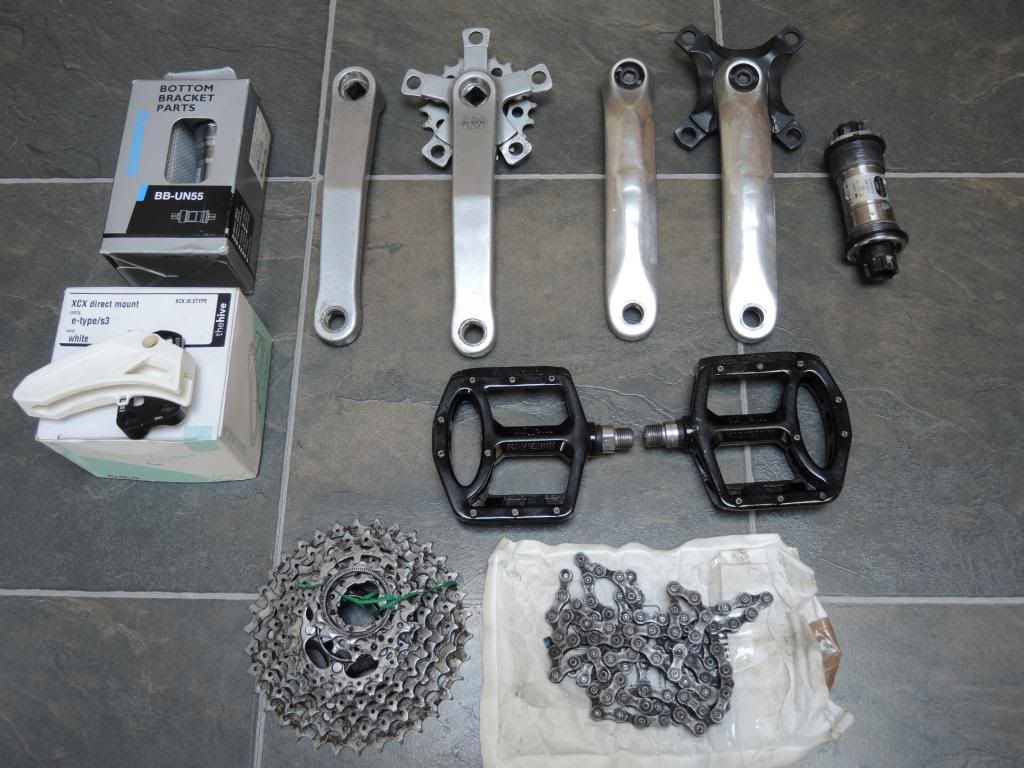 Boxed new UN55 68x118 BB £15
SOLD
White Industries (Sugino) cranks with 20T inner ring £30 or £35 with Sugino 44T outer as well pictured below.
SOLD
XT M751 hollowtech cranks with matching ES71 octalink BB £25
Wellgo MG-1 magnesium flat pedals - very light used once £25
SOLD
XTR 9 speed cassette with matching chain, well used but life left in it yet - £22.50
SOLD
Grips and barends ...
Superstar lockons black with gold end caps £7.50
DMR Mutha in lovely green £7.50
SOLD
Sunline black with pewter end caps used once so excellent condition £10
Outland brown lockons £6
SOLD
Raceface black £6
Onza Ules in yellow £6
SWAPPED
Nitrile foam 25g superlight grips new £6
SOLD
BBB stubbie barends white £6
Ravx ski barends in bronzy grey colour - have 3 of these for some reason ? £6
Brakes, levers, shifter and mech
DX red V levers, a bit faded and a few scrapes £10
SWAPPED
Tektro Eclipse (Avid style) levers - one is slightly bent but very tidy £6
XT M770 V brakes, full set with decent pads, bolts and noodles £30
Alivio RH 8 speed shifter £10
SRAM X9 direct mount 2x10 front mech £10
Small things ...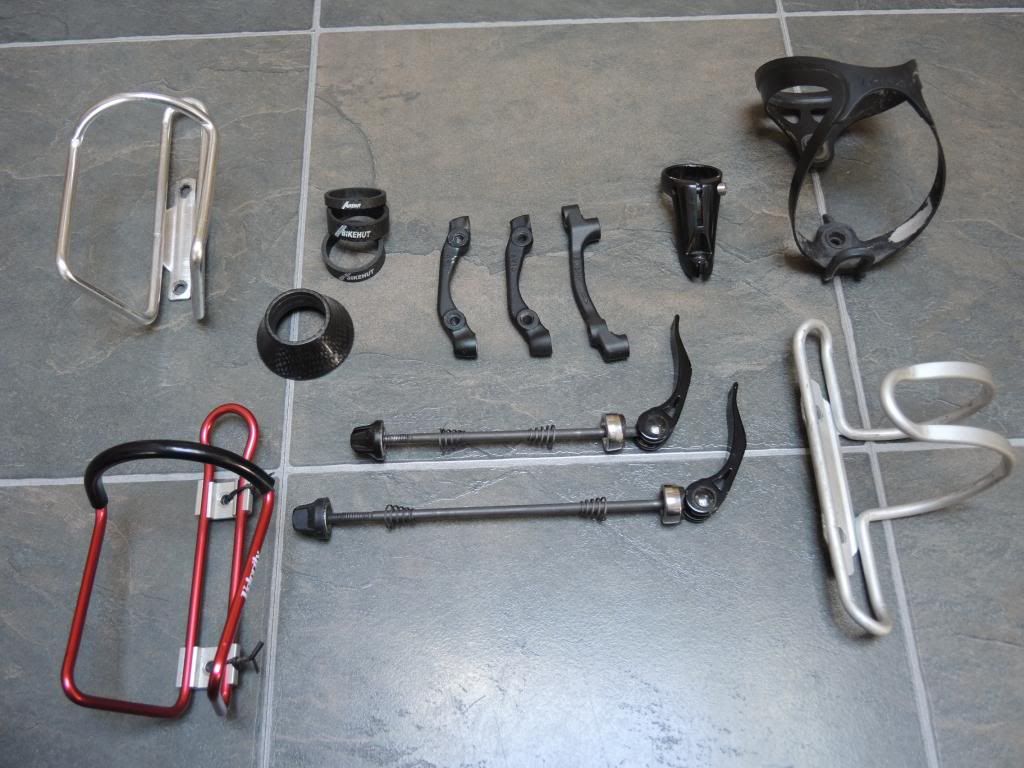 Various bottle cages £5 ea.
all gone
Carbon top hat spacer £5
Bikehut carbon spacers x 3 £5
Black skewers front and rear £6
Avid 160mm PM/IS adaptors £4 ea. > 1 left.
Avid 203mm PM/PM adaptor £4
SOLD
Canti hanger £5
Karma'd
Chainrings and Chainguide ...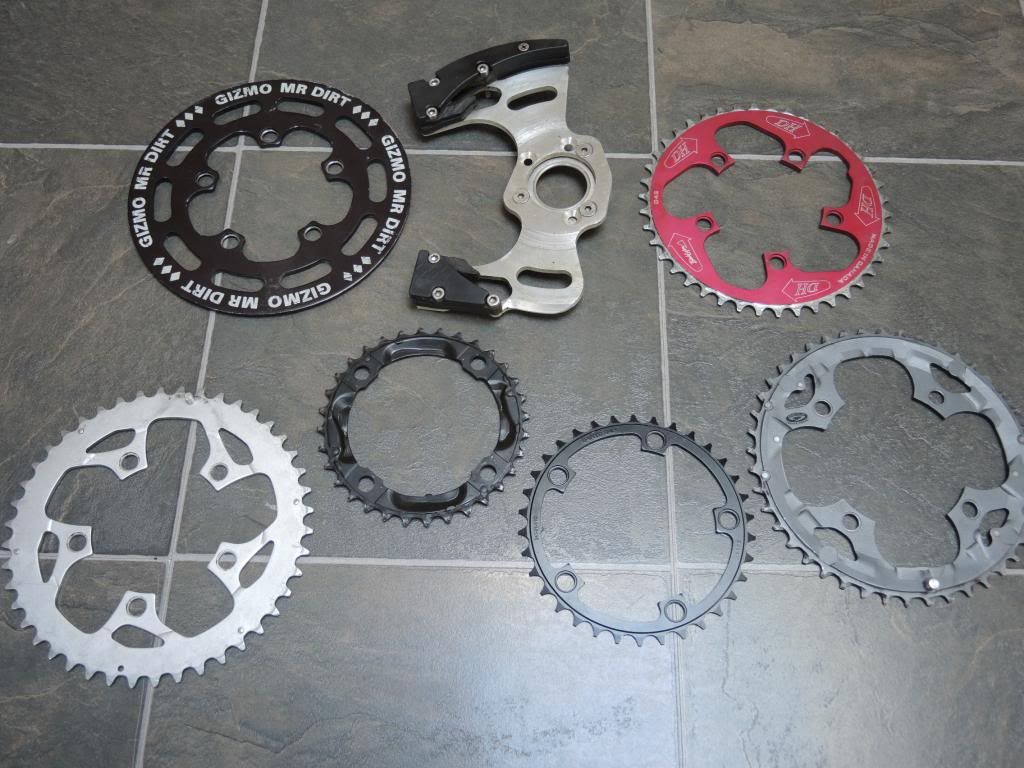 Mr Dirt Gizmo chainkeeper (BB or bolt fit) £20
E13 XCX S3 direct mount in white with box/spacers etc £30
Blackspire DH ring red 5 bolt 42T £15
Sugino 44T 5 bolt silver £7.50
SOLD
Shimano SG-X steel 4 bolt black 32T £5
SOLD
SRAM 110bcd 34T 10 speed black used once £10
Shimano Mega 9 44T 4 bolt used but tidy £5
Saddles, posts, clamps ...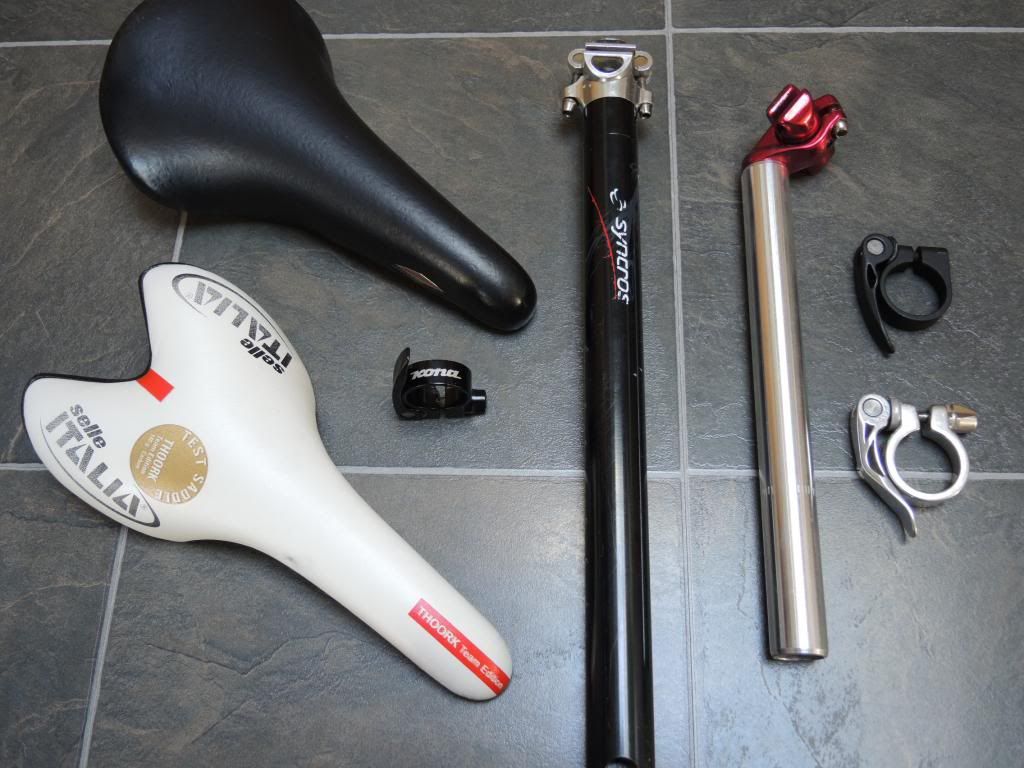 SLR Team Thoork Edition - carbon rails 140g £40
San Marco Rolls in excellent condition £30
Syncros 31.6mm post - Grunge black in excellent condition £15
No name alloy 27.0mm post anno red clamp, new 300mm £10
Various clamps £5 ea. Kona one is 32mm OD
Bars ...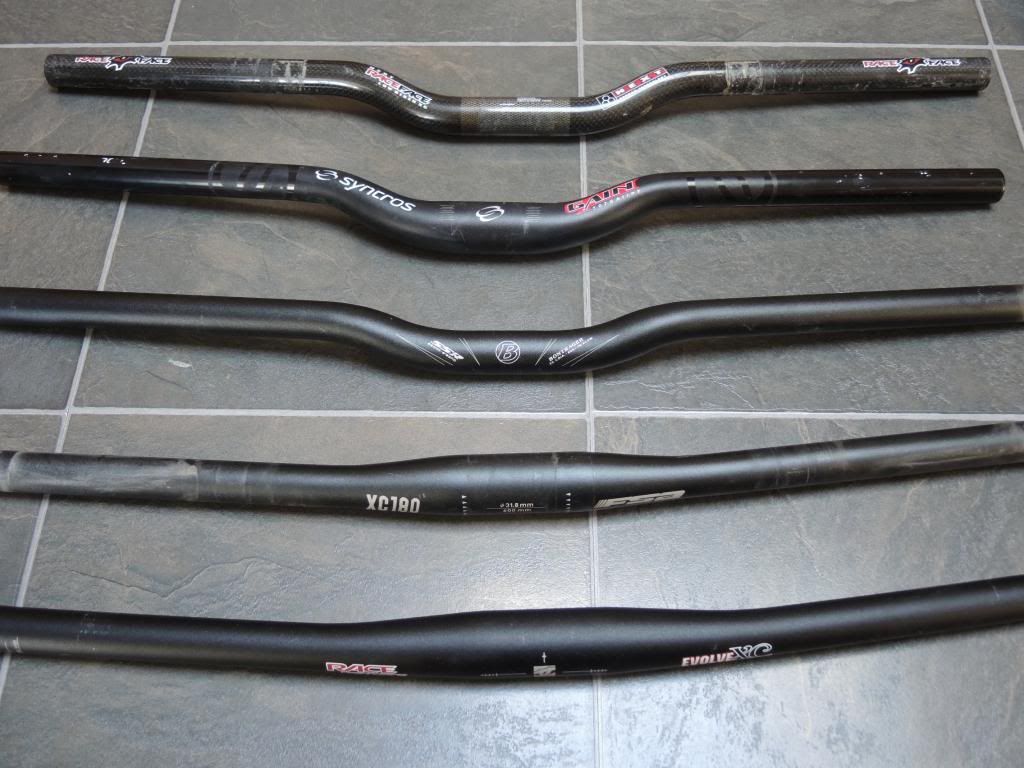 RaceFace Next carbon risers £22.50
Syncros Gain alloy risers in excellent condition - £15
SWAPPED
Bontrager SSR alloy risers £10
FSA XC 180 flats OS £12.50
RaceFace Evolve XC flats OS , new £15
Forks ...
Spinner Cr-Mo threaded 1 1/8th steerer - 164mm to top, thread starts at 125mm - very good condition £20 (threaded headset available FOC with these)
RST Gila T5 forks Karma (postage or pickup) - these are in very tidy condition and travel nicely but seem a bit loose under braking so service needed. -
gone
New parts added 25/06 ... pic to follow
Superstar Ti/Carbon ultralight skewers in black - 43g pair £15
SOLD
Pace 110BCD 46T outer chainring (extruder groove) in blue £15
Avid BB5 caliper plus 160mm G3CS rotor, bolts, PM/IS adapter etc brand new £35
Complete DH crankset package - CPI (Cannondale?) 5 bolt square taper cranks with UN54BB, Blackspire 42T DH ring and Mr Dirt Gizmo chainguide all together £55