For sale:
Link:
http://www.pinkbike.com/buysell/1335334/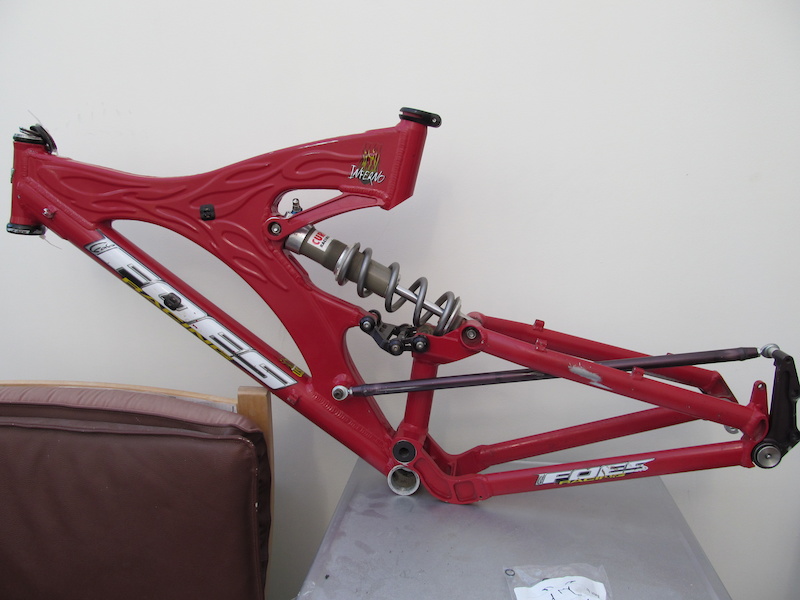 Foes Inferno Medium.
Curnutt XTD Shock with 350lb Ti Coil
Floating Brake
Pig DH Pro headset
Seatclamp
Seatpost shim to 30.9
XTR front mech (bottom pull)
Spare dropout, and Floating brake bolt
Rebound, Progressiveness, and Threshold adjustment.
QR 135mm rear end
68mm BB
31.6 Seatpost (including a shim for 30.9 posts)
1 1/8th headtube
All bearings were replaced with Enduro Max full compliment bearings back Oct 2012. (apart from ones in the floating arm)
This frame has been my pride and joy for the last 2years, and seen all types of riding from uplifts to trailcentres to all day epics.
I've just switched to a Sinister Splinter as it was one of the few bikes I really had a soft spot for.
Fitted with 170mm forks (my '06 66 SL) the headangle is 66Degrees, BB height is 13.5in, and with a dropper post it's the perfect bike to do everything.
I don't like the term "enduro", but this is probably how you'd describe it these days. It's one bike that will do it all, a true all mountain bike.
7.5in of rear travel through the Curnutt XTD Ti shock that will munch through anything you can throw at it, and still pedal to the top without breaking a sweat.
The frame has normal wear and tear to the paintwork:
The downtube has marking from rock strikes
The chain stay and seat stay have chain slap (I covered them with protective tape when i got it, so it didn't get worse.)
There is cable marks on the floating brake arm, and rear swing arm.
This is a light frame for the travel that was years before it's time in geometry and weight, and would suit a rider 5'8-6'2.
I had it built up with all top end components and it came pretty much bang on 30lb.
It is a rare frame and will deffinitely get noticed on the trail.
Reviews can be seen here:
http://www.mtbr.com/cat/bikes/allmtn-fu ... 47crx.aspx
Asking £450 posted.