Made for 29" wheels from full True Temper OX Platinum steel, with Bushnell Featherweight eccentric bottom bracket. 'Tomatilla Green'.
http://www.henryjames.com/oxplat.html
http://www.bushnelltandems.com/eccentric.html
Large/20"
Virtual top tube (horizontal): 24.4"
Actual seat tube: 21.7"
This frame is designed to fit like a 20" traditional size MTB.
Complete geo:
http://www.salsacycles.com/archive/elmariachi.html
It's a far superior frame to the current model: the top-end tubeset feels stiff but lively and comfortable, and the EBB has been 100% reliable/hassle-free. Retail value at the time was £750. There are a few minor scratches but no big ones/dents; overall condition is great. They changed the frame design in 2008; most people seemed to prefer the ride quality of this one.
Front wheel: Hope Pro 2 - DT comp - Mavic TN719
Rear wheels: Hope SS/trials hub - DT Comp - Mavic TN719
Shimano Alfine 8 - DT Comp - Mavic TN719
Brakes: Shimano XT; Shimano rotors. Recently bled w/ new pads.
Chainset: Shimano SLX with Blackspire 1x chainring
Shifters: Shimano SLX
Shimano Alfine 8
R Mech: Shimano SLX
Pedals: Shimano DX
Headset: Hope
Bars/stem: Blackspire (I can lob in a set of On One Mary bars with fairly basic Bontrager OS stem if you like)
Grips/saddle: Bontrager
Seatpost: Bontrager Rhythm
Rack: Topeak 29 Disc
Tyres: Halo Twin Rail 29 (these are alright round town or on the towpath; will also chuck in 3x Bontrager Jones ACX tyres, 2 of which have been slightly used but still have pretty much full tread. These are my favourite all-round off-road tyres; shame the eejits stopped makin 'em).
This bike is a seriously adaptable beast, and can easily be set up with an 8-speed hub gear or single speed drivetrain using the included parts.
Current set-up is 1x6 derailleur shift, which for me is the most all-round fun.
With the Alfine and the rack it makes a perfect long haul/off road tourer.
Set up as a nice nimble SS it seriously batters through Epping mud or such.
Available for viewing at East Central Cycles, London EC1R 4QE.
£800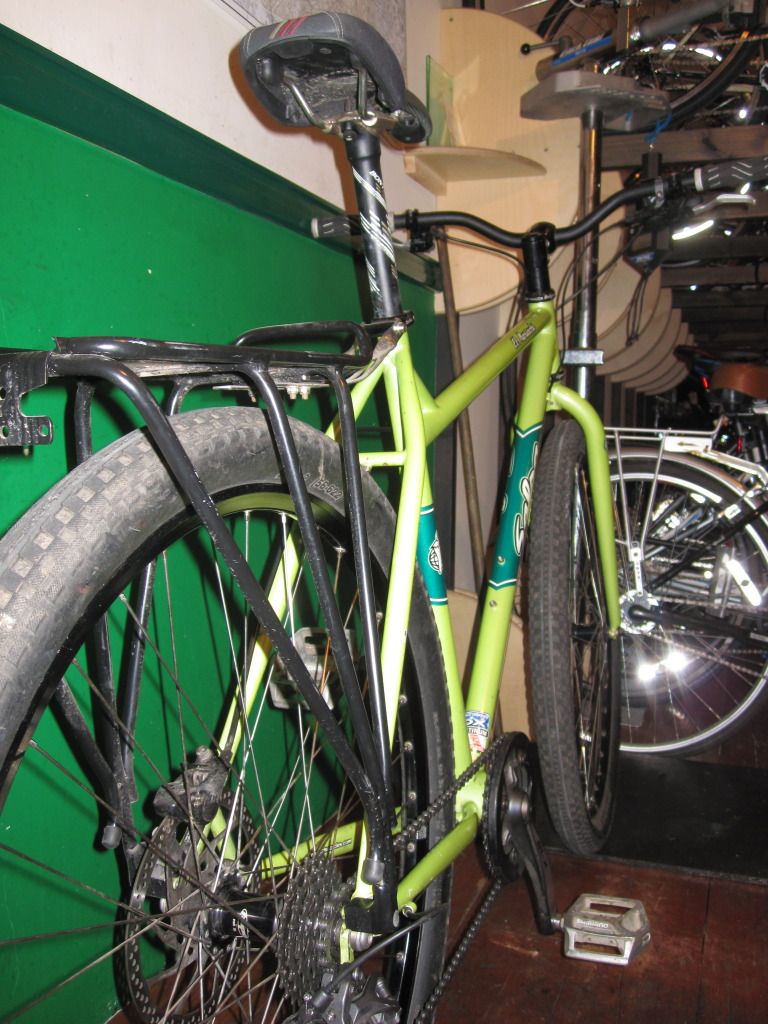 Cheers!