Found these at the back of the Garage so will resurrect this thread. One job lot for everything. A few things sold previously as stated below.
£30 delivered. Now £25.
SOLD
still see these popping up on ebay for £20-£30 each. Need to fund my recent fork purchase before the misses finds out.
Loads of Marzocchi spares available. All nos except the 888 springs. Not sure on exact fittings other than stated so I'll list the model and the part numbers for your researching pleasure.
Few more pics here
http://s648.photobucket.com/albums/uu207/rumblytripod/
Right Spares first:
Prices dropped all round.
2002 Jr/Super T 150/170 piston rod - 8031133.
2003 DJ 110/130 - 8031152 piston rod.
SOLD
Unknown piston rod - 850354 fatter than the others and all metal. possibly Monster T or Shiver (complete guess)
2003 Jr/Super T Plug unit top cap - 701228. 2 of these
Just 1 left
R5089AB Slider protector tool for installing new seals.
SOLD
Unknown 220mm X 30mm stanchion. £6
Springs and travel kits next:
Going off the info on the pack the springs are universal across the range. So a 130mm spring should be suitable for any 130mm fork from that era but this might have changed as the model info on the packs on goes to 2002.
Pair of unknown orange 150mm X 20mm.
Pair of unknown orange 155mm X 23mm.
Pair of unknown red 175mm X 20mm.
2003 Jr/Super T Yellow 170mm. 514128 pring K=11,0.
SOLD
2003 DJ 130mm Orange. 5141280 Spring K=6,0.
03/04 Z150. 2 differnt size springs, one blue one black but the pack is still sealed, presume it is intended. 850875 K=4,0.
888 Standard springs, been swapped with what came in the pack. Look mint.
130mm Progressive springs. 5141155. K=3,2 - 3,65. From the back of the pack suitable for 99/2000/2001 130mm forks.
03 DJ Travel extension kit 110mm-130mm 850347.
2000 Z1 CR-QR Travel Extension kit. 110mm-130mm.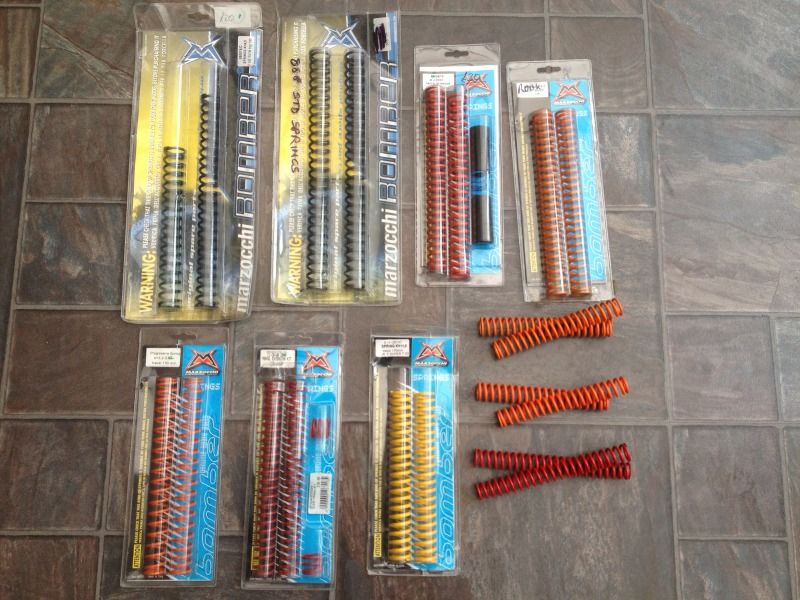 Ta