Ride Report - Warning, contains spoilers...
I spent the few days running up to the unveiling nervously watching the weather, both out of the window and several tinternet pages...will it hold, will we have a repeat of the last concourse de café or worse, will we be blown inside out??
turns out i had nothing to worry about, the force was strong...gale force.
The morning started bright and only a little breezy in hilly Angmering, Mrs BCM requiring only the gentlest persuasion to drag her curly head off the pillow and into her lycra. With only a little faffing of bikes and outfits (this was purely weather based, i promise) Team BCM were ready..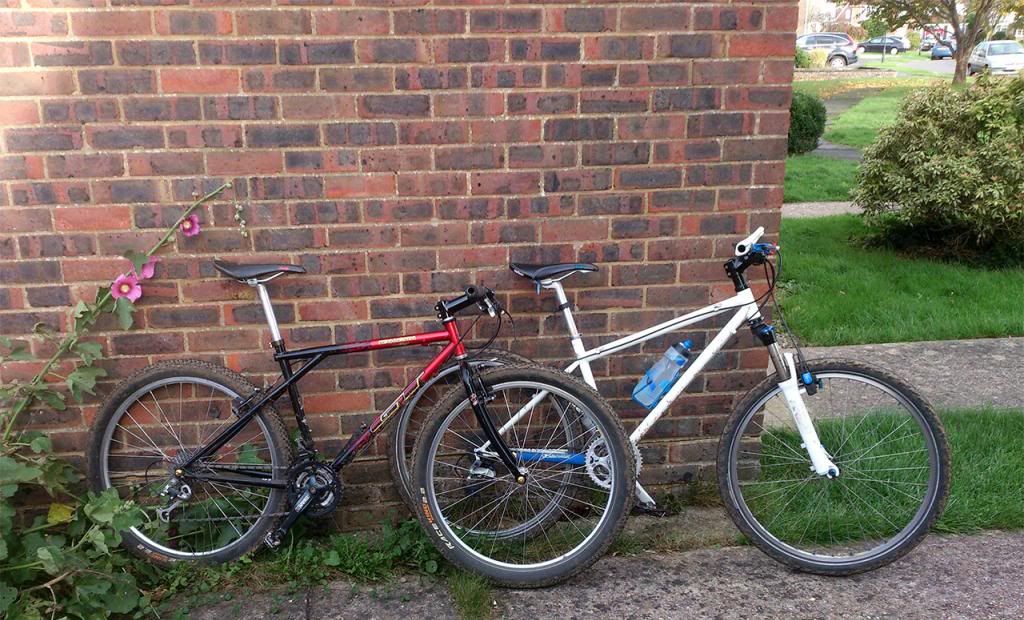 A short spin down to the train station, a fortune parted with and possibly the most unhelpful barrier guard I've ever met and we on the platform, locomotion in potentia.
A poke out of the head at Worthing and we'd picked up our first unsuspecting participant. Jonathan, a friend of Mrs BCM, mostly uses his bike for the commute to work, so wasn't really prepared for the levels of sugar we were about to unleash upon him.
The train pulled into Hove and we'd picked up two more - kampos and his buddy Paul, riding a lovely Cindercone and Salsa respectively
We pushed off down to the coast, gradually picking up speed, a couple of quick left and rights and we we suddenly on the seafront, all to aware of how much the wind had picked up and temperature cooled.
Godders and TheCyclingGardner were there to meet us, swiftly followed by another of kampos' friends, Dave and then MikeMuz. Introductions made and friendships renewed, we set about inspecting the merchandise and waiting to see who else appeared. DA-EVO was the last of the motely crew to arrive.
Ten thirty couldn't come quick enough as standing around in the slightly more than brisk breeze was starting to creep into our bones. I took an executive decision and we were off, pushing into the ever increasing westerly up to Carots Cafe, and our first caffeine & sugar fix.
5 scant minutes before we were due to arrive at our pit stop and my phone rang. I waved the back markers on and huddled down to take the call...
"who?..."
"...what?..."
"haha, oh god, I'm sorry I forgot you were coming too! Get on your bike and catch up!"
..and Twain was on his way.
Carats, as always, was busy but the cake was sugary and coffee strong. The walls sheltered us and the sun warmed our extremities as we settled in
I took some time out to admire some of the steeds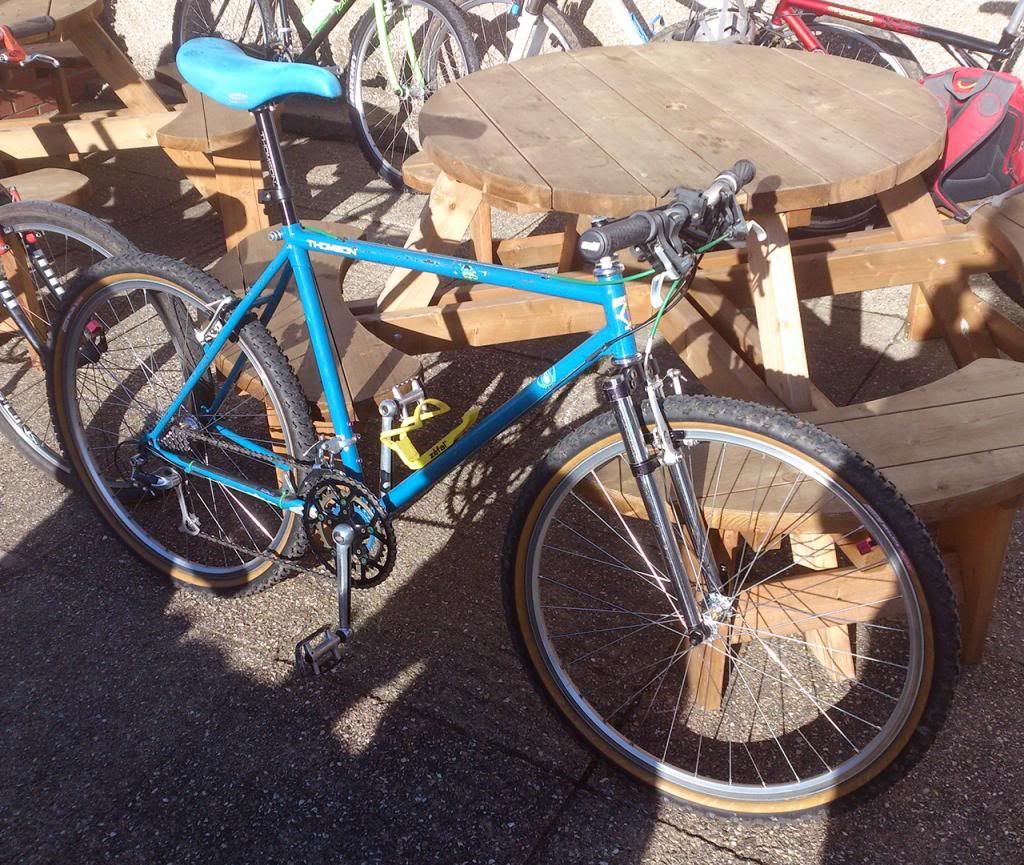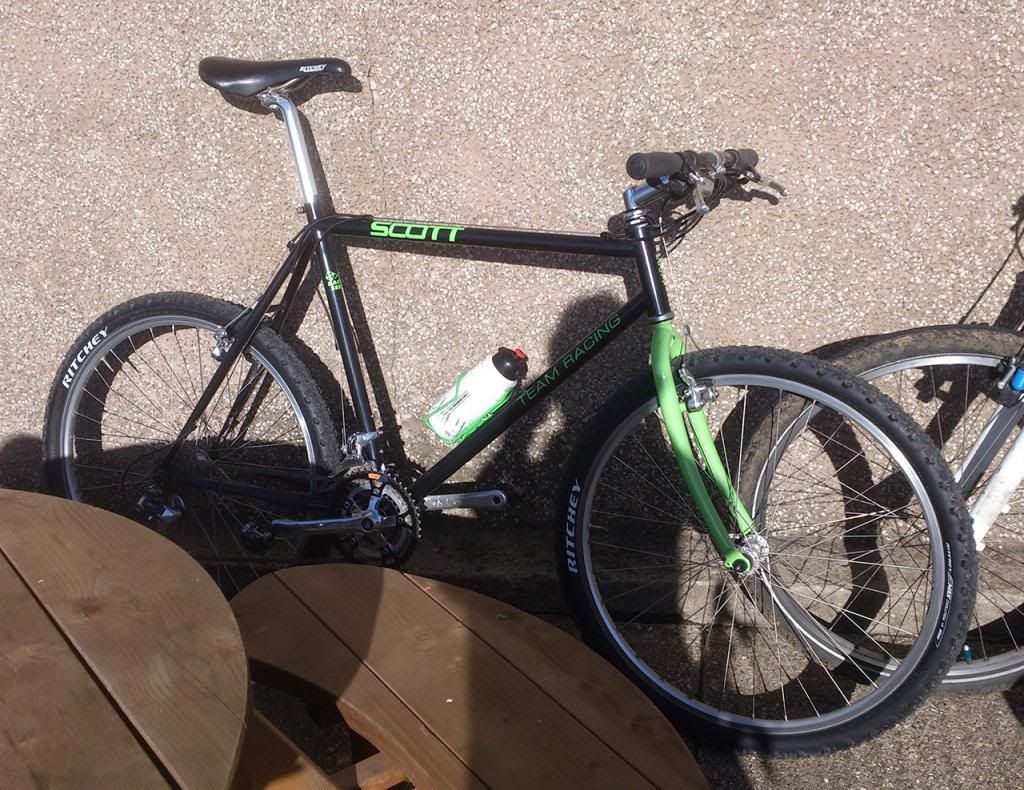 With twain back in the fold and cake demolished, we spun on our heels and with not a care we set back to our start point and on to the Meeting Place, only to be ambushed by Anthony, an unexpected and very pleasant surprise.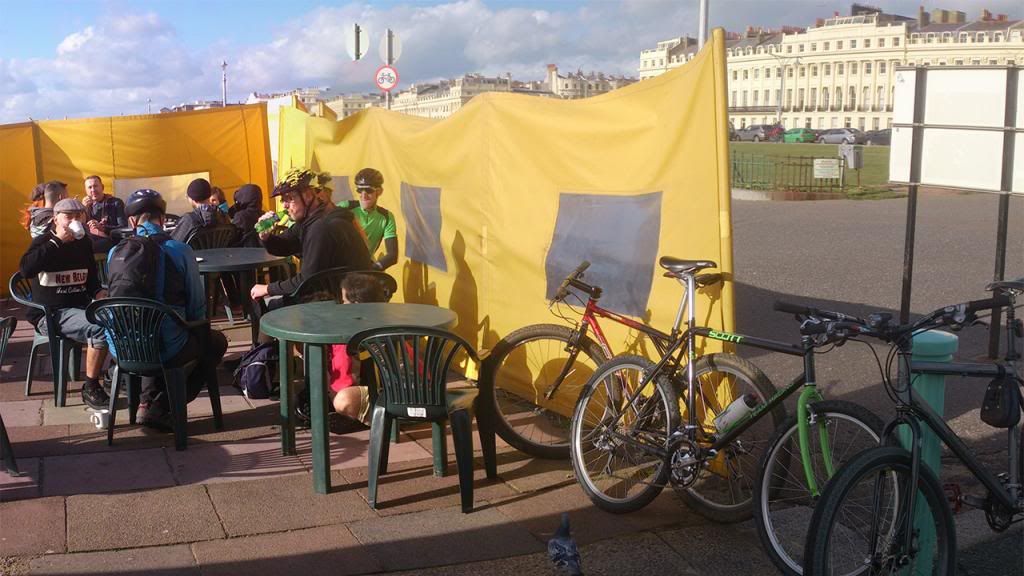 I'm ashamed to say that after the sugary amazingness of the chocolate cake at Carats I had no option but to combat it with bacon. oh yes.
The peloton shifted snake-like down the esplanade, breakaways being reeled back in only to sneak back out, we sailed speedily on to the marina, losing twain before the pier citing poorly kiddies as his excuse..
Without warning our progess came to a shuddering screeching halt. Marine Parade was hosting a Vintage car rally, and beautiful though the cars were, I couldn't help but feel I'd been transplanted into an episode of Wacky Races. It's best we don't mention the spectators, spacial awareness is obviously not a pre-requisite.
We decided to forgo the Marina wall, the waves were splendid to view from afar but decidedly wet and cold, we imagined, up close. This was our first mistake. I should've seen the signs...
The cliff pass is always interesting even in calm weather, the waves push right up to the defenses and two of our company got up close and personal with a wave on the way to our final cake stop.

With most of our party fully fuelled a little voice piped up that she needed some chips, and DA-EVO suggested an unscheduled fish and chip shop stop. We wobbled on a little further down the cliff pass, well and truly lulled.
we stopped. we turned. we pedalled, but only just.
Our spin east from Shoreham had done us no favours, the wind speed gradually increasing as we indulged our cravings. The short hop back to the Rottingdean turn off was only an unpleasant inkling into what lay ahead. With a difficult decision to make we opted for the top road.
For some, the way ahead was a challenge, for others a mere irritation but for some it pushed them almost to their limits, and when we were all accounted for back at the marina, the grins were nearly all genuine.
The rest of the journey back west was challenging at times, but still manageable. We lost TheCyclingGardner as we past the pier for the second time.
One last picture back at the start point and with rain on the horizon, we decided it best to head for home
A brief stop en route for a Kebab for the journey home (Mrs BCM never did get her chips) and we were on the train.
Thank you to everyone for turning up, especially as the thread was a little quiet.
Bike of the ride goes to Mike Muz for his lovely Scott, and also I might add the only person to be taking part in Movember!
Early mustache of the ride goes to TheCyclingGardner for his heroic (despite the cheating) effort. Please tell me someone got a pic??