The day was as kampos described - "grey and uninspiring...but at least it wasn't wet!"
A gentle little spin down to the local train station to meet the latest victim to the south east contingent for 8.45 and we were off. An easy 15 miles on beach promenade and quiet tarmac, talking bikes and getting warmed up for the inevitable sugar and caffeine highs and lows. All too soon were in in Shoreham, crossing the sea locks to our starting grid at Carats Café. Jonnyboy's monotoned mystery van loomed out of the sea mist and we set him right getting to the car park.
Bacon, coffee & OJ ordered fairly promptly and we settled in for the teeming throngs of Retrobike riders to arrive.
Purley Squire arrived resplendant in fluro yellow and warpedboy2 appeared soon after out of the gloom and joined up with Jonnyboy in the carpark, leaving the three of us wondering what was could be happening in that van.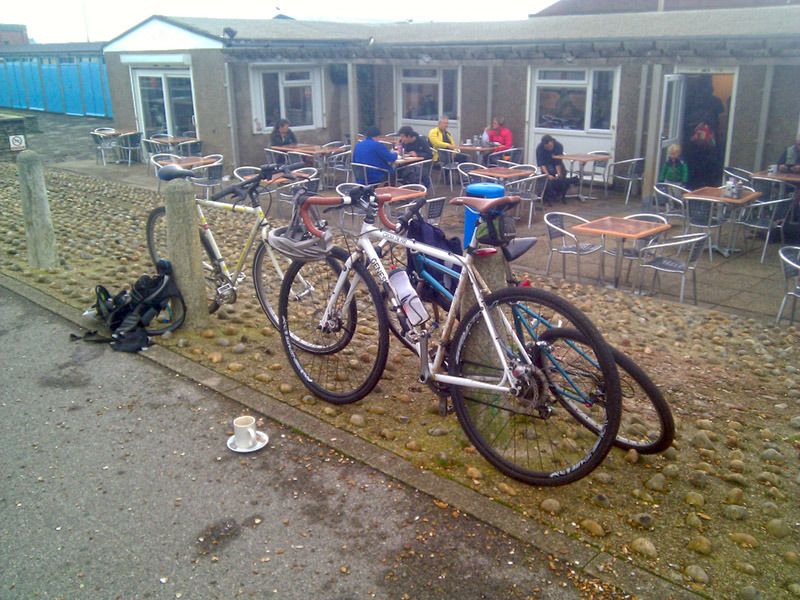 The starting time came and went in a flurry of chat ("just say yes you fool!"), bacon and steaming mugs of tea, but we were at least one man down. Missed calls, a cryptic voicemail and unanswered call backs left us in a state of confusion. The appearance of yet more bacon kept us busy until my phone rang again. Godders was en route..from Haywards Heath no less..
Yet more chat and one last final drool over Jonny's new machine and we were off, out into the murk to hunt down and devour the cakes of Brighton's seafront.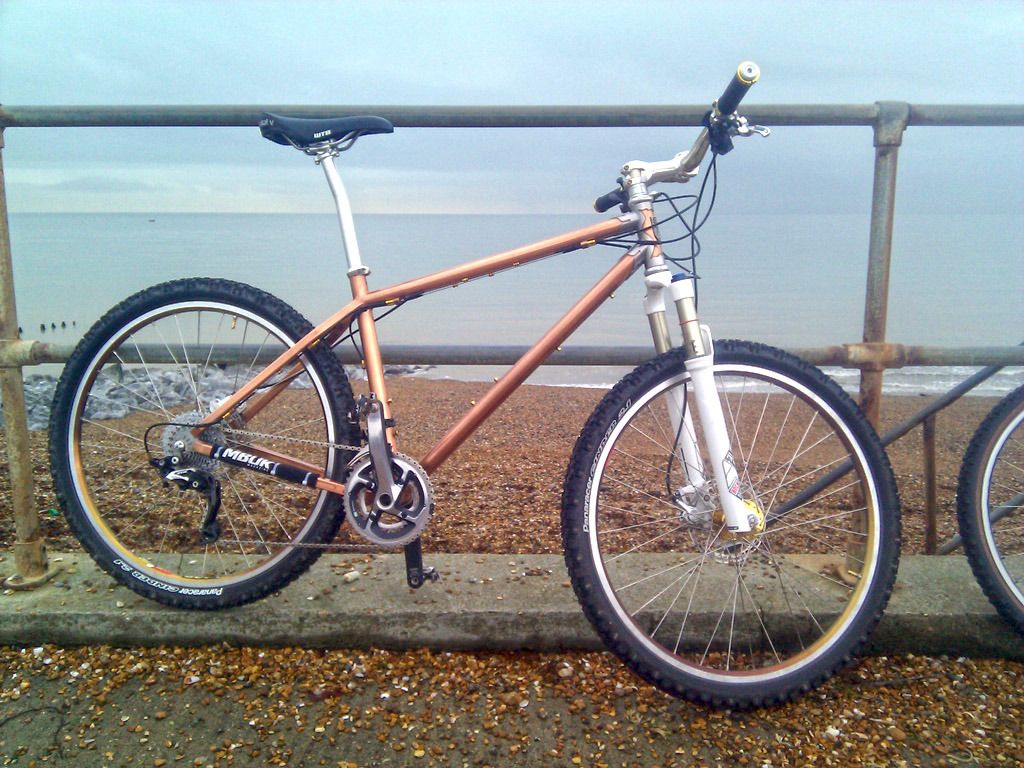 Before we'd even had time for the first rushes of caffeine to settle down, the rain worsened and we were all too quickly at the next stop. I'd not tried this one before, and we'd snubbed a marvelous Gelato café in favour of a "truck-stop" mobile one..warpedboy2 claiming "there's no seats outside that one..and it's only good for ice-creams". I conceded the point.
An eccles cake the size of his head for godders, tea coffee, assorted soft drinks,more cake & racing smokes and more chat for the rest of us..
Chat continued along with our leisurely pace and increasing blood sugar along to the Marina and out onto the sea wall, with only a brief interval for me to discover how good disc brakes are with skinny tyres on wet slimy concrete. A quick stop, photo op and an angry old man with wavy arms and comments about cycling on the sea wall and we were on to Rottingdean and the mid point cake shop.
A crunchy 15 minutes later after negotiating the pebble strewn sea path and we'd arrived, only to discover we'd been beaten by a pro.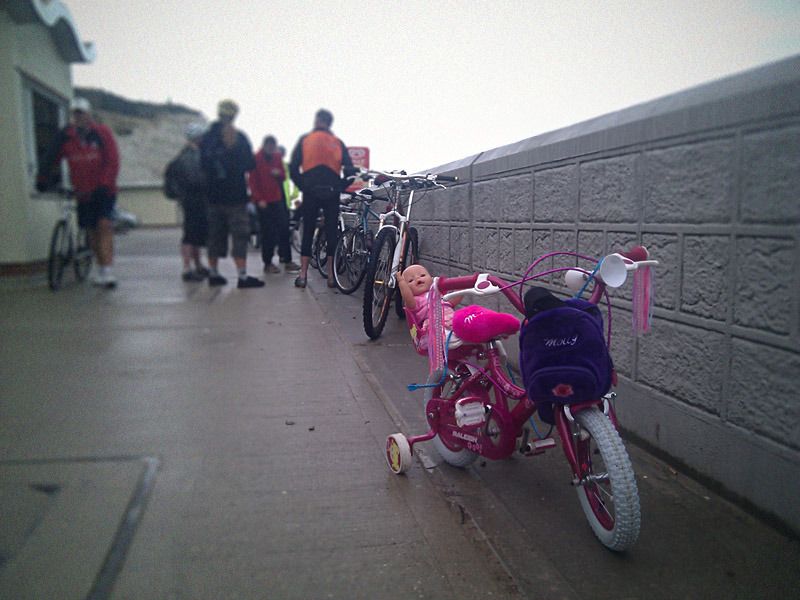 Sorely chastened, we busied ourselves bemoaning modern tat, notching our heart attack risk up a few points and shaking out the coffee jitters.
Sugar levels now at an all time high, the weather clearing and our molars no longer floating, we set off for the final push back to Carats for more tea and cake past the finish line. Luck would have it that a following breeze and most of us talking ten to the dozen on cheap, powerful coffee would see the 9 miles back pass quick and easily, punctuated only by a winners podium for Jonnyboy, a swift adieu to godders setting off back for his 20 miles trip home, and dozy waddling pedestrians littering the Brighton sea front bike lanes.
Cake tea and testiculating
(waving your arms and talking b*ll*cks)
at Carats and we were done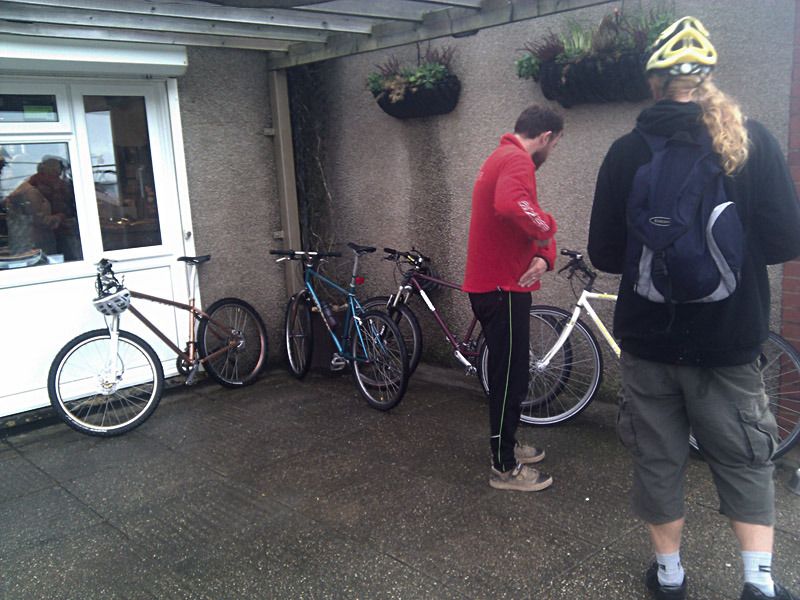 A little shy of 19 miles in 3 hours. Good byes were said and myself & kampus set off back to Angmering with Purley Squire in tow for more sightseeing.
my tripmeter showed 48 miles for the 8 hours I'd been out, though with all the good chat and easy cycling it certainly didn't feel like it.
This one is always a good day out, whatever the weather throws at us & for me one of the highlights of the RB South East Calender. A Grand Day Out.
cheers all