Ahh, you have the original version 1s, nice! To be honest with decent V-brake levers pulling loads of cable you should be able to get away with standard wheels without the off centre cam type thing, bit like the old marinovate ones: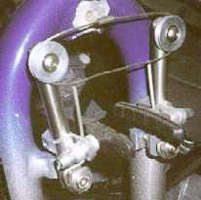 you should be able to bastardise either original avid rollamagics or those dmr front mech converters. Won't be cheap at £5-10 each though.
The next problem is getting the special hangers......