So, not reported on the Escort for a while, slowly making progress
Had the shell rolling last year, this was really just to make sure the suspension bits fitted and worked (most needed modified in some way), once i had this sorted i stripped the car back down to a shell, this was done to clean the old crappy paint off the underside and to fully weld in the rear Watts linkage towers.
As it sits at the moment.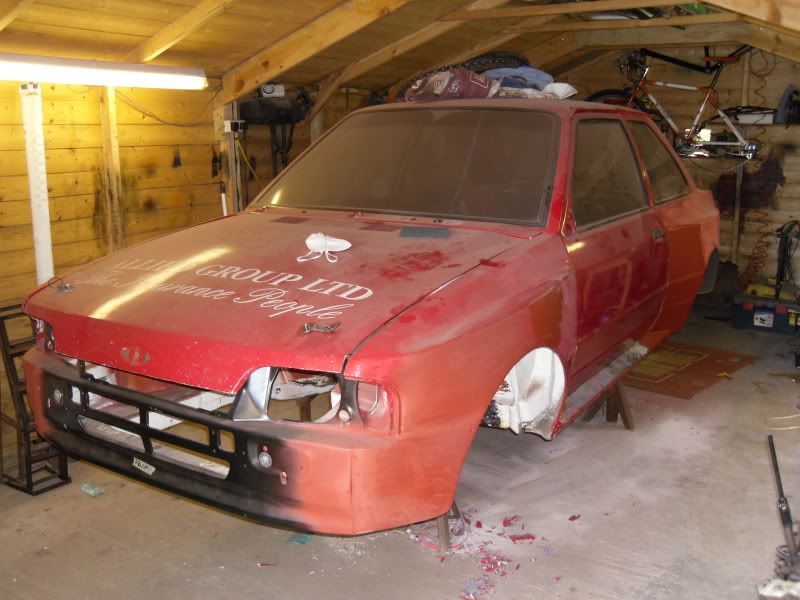 Watts towers welded in, looked at a few examples on the net, bracing the long tower seemed common so i did this, short tower does'nt need this as it's subjected to less leverage.
This job has been a low point, i like welding but welding under a car in a half sitting half crouched position with the torch six inches from your face is never fun.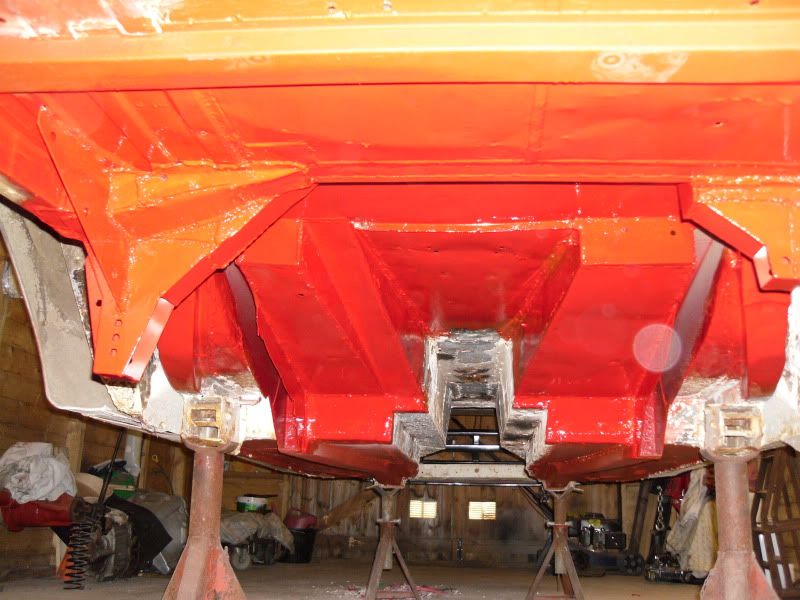 Got all the suspension bits sorted out (in the house of course) and ready to go back on the shell once the painting is done, it's actually all simple stuff, i could get the shell rolling again in a morning or afternoon. (rear axle is covered in the garage)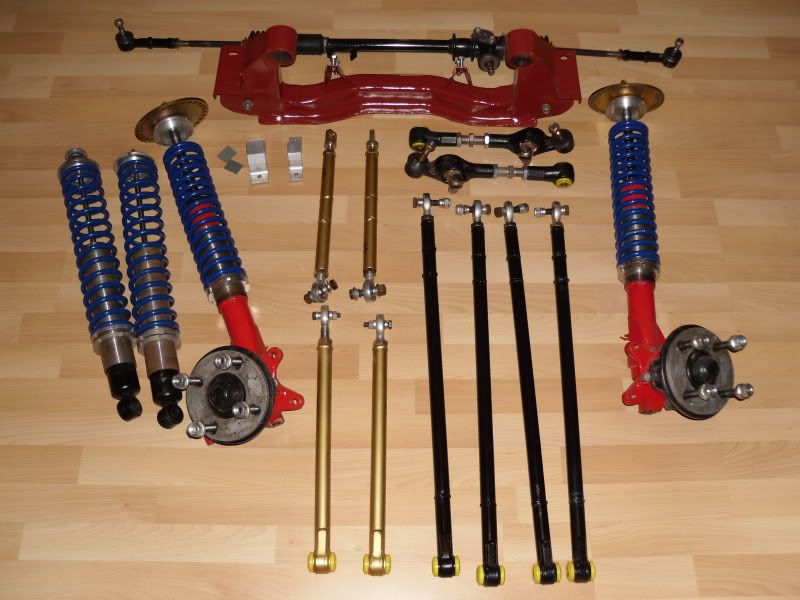 Gearbox i'm using is an LT77 to go with the Rover V8, the gearbox mounting crossmember needed modifying to fit the Escort floor, ends of crossmember were angled, Escort floor is flat also the crossmember was far too narrow.
Started by cutting the ends and bending it straight.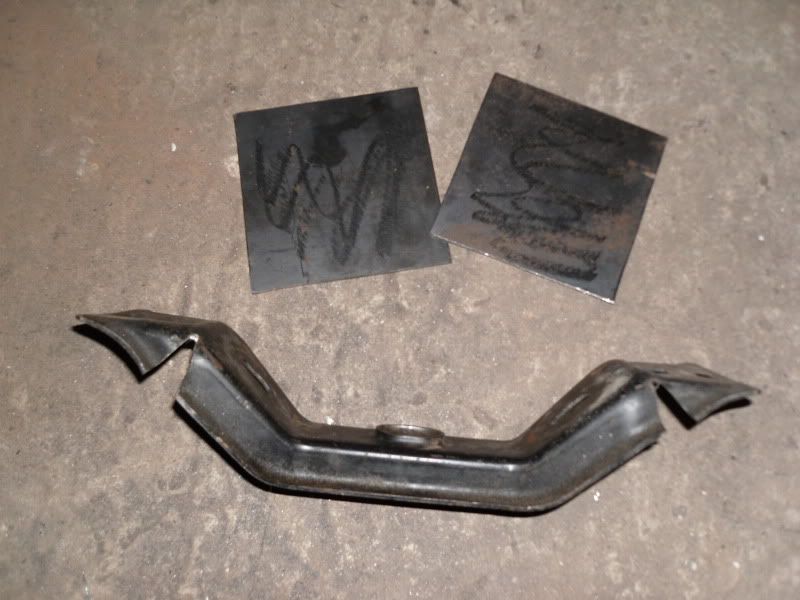 Welded two bits of 3mm plate on the ends to widen it, strengthened with box section.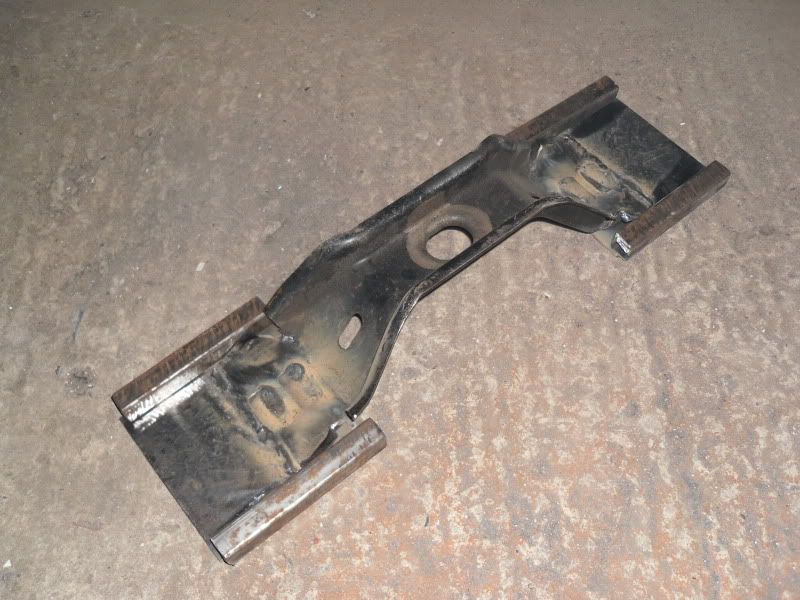 Welded on two more plates to tie the first ones to the original crossmember, strengthened with gussets/in fills.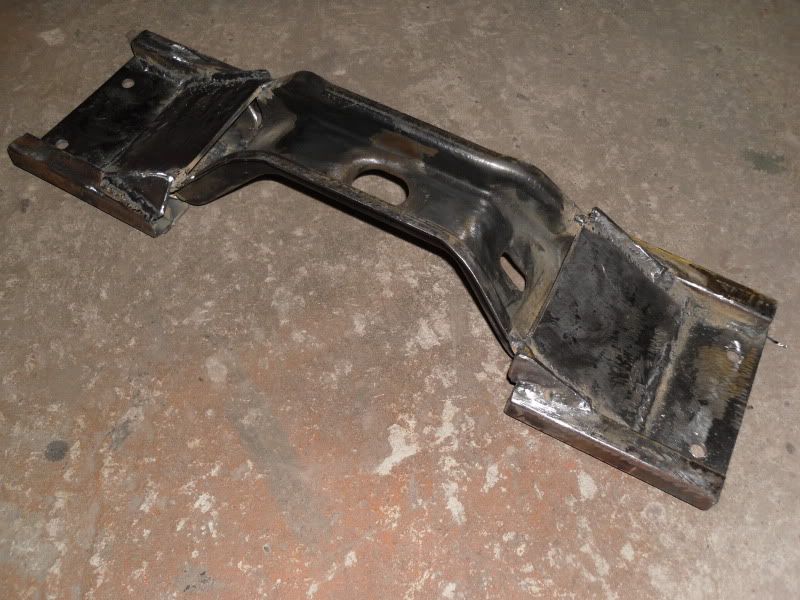 End result sure ain't pretty but its bomber strong.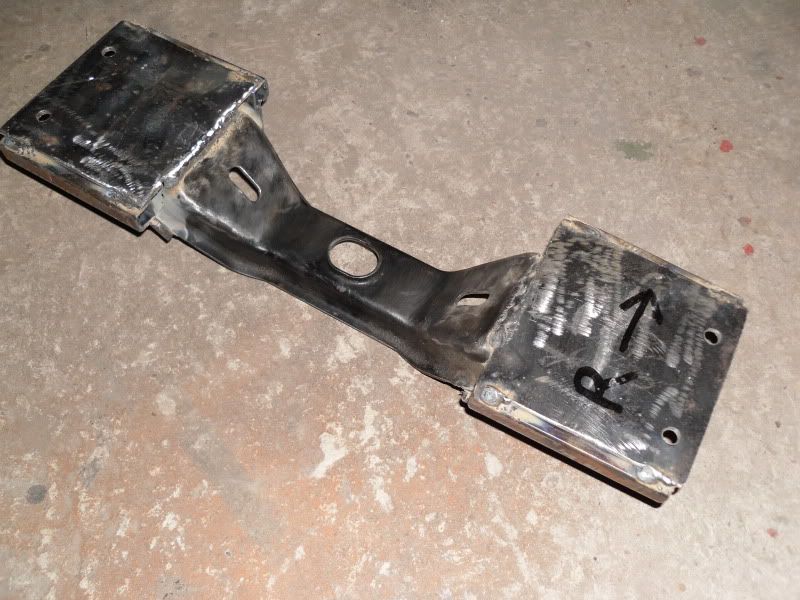 Made these captive bolt plates to drop through from the inside down into the crossmember.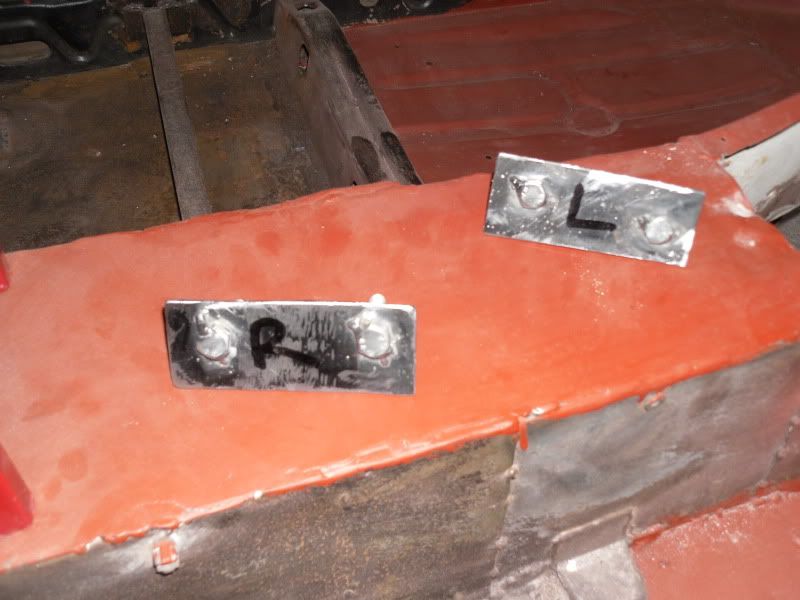 Trial fitted.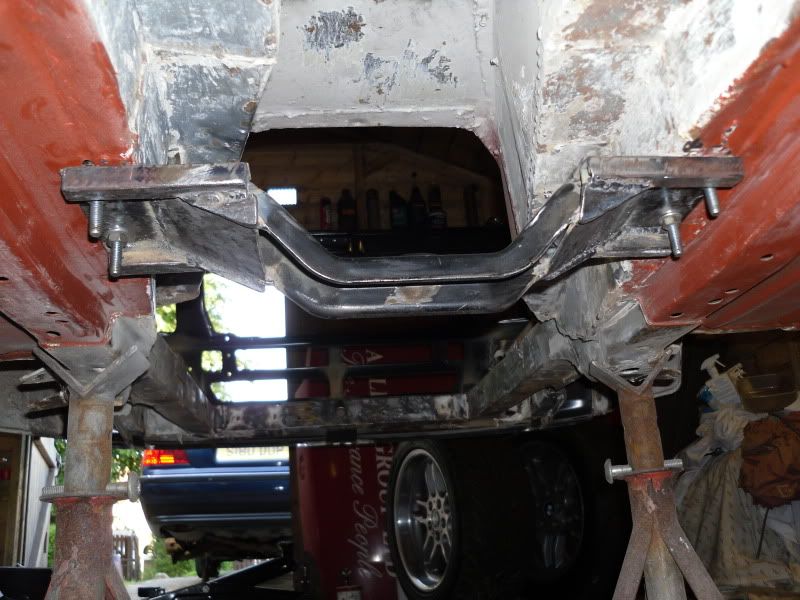 Getting this done let me perform the significant stage of starting to get the engine mounted in the shell, to establish where the engine needs to be (fore and aft) i had to get the gearbox mounted (gearbox can only go in one position determined by the stick going through the hole in the floor)
Got this done thismorning, surprising how far forward the engine seems (note the gearbox and bellhousing visable), but then the bulkhead is cut back a fair bit, at least this makes it easy to work on.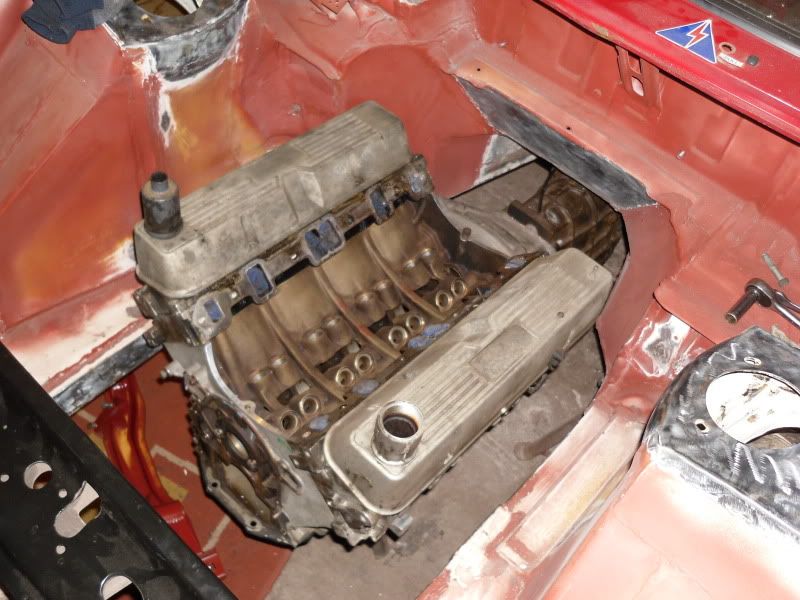 Stick in the centre of the hole in the tunnel (gearstick will be shortened and possibly angled backwards)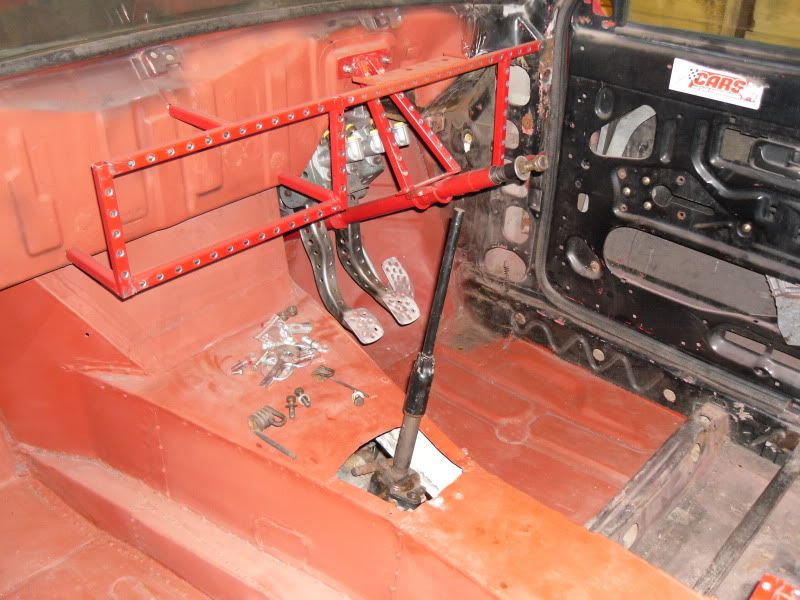 Next job is to modify the sump to clear the front crossmember, once this is done i can start fabricating the engine mounts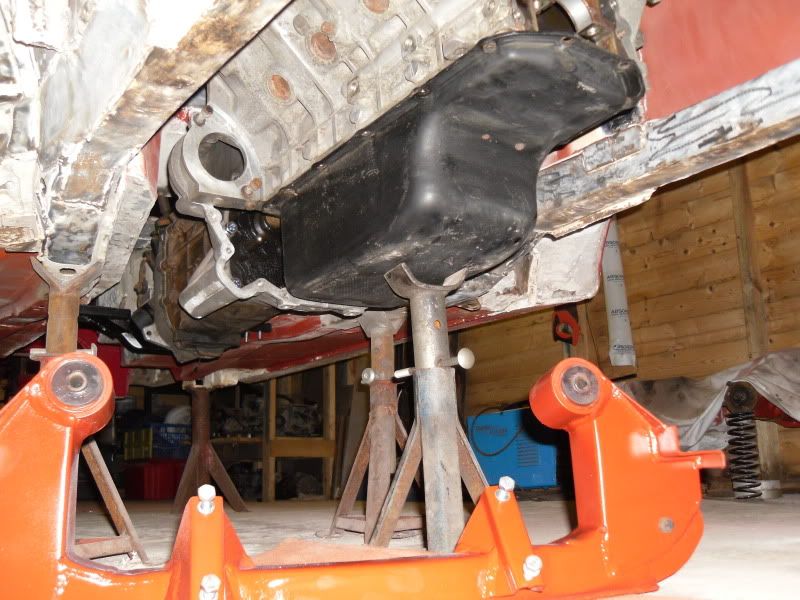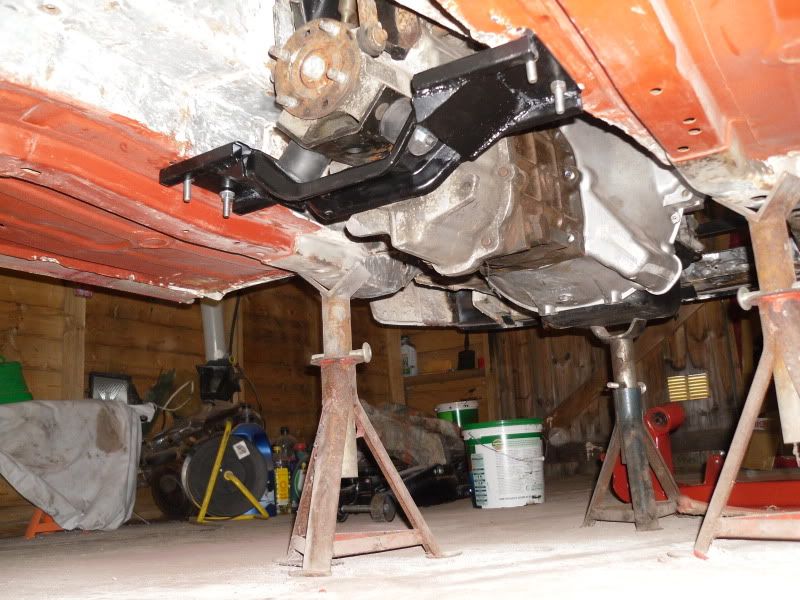 If i can get the shell all painted underneath, rolling and with the engine and gearbox bolted in place for the end of this year i'll be happy