Bullpup wrote:
Fantastic stuff there.

How about a BMW Turbo Diesel as a power unit? Very economical and serious grunt? Got to be a few write offs around after this winter!
Would be different anyway
, guy round my way has a Talbot Sunbeam with a Volvo T5 motor in it, it's a bit nippy apparently
Got the bias pedal box together yesterday, fitted new master cylinders and drilled some holes in the main body, drilled out the pedals ages ago (i like drilling stuff
)
Fabricated a new steering column support bracket, nicer than the sheet metal one that was there, also started welding up the redundant holes in the bulkhead, all wires, pipes etc will be fed through the redundant fuse box hole keeping the engine bay neat.
Inner steering column shaft is at the engineers for shortening to get the wheel at a comfortable distance and to reduce the operating angle of the intermediate shaft, i've shortened the outer tube already but would'nt trust my bird poo welding for the inner shaft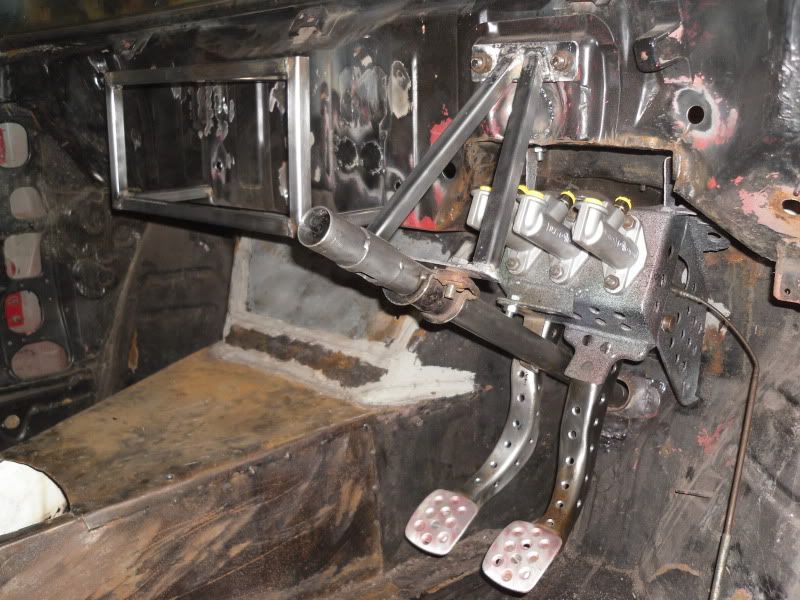 Also bought this sexy vertical hydraulic handbrake
, will be mounted angled as shown, these are not strictly road legal, will need a friendly MOT tester.