Got some more shiny bits for the Escort in the last couple of weeks, now have most of the bits to get the front end together, pic shows the WCXM, 2.9 steering rack with track rod extensions, adjustable TCA's, Compression struts and a pair of 2.1/4" coilover front legs, got the legs off E-bay, they seem ok for the money, they are wedged and have AVO gas inserts, came with 10.5" springs but these seem a bit short so i'll probably buy longer ones, fitted longer studs to the hubs as i'll be using 5mm spacers on the front.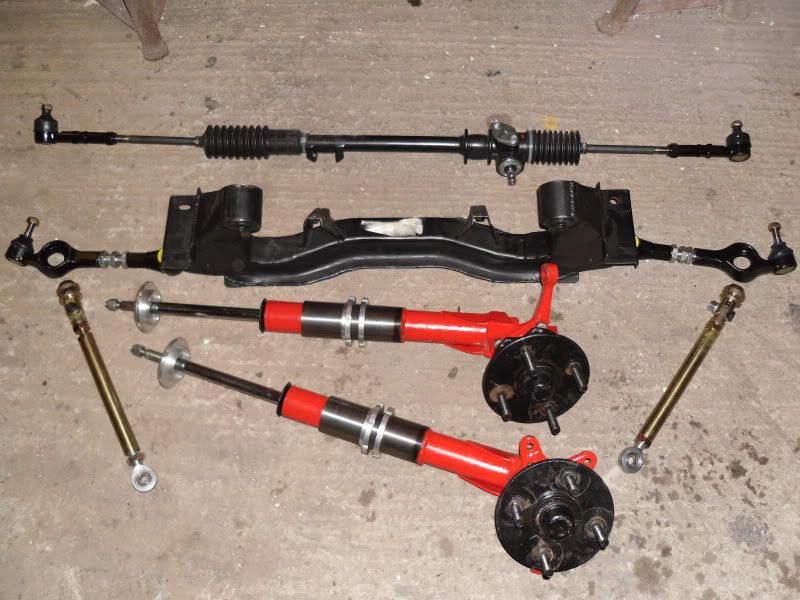 Have a few problems though.
Bought a pair of Escort MK2 Eccentric top mounts, these are too small, recon i need Capri ones
Also the Compression struts are too short, not reaching from the TCA's to the existing brackets on the chassis legs, dont fancy cutting and re-welding the brackets so will need to get the struts lengthened, have came to the conclusion that the guy who originaly built the car must have made up a lot of his own bits as some of the off the shelf bits i'm using are way out (had the same problem with the four link bars on the rear), will get the bars altered ok using the local engineering company but will need to wait till after the new year along with buying the Capri top mounts so wont get the work done that i had planned over the holidays.