big.eck wrote:
jimihendrix wrote:
kaiser wrote:
Nice
, will need to be doing that to the L&M cranks i bought recently.
ohhhh
pics of the l&m's mark
nice work kaiser
Will post some pics later, be as well waiting till i polish them
, they are not the DH ones BTW, they have hollowed out rears.
Came in from work tonight to find a big box in my kitchen (my neighbours are absolute diamonds, the woman who takes my dog out caught the DHL man
)
Was my new Bravado frame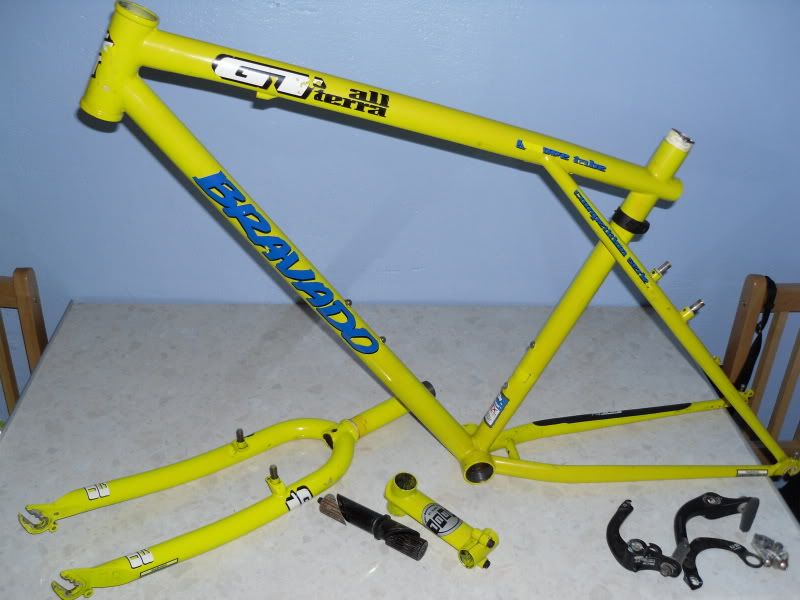 Has these tiny adjuster screws in the rear drop outs, what do they do ?
Also has a tiny bolt on mech hanger which i thought is unusual for a steel frame.
3D forks with multi position forward facing drop outs, cool flip flop stem with double quill.
Grove tube.
It seems quite a heavy thing, made from True Temper GTX tubing, bare frame weighs around 5lb so will probably build into a 25lb bike, probably still not bad for steel.
Frame is solid but well used, going to sit on the fence while i decide whether to repaint or not (or touch in original paint and re-sticker ?), TBH paint looks better in the pics than in the flesh, also forks are a different yellow to the frame, more like luminous yellow.
Well pleased with it though, will be a nice contrast to the Zaskar