Have started to draft a basic list of items to take, but was interrupted and yet to complete it. Nothing fancy really as its only one night, basic cooking stuff, lightweight food, spare clothes, tools, medications etc etc
Re getting to bothy from Taynuilt - probably not possible unless by prior arrangement. No regular ferry service - the guy does sightseeing trips and so on. He's taking us across as a special.
Certainly an option for non-bothyers to stay overnight (camp, bunkhouse, hotel) next to BofO or Kingshouse Hotels (and indeed the Inveroran) which could be fun. Camping is permitted close to the hotels.
On my last outing here the roughest part was from the road end at top of Loch Etive - had to walk for a few hundred metres before getting decent track - next few miles was much gettingon and getting off bikdue to steep/rough parts of the track. From Point 4 on map southwards. Once past this then all difficulties are over and its on to a cosy night with walls and a roof
Given the terrain i'd strongly suggest carrying the minimum gear, but waterproofs and spare togs essential if weather likely to be inclement
Bothy beside river so lightweight dehdrated cuisine OK for the night. Yummy. Watr supply is good and reliable
Will post something more detailed when I get onto a PC without fwalty keyboad
The Ken wrote:
Mr P do you fancy putting up a proposed agenda for this now - Day 1 departure times, loose ETA's for major stops, I still need to work out when to get there and what to bring.
Dyna will you make it to the bothy or are you intending staying put at BofO? I just thought you might be able to hitch/bus to Taynault and walk to the bothy from there (via ferry) to join us for the evening. Although it might be harder to get back the following day.
*******************
Route Map
Dark red line marks the way.....
Nothing technical, mix of undulating LR track, footpath and some tarmac. Small amout of walking 1 mile (?) if boggy. Still need to check N end of L Etive and boat availability (no scheduled ferry, but there are boat operators based there). Exposed to weather, especially on final leg plus a couple of river crossings Wink
Around the 75 mile mark in total as shown.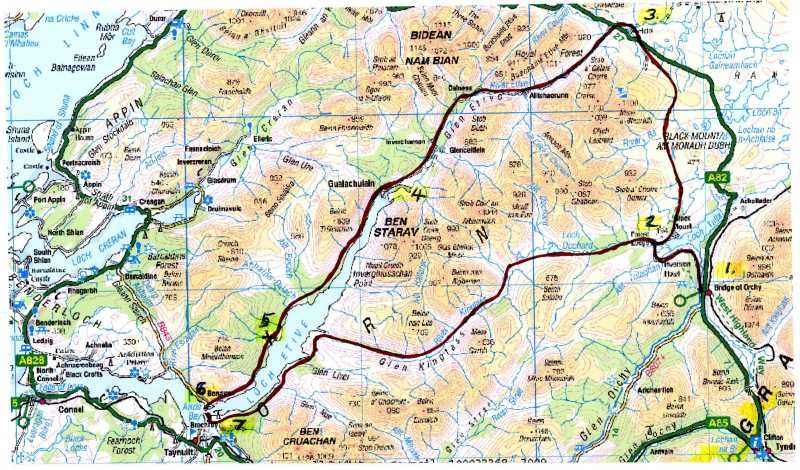 1 - start/finish Bridge of Orchy. Hotel, bunkhouse, basic free camping all within 50metres of each other. Could stay over before/after trip if you want. Approx 4/5 miles on single track road to..........
2 - Victoria Bridge, Blackmount Estate. Join part of WHW track, 12 miles to........
3 - Kingshouse Hotel, Glencoe. Good beer and food. Then approx 15miles along another singletrack road, tarmac, to........
4 - road end at top of Loch Etive. 12 miles along footpath/Landrover track to.......
5 - Cadderlie Bothy Cool Stop. xmas cool Then approx 3/4 miles to.......
6 - Bonawe Quarry. Get boat (TBA) to ....
7 - Taynuilt Pier. Cycle LR track/footpath to Armaddy, through Glen Kinglass and back to BofO - approx 30miles Cool Cool R&R Very Happy
_________________
WANTED: Kona Sex One rear brake canti hanger pivot thingy - GOT ONE!
I could be tempted by a 19" - 21" Dave Yates (mountain) frame.................and no I still don't do trail centres
http://www.corrieyairack.org/index2.html