To those that couldn't make it you missed a great day out.
A beauty for sure with plenty of climbing, rain, mud, snow, ice.
A small but intrepid crew braved the elements and had a brilliant day.
Pics to come soon, but meanwhile click on the pic and you should see a short video of some fun you missed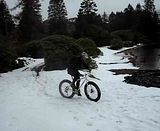 and I'm sure the green goblin wants his gloves back too.