So i built this Klunker/Bomber/Cruiser bike a few years ago for fun, used a cheap Barracuda Tia frame, wanted it as simple and stripped as possible so used a drum brake on the front and a coaster on the rear, single speed too.
Was ok for a while but got tired of it's limited use, suppose i was expecting too much from it using it for Innerleithen and Glentress (and nearly killing myself
) but even commuting on it was frustrating.
So i've been messing with this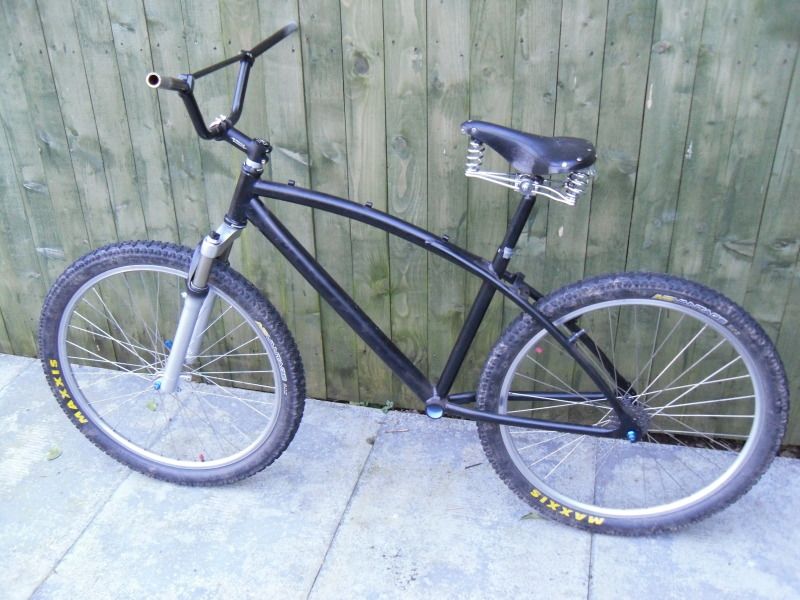 It's another Barracuda Tia frame, smaller at 16", plan to build it with Bomber Z5's, Hope mono mini brakes (A-Z plate on the rear), 1x9 gearing, wheels will be XTM756 hubs with Sun/Ringle D/H rims and fat (2.35 ?) tyres so it'll be a real Hot Rod build.
Paint will be something special as usuall
Thing is, do you think i'm wasting my time throwing decent bits at such a cheap frame ?, wanting something i can hammer and abuse this year, also something different, quite like the style of this frame (it's a bit like a Corratec Bow) but predict the ride will be pretty dead