what a fantastic day , nice to meet some new faces and some old
i've got a bursting sore head and i'm half way through a haggis just now so i'll get a write-up done soon but please feel free to post any pictures up in the mean time
THE WRITE UP.......................
well it was a nice cold cloudy morning in pitlochry , me and zigzag arrived to find radek & dyna-ti driving past us heading in the wrong direction to the carpark
so we waited on them turning around and all arrived together to find pretty much everyone else there assembeling there bikes.
so we all had a brief bleather & got to work on the lightest bike competition which our fearless leader kaiser won with mike in 2nd & zigzag in 3rd .
so we headed down to the loch for the famous group-shot photo's
after some of kaisers fence climbing skills were displayed for the pictures we were off . we crossed a bridge under the road bridge to backroad and followed it for a few miles (mike led us all to a cliff end for a laugh along the way)
so back on track we done a couple more miles til we came to a bridge across the river , again mike took the wrong way trying to get down there first . i crossed first on the back wheel
then shot up the lovely single track and waited for the rest of the clan.
from there it was mostly long rocky downhill decents with gates on the way , then radek was trying to bump up a big rock step and pulled the front brake and flew over the bars . he jumped up laughing so all was well
after a little breather we got onto a little beach for some pictures and headed off again on some single track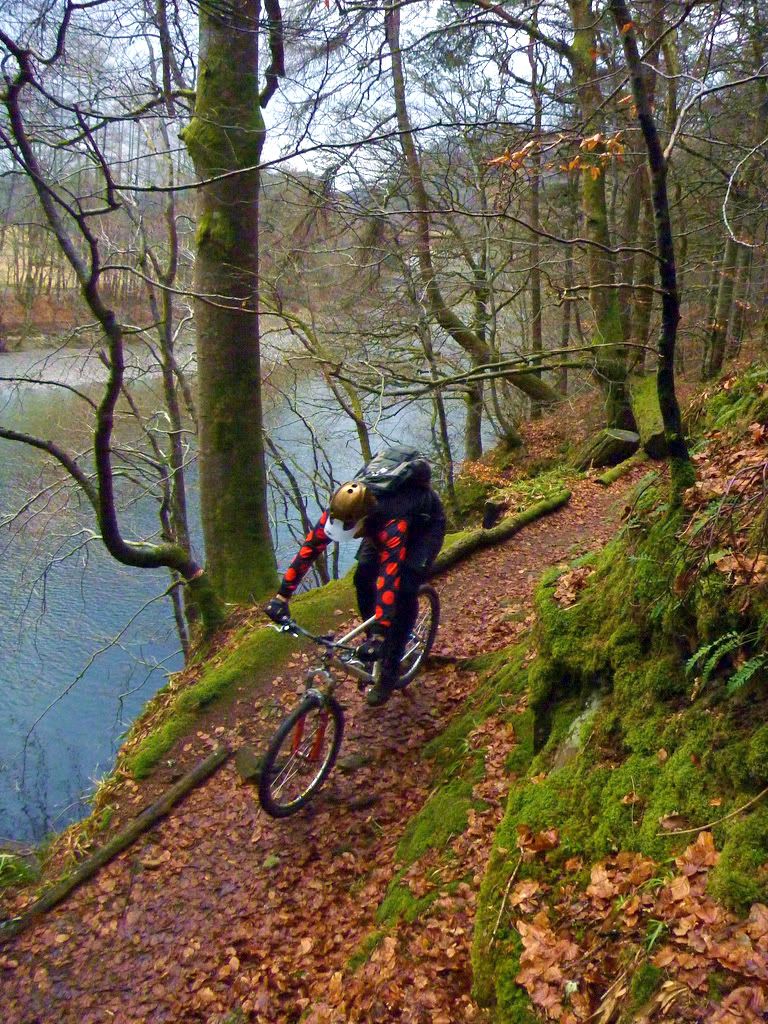 there was a little confusion to the way we were ment to be going and ended double backing down a nice steep hill we'd all just climbed
we found the way again over some really rocky stuff passing walkers till we came across some nutter in the water with a canoe close to macgregors leap (and we thought we were mad ?) so another stop and bleather and a chance to grab some sweeties
so we headed off with Simonside resident blasting off ahead again (he can shift for an older gentleman)
we had to push up some stairs to another killer climb onto the road where i shot past radek on the back wheel ringing my bell
poor guy almost jumped out his skin
.
We stopped at the Killiekrankie Visitor Centre to wait for the guys at the back and voted if we should eat there or head back for a pint and some grub , the pub won....... so back on the road for a wee bit til it opened up a little onto an old road...
...with some really nice turns & bumps until finally we got to a killer of a hill and my bb gave way
so theken being the gentleman he is stopped and pushed with me
at this point boxxer had a phonecall to say he had to head away home so we said fairwell
and continued to another killer climb .
got upto the top of the hill just up from the golf course and i had a look at the old univega , it had unscrewed the left hand bb cup so that was my day over , me & mike had a go at fixing it but it was not having any of it
so dyna & old_coyote_pedaller & myself hung back as the rest of them went towards the top of a huge hill with a pylon on top to do a loop and double back on some single track to where we were waiting ...
...they loved it and i missed out
so another wee bleather and we were off down the golf course and onto the road down to the main street , mike and somon had a little hand shake and were off on the carpark dash
by this time my bb cup had screwed right out and hit the pedal arm and stopped the cranks turning so all i could do was use the bike as a scooter
2 minutes later we were at the carpark again and out with the swap-shop goodies
so all the wheeling and dealing done we packed up and headed back into town for a drink & munch . we found the smiddy pub no problem and all parked up round the back , we all jumped out and walked over to the back of the place and it was shut for renovation for 3 weeks
so after asking some random guy up on a balcony for a nice watering hole and by luck there was a nice little place just a few buildings down the road . so we went in and ordered some food and drink and passed out the vote for the best and worst bikes , simon won the worst and zigzag won the best
Best Bike - Zigzags Wicked...
and his prize...
so all in all we had a great day with 2 off's (radek & mike , not sure where mike fell off tho) and i think i had the only technical of the day
huge thanks to all who attended and to the ken for organising the meet , hope we can keep the standard of the meets as high as this one

_________________
member #4503

1990 raligh massif , 1991 kona firemountain , 1995 orange p7 , 3x 2000 saracen x-ess , 2002 grossman a345 , 2010 ns soda , 2012 orange 5 .