Carbost Inn has a climbing party booked into the bunkhouse over the weekend of 29/30 April % 1st May.
Can't get Sligachan to answer phone
but suspect likely they're booked up too - will try to confirm later today.
How many peoples up for this??
TK?
Radoslaw?
Gazz?
Robmac?
Dyna-ti?
moi?
ony mair?
If Slig bunkhouse full, the option is decent campsite across the road, or B&B in hotel if rooms available...........
Campsite bathed in sunshine across road from Slig Hotel - obviously its always like that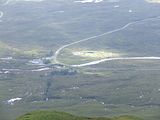 _________________
WANTED: Kona Sex One rear brake canti hanger pivot thingy - GOT ONE!
I could be tempted by a 19" - 21" Dave Yates (mountain) frame.................and no I still don't do trail centres
http://www.corrieyairack.org/index2.html