I guess this may be my one and only chance to enter so here's my daily driver, 1991? (not 100% sure whether it's '91 or '92) Raleigh Peak from the then newly-launched Raleigh Off Road Series.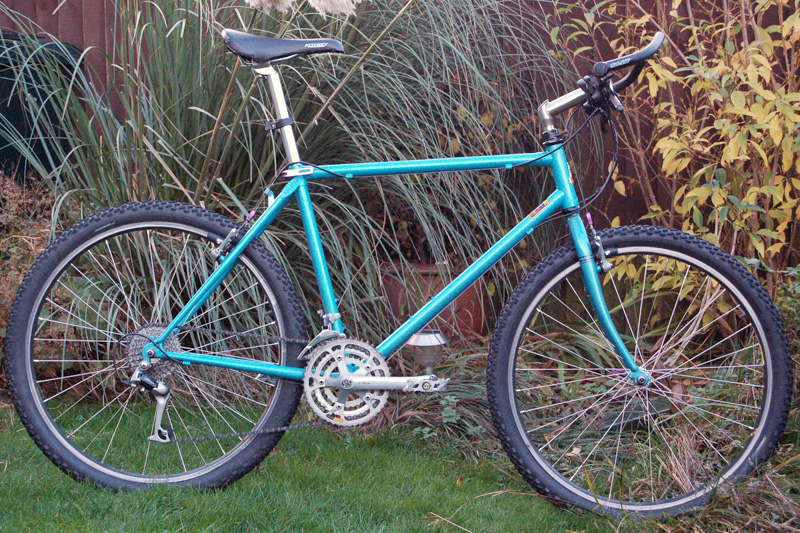 Still largely original apart from; Bars, Seatpost, Saddle, Spokes and Pedals but with a full Deore LX groupset.
Some detailed views: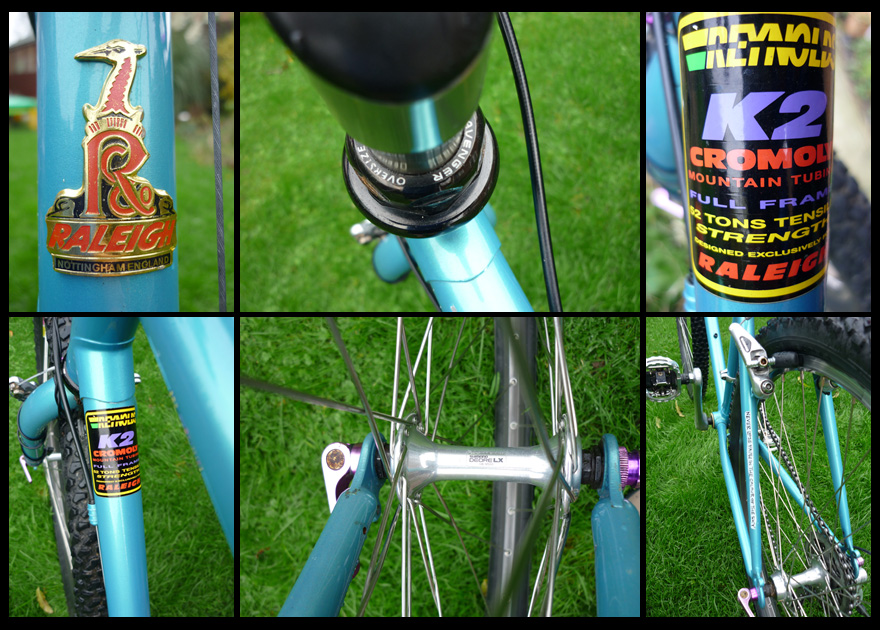 I've had it since new, bought in 1991/92 to replace my stolen Diamond Back Ascent and left largely unmolested since. It's had two frame replacements under warranty due to some dodgy brazing on Raleigh's part, first one was a wayward rear brake boss which came off completely, second time was because one of the seat stays had come adrift from the seat tube. I also had one of the Rapidfire shifters disintegrate internally but that was replaced too.
Over the years I've not done much apart from cleaning and servicing, the replaced parts were either worn out or in the case of the Titanium bars (I wish I could find these, sure they are around somewhere) the wrong shape to take clamp-on bar ends. The original LX pedals had dodgy bearings and were replaced with SPD's, I think the bolt in the original Proponent seatpost seized which is why it got replaced with the current Kona 165's, the Vetta 'Shock Absorber' saddle had seen better days and not being able to separate it from the post I had to replace the post too, I prefer the raw alloy of the current post to the painted Proponent finish though and I find the current Ritchey saddle really comfy. Spokes were replaced last week for DT Swiss competitions which has helped the ride quality somewhat.
The Reynolds K2 frame is reasonably light and rides nicely but suffers from inadequate mud clearance around the rear tyre, in contrast the front fork is unreasonably heavy but the frame was designed around the Rock-Shox which adorned the range-topping Summit so I guess these were always going to be a compromise. The transfers started to disintegrate a year or two back so I removed what was left to leave the frame plain apart from the K2 label and an original Jo Burt sticker from BITD.
Wheels are the original Deore LX hubs and Rigida Laser 400 rims, spokes are as previously mentioned and the tyres are 'Federal' knobblies from a now ex-LBS about 10 years ago.