Build number 3, an early 90s Razeza. Again frame was bought here just because it looked so sweet and not that I had really ever heard of Razesa. The build is one of those veritable mix jobs that all seems to hang together nicely. Will change the chainset for DA as soon as I find one, but the SA has a nice look too. There are very tight clearences on the frame so as you can expect this flies like the wind!
Lemme know what you think.. better pics as soon as i can find my camera..
Cheers
Frame: 531 Butted
Fork: 531 Butted
Headset: Campagnolo
Stem: 3TTT
Handlebar: 3TTTT
Bar Tape: will be Cinelli !
Brake Levers/Brifters: Shimano 600
Brake Calipers: Dura Ace
Brake Pads: Dura Ace
Shifters: Dura Ace
Front Derailleur: Dura Ace
Rear Derailleur: Dura Ace
Cranks: Sakae SA (will change for Dura Ace as soon as I can find one!)
Chainrings: Sakae
Bottom Bracket: Dura Ace
Pedals:
Rims: Campag Omega Hardox
Hubs: Campag Record
Hub Skewers: Campag
Tyres: Gatorskins
Tubes: Continental
Saddle: Selle Turbo-matic
Seatpost: Selcof Aero
Seatpost Binder: Campag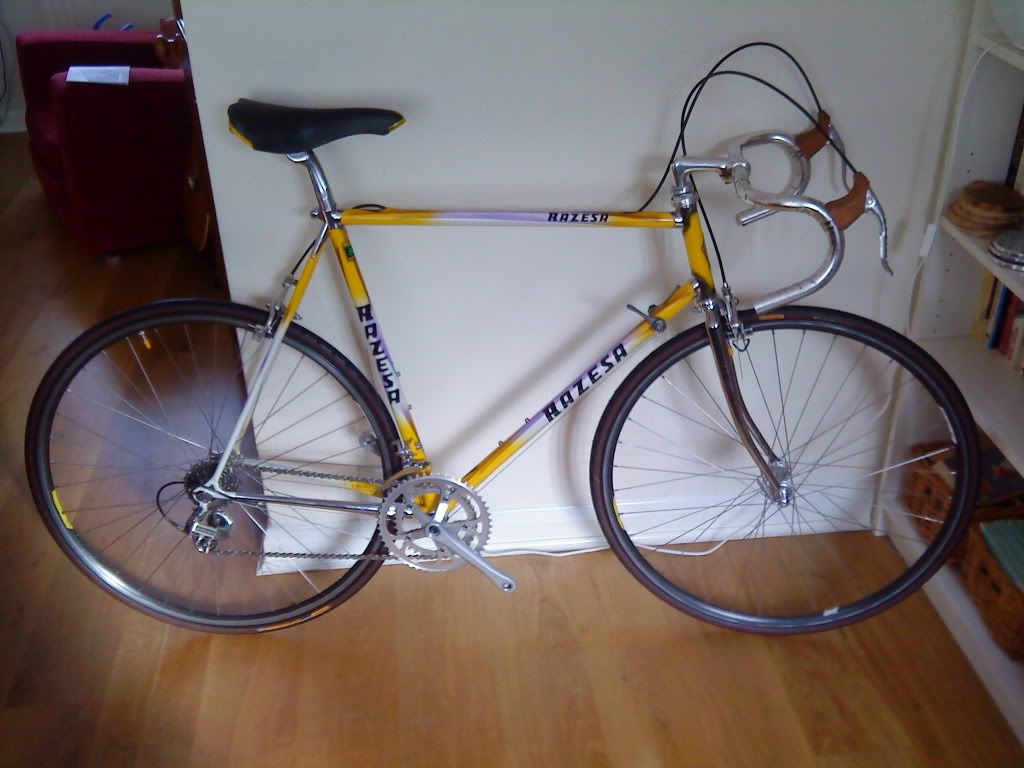 _________________
Road:
'79 Gazelle AA Champion Mondial , '79 Koga Myata Gents Luxe-S, '83 Raleigh Gran Sport
'92 Razesa
MTB:
'85 Claud Butler Canyon, '89 Giant Super Sierra, '92 Rocky Mountain Stratos