Though I had given numerous radio and TV interviews due to my achievements,
being nominated for the best athlete of Bosnia & Herzegovina and Republic
of Srpska was something special. Here I am together with other 9 top athletes
of Republikc of Srpska, by the choice of national newspaper Glas Srpske.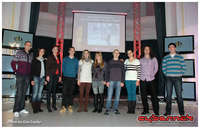 21/Dec/2011 - I'm being awarded with a trophy for 7th place by Olympic gold
medalist from 1984 Olympics - Zlatan Arnautovic (volleyball goalkeeper).
It was an honour and a moment of great joy.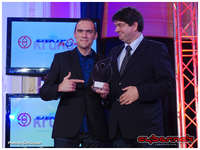 The ceremony was aired live on national television, with me pointing my
finger at the trophy, hahah.
Full size photos
:
http://photos.cybernck.com/kovjanic?page=11
Also, here's a video clip from the ceremony:
http://www.youtube.com/watch?v=BWn_0HAEF_c
(sorry, I couldn't be bothered to subtitle the whole thing)