2006 Kovjanic Custom - my new road bike build and ride stories
Nothing too exciting but I hope some people will find it interesting and inspirational
.
Kovjanic ultra-light 7005 aluminium road racing frame, standard geometry, aircraft spec welds,
59cm length, weighing under 1300g. Kovjanic is a Serbian manufacturer of custom bicycle frames.
It was custom built for me back in 2002 to perfectly suit me and replace my old and tired Kovjanic
frame of my road bike. Very nice colour - a pearl white base with transparent yellow lacquer.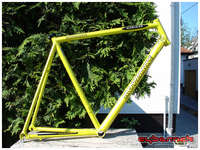 However, I made a bold decision to break up my old and abused bike and build a new one entirely
down to my wishes, for years of troublefree cycling and enjoyment. I was on a very tight budget
and with specific component list on my mind, so it took me a good few years to gather all the parts,
which brings us to May 2006 - the assembly time!
The fork of choice, with the best weight/price ratio, was Time Equipe Pro "feather-light" 430g carbon
fork with 1" carbon steerer. I specifically wanted black components, so the only choice was to go for
Shimano 105 Black group (2x9 speed).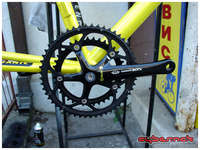 A few years ago, I've held ITM Millenium stem and handlebars in my hands and decided I must get
them one day. And so I have
. Along with a Pazzaz Carbon aero seatpost, Selle Italia SLR XP saddle
and Elite Patao bottle cages.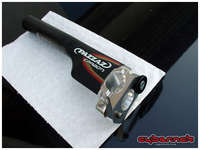 We fitted all the mentioned components on the frame and finished routing the cables. It was time to
call it a day and continue the work the following day
.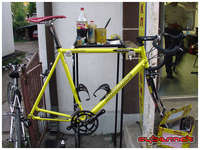 Next update coming very soon
.
Photos here:
http://photos.cybernck.com/kovjanic