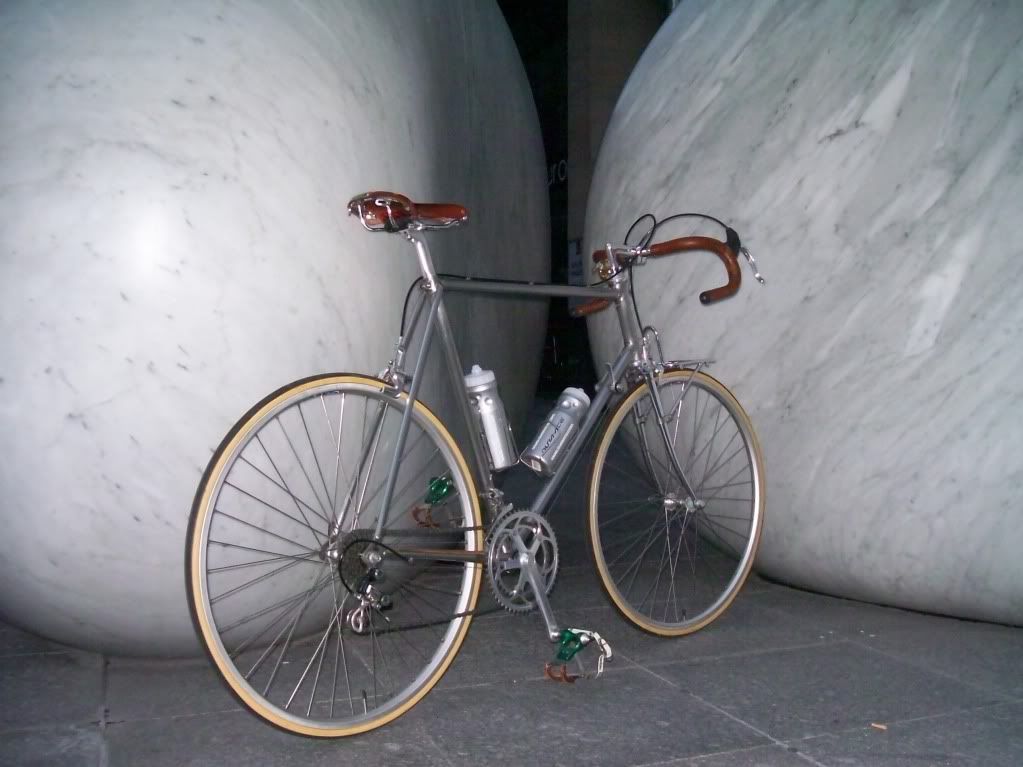 A steel frame which had been used as a training bike. It had been painted with automotive paint so I don't know what it is...late 80's Japanese or Taiwanese I think. It had a "Tange" sticker on it but I don't know if that was original. It weighs 2.66kg.(frame and fork only) and most importantly, it fits me perfectly. I removed the paint and sanded it for a long, long time (!) and had it clear powder coated and the forks chrome plated.
The bits...
Dura Ace 7400 headset
D/A 7400 bottom bracket
D/A 7400 F/D
D/A 7400 seat post
D/A 7400 cranks and chain wheels
Shimano Crane R/D
Shimano 600 AX hubs, 36 hole Velocity Synergy rims, double wall, eyeletted
Shimano 600AX brakes
D/A 7400 brake levers
Nitto Randoneur bars, Velo Orange stitched on elkskin covers
Kusuki 1000 alloy stem, polished (found on a dumped bike)
Cambio Rino pedals
Brooks Swallow saddle
Nitto front rack and brass bell from velo Orange
Topeak stainless steel bidon cages
Kendo tan wall tyres
With the exception of the frame,Crane R/D and stem, all parts are new or NOS.
I like to put it up in the workstand, pull up my work stool, open a beer...and just sit and look at it.
I do ride it too though!