Heres my Merckx corsa extra
Its retro I suppose because of what it is, though I had it ordered in 2002 from the factory as its classed as a custom size, 48cm. I got it a bit cheaper as I was informed that they were ceasing production of the steel frames. So a bit of measuring and questions back and forward and it was soon on its way. Its built exactly the same as the earlier ones, Columbas SLX etc, only downsized to my size. It took me a few years to eventually build it up as I had my Giant that came with me from Aus for all usual duties.
I always wanted a classic steel Merckx back home and when I came to Europe and thought I would stay for a while I knew I would eventually get one but as soon as I heard from a mate that they were stopping the production, I ordered one and then it lived in its box under my bed for a long time.
Its definately a keeper and it will stay with me no matter where I go.
It rides like I'm floating on the wings of angels
It has 105 throughout with the exception of the STI's, seatpost and hubs which are Ultegra. Mavic open pro with scapin lightweight spokes. Cinelli 'campionne' bars and A1 'Eddie Merckx' pantographed stem with merckx bar tape
Jamie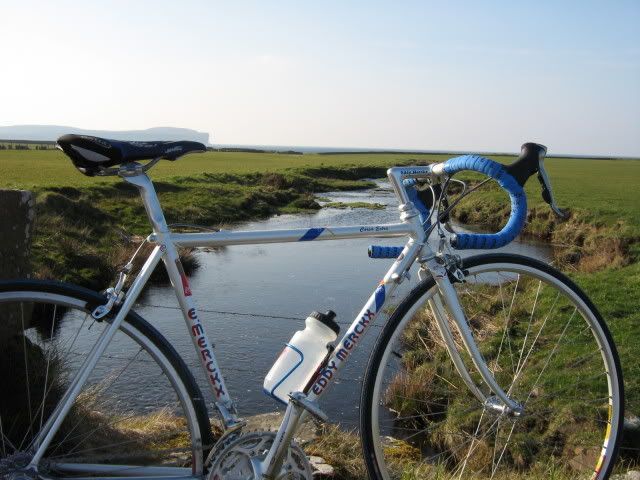 can you tell what it is yet?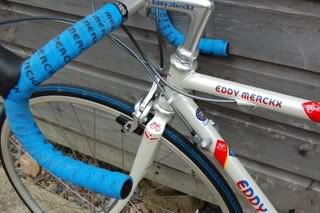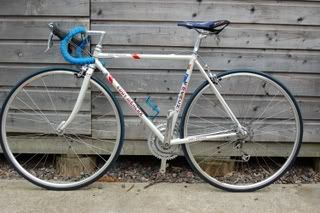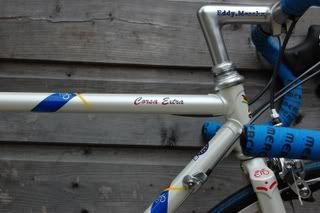 and my jersey
_________________
Carlsberg don't build Singlespeeds but if they did.......they would probably look just like mine.
I've spent half my life on bikes.........the other half I wasted
BLOG:
https://theroadlesspedalled.blogspot.com/