I have spoken a few days ago with the framemaker which did the Jeannie Longo bike from 1986 with which she improved the world hour record for a women .
Wheelbase was 350mm !
apparently, this shortening of the wheelbase improved her time on a lap by as much as 4s give or take.
Whatever the time, seems the efficiency is improved substantially
sorry for the poor pic
this framemaker is now 72 years old and has built hundreds of frames - so a lot of experience - May have him build a made to measure frame evidently out of goog old steel !
for example the length of the bones in the leg are of paramount importance / the ratio - upper bone /lower bone is critical for the sizing and the position of the cyclist for a better efficiency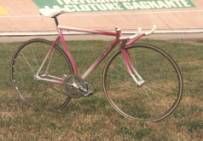 _________________
Serotta Max 853 to be "MTB politically correct"
and now having been bitten by the vintage roadie bug ! is this serious doctor ?
the roadie being more on the "randonneuse" side !