Frame: PH501 Reynolds 501
Fork: Chrome Carbolite 103
Headset:
Stem: SR 60mm
Handlebar: Std drop bars
Bar Tape: Clarks White
Brake Levers/Brifters: Shimano 105 BL-1055 Aero
Brake Calipers: Weinmann 500
Brake Pads: Jagwire
Brake Cables: Wilko!
Shifters: Simplex
Front Derailleur: Shimano 105 FD-1050
Rear Derailleur: Shimano 105 RD-1050
Derailleur Cables: Wilko!
Cassette: 13t/14t/15t/17t/19t/21t
Chain: Shimano HG50 (Original - Sedisport 1/2 x 3/32)
Cranks: Nervar
Chainrings: 52t / 42t
Bottom Bracket: Shimano UN55
Pedals: Maillard CXC
Rims: Mavic Module E 700c
Hubs: Maillard Helicomatic (Rear) and Maillard front
Hub Skewers:
Nipples:
Spokes:
Tyres: Schwalbe Lugano Tanwall (replacing the original Michelin amberwalls)
Tubes:
Saddle: Flite Titanium
Seatpost:
Seatpost Binder:
Bottle Cage:
Extras:
Weight: 11.2kg (measured using bathroom scales!) - Catalogue states 10.5kg
So after 4 or 5 years of commuting to work on mountain bikes running skinny slicks I thought it was time to dip a toe into the waters of the road cycling world.......
One of my friends has had a Peugeot roadbike tucked away for several years. He bought it and didn't really ride it much so stored it away.
I happened to ask him about it about 6 months ago and he said that he'd be interested in selling it as it wasn't being used. We agreed a ball park figure and finally this weekend gone we managed to get together and he brought it round.
Doing a bit of research I think it's a 1985 Peugeot PH501. Googling based on the chrome 103 forks and 501 tubing I came across a mint example in a web article which matches what I have:
http://bikemag.hu/magazin/hirek/idogep- ... eot-ph-501
Comparing this factory fresh example to mine it seems that mine is actually quite original - even down to the tyres I think.
I gave it a quick look over last night, adjusted the seat position and dropped the stem a little (as it was extended past the max line) and naively decided to ride it into work this morning without really giving it a proper once over.
A mixed bag! Lovely bike to ride, and finally a bike that actually fits me! However about 2/3 of the way to work the rear end started making some nasty clonking clanking noises....worse when pedalling but still present when free-wheeling.
I made it to work only to find that the rear hub was missing a locknut on one side!! The outer bearing cone on the RHS had gradually started to unscrew itself......
Closer inspection shows that the other cone is quite pitted to so I think someone has been tinkering and has either forgotten to fit the locknut or lost it/not realised how important it is.
Aside from that she's a lovely old gate.....I know nothing about road bikes, let alone Peugeots from this era so any tips/advise on owning one of these racers is very much appreciated! There's plenty of tweaking and setting up to do (notice the brake block position as an example)! Anyway - it's a train ride home for me tonight.....but I can't wait to get it fixed and get back on it.
Quick (crap) iPhone pics from this morning: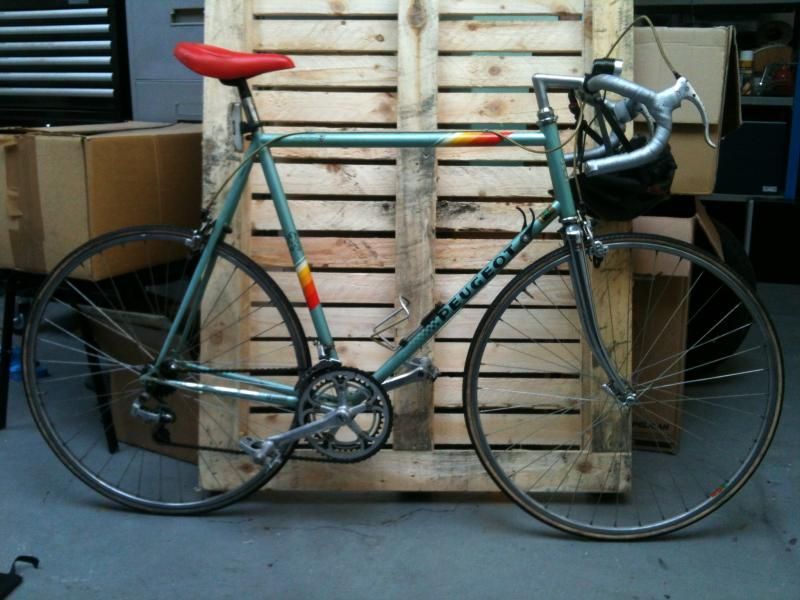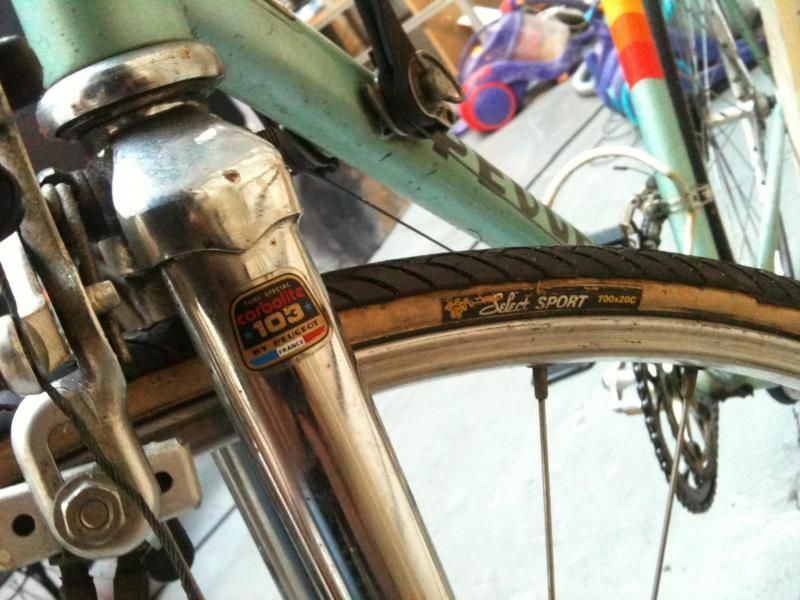 Plans for it?
Fix rear hub
New tyres (but keeping the originals)
New bars - bullhorn style with black foam grips
Source some hoods
New saddle
Deep clean, polish and photoshoot!
Ride it!