Miguello wrote:
Came across this frame at a country bike shop, run by a cool ex bmx racer from the 80's. It was a dirty bare frame which hadn't seen much love for the last 20 or so years(estimated). I had a Motobecane Grand Record which I had gotten a little bored with, so I robbed most of the parts, polished the frame, touched up the chips, and built it. It rides SO nice, and becomes the center of attention at most rides I attend. Hope you guys enjoy it. Some of you may have seen it before, but please respect my "do over" status.
Also, if anyone can tell me the exact year or what model this might be? Or did they only make one model? Logic says no.
I REALLY, REALLY, want to put a TA crank on it. Maybe in a few weeks. I guess I could put a Velo Orange on it?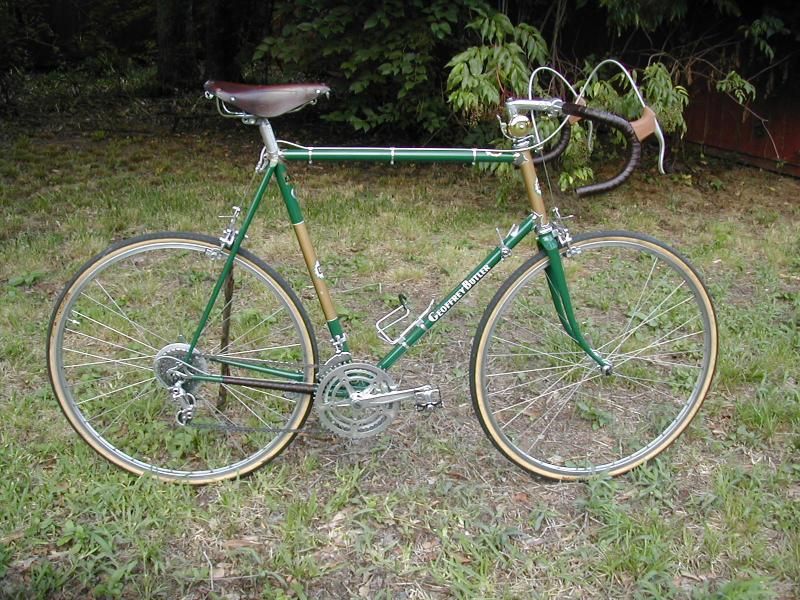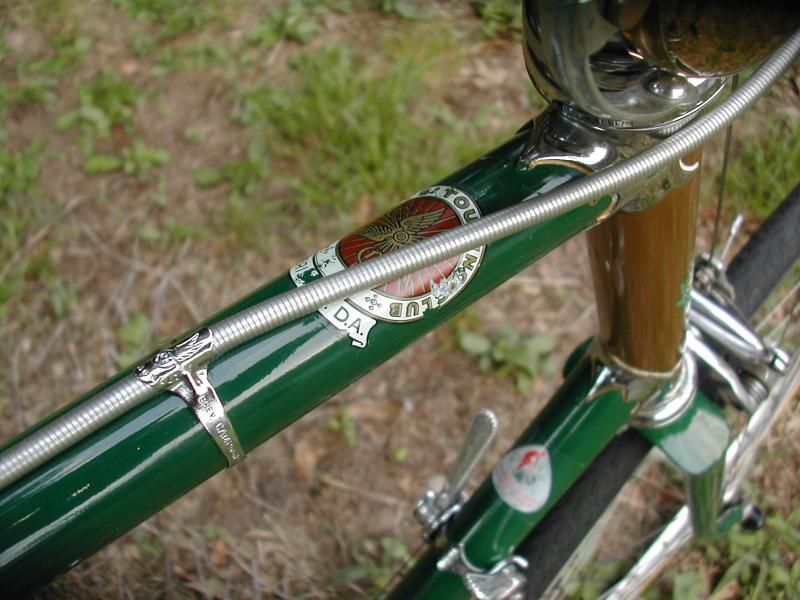 Geoffrey Butler Cycles (GBC), in South Croydon is a shop I used to walk past every day on my way to school in the 1970s.
They did not build their own frames, they were bought in from the trade (from various sources), yours looks like a nice one (chromed Nervex lugs) and I would place it in the late 1960s or early 1970s from what I can see - profile photos of the seat cluster, headtube etc would make dating easier - although in many cases dating is far from an exact science.
Looks like a quite old CTC transfer - could we have a better image of that?
GBC is still in business but they'll not be able to help with this frame - they'll not have records for the reason mentioned.
Are the forks original, can't see chrome dropouts or mudguard eyes?
Hope this helps.
Rk.
P.S you must be pretty tall to ride this.

_________________
Founder of a V-CC section, member South Eastern Road Club. In the garage - 2005 Bianchi Reparto Corse(modern), 1987 Roberts(lugless)Audax, 1986 Raleigh SBDU Pro Super, 1984 Raleigh LU Corsa, 1982 Geoffrey Butler (Roberts build), 1980 Allin Stan Butler Special, 1978 Geoffrey Butler, (Roberts build), 1976 Roberts tourer, 1975 Philbrook(lugless)tourer, 1974 Ken Bird TT(Philbrook build), 2 x early Roberts, 1966 Raleigh Superbe Roadster, 1964 Allin Stan Butler Special Belgique, 1951 Hobbs of Barbican S/C, 1950 Hobbs of Barbican S/C, 1947 Hetchins Super Special. MTBs - 1988 Specialized Stumpjumper, 1988 Muddy Fox Courier(Wife's).