This is a new project which I've just taken on, inspired by a riding buddy who's just bought a Moulton. Going out on a ride with him coincided with this coming up for sale on the CTC forum. The seller and I had both been inspired by Sheldon's page on the Twenty -
http://sheldonbrown.com/raleigh-twenty.html
. The seller had got some way down the road with it, but then needed to clear some space. Here it is as I bought it -
Some of the important work had already been done to modernise it - i.e. get around Raleigh's proprietary threading from back then.
* The steerer has (I think) had a 24tpi die run down it, so I can make a frankenheadset with the top half of a standard 1" one. The original bars are clamped with a collar which clamps over the threads, with slots cut in the back to allow the tube to pinch. I'll be replacing the stem with a modern 1" one, so I will probably cut the tube down and add a top nut.
* A square taper BB has been fitted - with plastic cups at 24tpi run into the 26tpi shell. I'm not 100% sure about this but it seems rock solid at the moment. Time will tell.
* The seller had a new rear wheel handbuilt for it, with a 7 speed Hyperglide hub. I'm not sure whether I'll use this or not, because it's still a bit wide for the rear triangle. If I can find a suitable 5 speed screw-on freewheel, I might use the other rear wheel which came with it, which is for a screw-on block. That's a bit wide too but I think it would be easier to narrow the OLD on that one - plus it's bolt-through, and I'm not keen on a QR on the rear wheel. The 7 speed one is actually 6 really, because the smallest cog is far too close to the seat stay to actually use it.
* As you can see, it came with alloy wheels and Marathon Slick tyres - big upgrade from the steel wheels that were standard.
Here it is as it stands at the moment - I'm waiting for some more parts to arrive, hopefully today.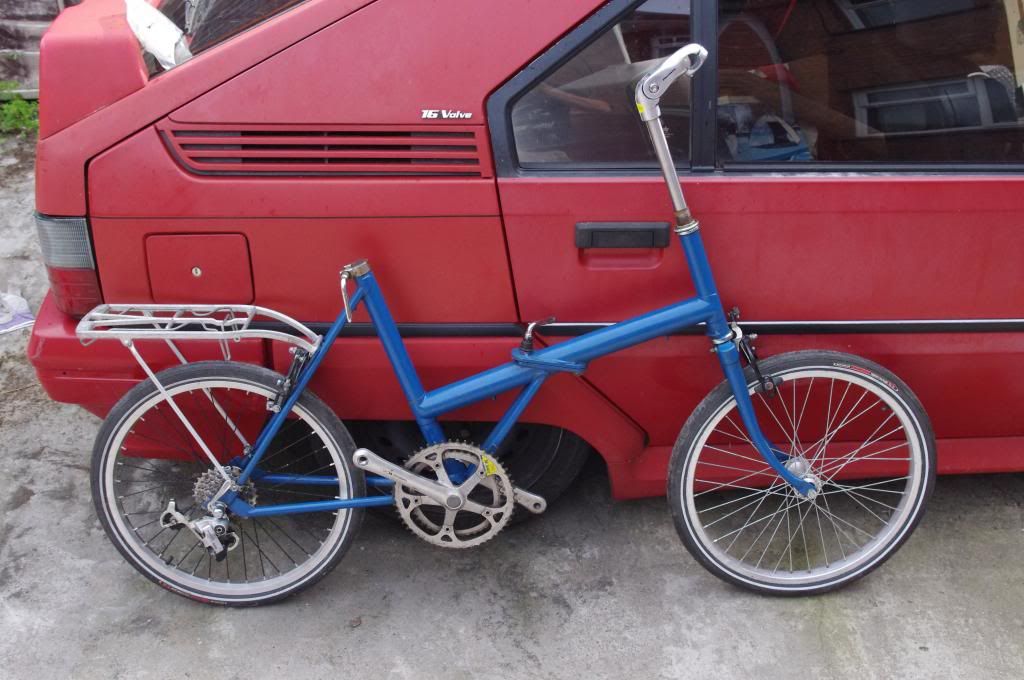 Work done so far:
* Ditched the supplied rear mech and fitted a long cage Acera one with a claw for the mount (both courtesy of the parts bin). This is another reason for wanting a bolt-through rear wheel, as I don't plan on taking the wheel out for transport.
* Removed the old mudguards - if it turns out to fit me OK, I will have to add some modern ones.
* Replaced the Stronglight singlespeed c/set with my Biopace double. Plan is (yes, really), just to use it without a mech, and manually shift the chain for big hills! We'll see how that goes...
* Ordered and fitted a looooong stem, I think I've managed to find the only one which is actually heavier than the original! But it has loads of insertion, and is adjustable so I can sort out the position.
The plan:
* New alloy post, with my Selle An-Atomica saddle
* New pads in the loooooooong drop brakes, and see how/if these work. Long term, if it's a keeper, I'll braze on some canti mounts.
* Cable up and test ride!
If it fits after all that:
* Mudguards
* 400mm drops (if I think these will work given the frame size and the fact that I am tall)
* Perhaps a front mech
* Probably change the fork to one of these:
Click
- more suitable trail, and proper mudguard mounts.
Watch this space... here's Sheldon's version, for some inspiration