Hi All
I'm new to the site so be kind
Back in 1989 myself and a few friends were really into our bikes. One of them had a very good team Raleigh bike that I forget the name of, the other had a Vitus. I also had a Raleigh just a 501 frame but with good bits. However I also bought a Peugeot 653 Athena frame new but only ever got it half finished before chopping it in on a Ridgeback Mountain bike.
So fast forward 25 years and I've just managed to purchase another 653 Athena team colour frame .......... I'm well pleased.
It looks to be very very good condition: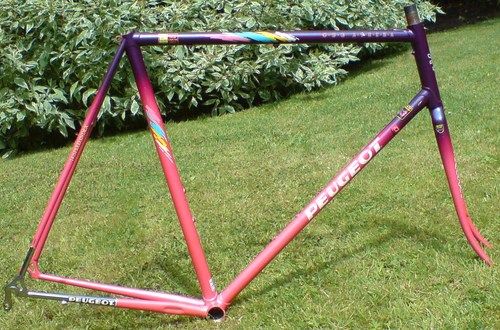 So it will deff be staying this colour. The plan is to rebuild this as a winter project once the car show season comes to an end.
I pretty much know what I want for it as I will be building it with period items, but also the items I was going to put on one back in the day.
So my wish list is as follows (and will be as much as possible new old stock):
Cinelli Stem and Bars
Campagnolo Areo Seat post
Rolls Sadle
Shimano 600 ultegra groupset
Mavic Mach 2cd rims
oh and a campagnolo areo water bottle.
Its been a long long time since I have built one of these bikes so I'm sure I will be back with plenty of questions.
I'll get some more pics up once the frame has been delivered, only thing I'm a little worried about at the moment is that its a 59cm frame, now I am 6ft1 but I do (well did) like an aggresive riding posistion so alot of seat post on show. Not sure how much I will get on show with this size but I had to have it as it looks such good condition and they don't seem to come up that often.
And does any one have some good contacts where I can start picking up the NOS items.