Having sold my PRO carbon disc wheel, mostly as it was too expensive to own for a single TT event
a year and because the Vittoria Evo CX tubular was quite annoying with its inability to hold air,
I got a cheaper disc wheel instead. Funnily enough, it's also a PRO disc wheel with Dura Ace hub,
just an older 3K carbon model with lenticular profile (in contrast to 12K carbon and flat profile
of the newer model) along with a cheapo Schwalbe Lugano tubular on.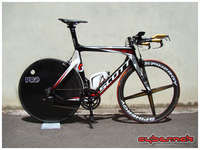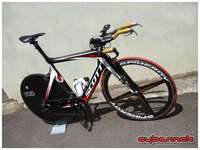 It is very slightly heavier and not quite as radially balanced as the "old" one, but it seems
to be doing its job well enough. The bike is now fully set up for the race day.
27/Jun/2013 - The National Time Trial Championship race day. Contrary to the last few TT championship
events, when we've had to endure heat wave with temperatures going over 40'C, this time round it was
quite chilly at 23'C.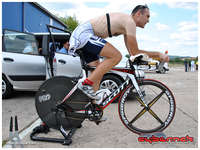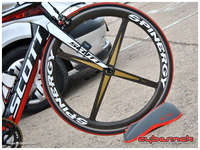 I say chilly, as the last few weeks of training were all done in 33-40'C temperatures, so I'd have
actually preferred it slightly warmer.
Spinning up for about 45-50 mins, with interval sections towards the end of the warm-up. I chose to use
the disc for the warm-up in order to make sure everything will function correctly during the race.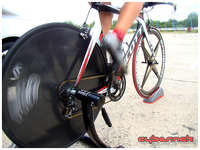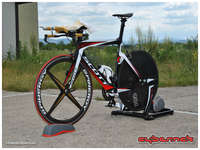 Scott Plasma 2 with Spinergy Rev-X front wheel and PRO disc wheel in the rear, sitting on Elite Crono
SuperFluid turbo trainer and looking gorgeous, while I am getting fully dressed up for the race.
Rolling towards the start line.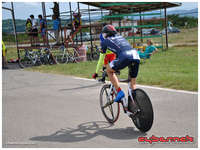 To be continued...
Full-size photos:
http://photos.cybernck.com/plasmanck2?page=2