I saw this frame advertised on Retrobike last December and for the price I had to have it! With a house move and a job move on the horizon (Bristol to Oxford) my aim was to build a fixed gear bike to commute to work on. Anyway, 7 months down the line and I have moved to Oxford and I start a new job there in a fortnight.
The frame is a Ribble Reynolds 653 (56cm) frame and forks, nice and light. A Campagnolo Veloce was included also. Visually the frame was so tired it was almost asleep! No dents or deep scratches though, merely surface rust.
Colour choice will be something along the lines of Olive green, I've found a powdercoat RAL colour called 'curry' which looks like the colour I need. I've sourced and received replacement Reynolds decals from Reynolds themselves and found a chap online who has sold me some repro Ribble decals (Navy Blue).
Spec will be: Reynolds 653 frame & forks, Campagnolo Veloce headset, 3T stem, ITM drops or bullhorns – have both and not sure yet, Campagnolo Mirage front caliper.
Selco seatpost with San Marco Rolls saddle, Mavic Open Pro's with Suzue flipflop hub at the rear with Campagnolo Mirage up front. Gearing will be 48/14 with a campag crank and NOS Specalized Turbo/S tyres!
Here are a few pictures of the frame in it's current state, it's currently in for shotblasting and I should get it back this week.
Pic from seller:
Last week when removing headset:
Headset after a quick clean:
New decals: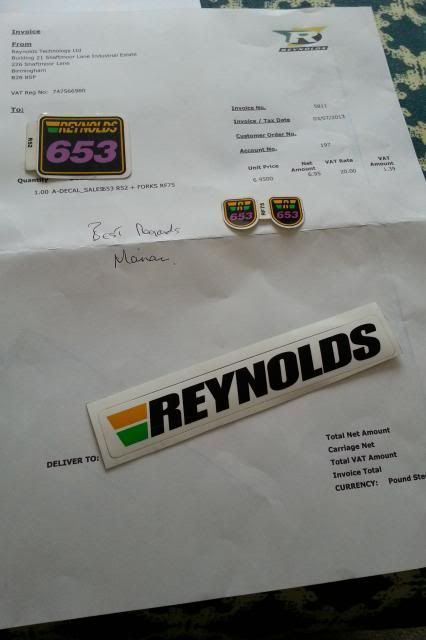 Will update in due course