Morning all,
I am sure the majority of you know that i have been busy with a few builds recently -
Raleigh Rapide -
viewtopic.php?f=23&t=228672
Peugeot and Townsend mixte -
viewtopic.php?f=23&t=248610
Rossin Prestige Team -
viewtopic.php?f=12&t=245434
The Rapide is almost done (and has been for too long) - just need wheels sorted
The Peugeot and mixte are a quick build but i need a few issues sorted - wheels and paintwork and i hoope they will be done soon
The Rossin is a long term build and will be costly (and so far it is costly) but will be worthwhile.
I have two Gazelles and another frame as well as the above to complete - so busy, busy, busy!!!!
Anyway, i bought a Van Tuyl from Tel (Stallion Cycles) a while ago and i have cleaned it up (not that it needed much) and it has been sitting gathering dust for a while as i have been busy with the aforementioned bikes. I received the foloowing information about the VAn Tuyl brand from Harrie (Dutch Cheese) who is an authority on all things Dutch (Gazelles especially) -
"Gijs van Tuyl is a bit a weird guy. Used to be quite a big race bike dealer in Zaltbommel, but went bankrupt for maybe 100 times. He was also always doing races, mainly in lower categories. Had bikes, frames and components produced with his own label. Somehow he wasn't able to invest time and money in the right business and screw up many times.
For many years, the brand name was "Van Tuyl". It was pretty famous in NL and good riders like Richard Groenendaal and Marianne Vos rode his bikes. But a couple of years ago, business went wrong again and his business partner/investor kicked Gijs out. Although Gijs van Tuyl is not in that company anymore, the bikes are still labeled as Van Tuyl. See
www.vantuyl.nl
Right now, Gijs is still working in the bike branch, running a company with his private bike label "Apex" (
http://www.apex-bikes.nl
), Quasar wheels and components and a bike shop 53-11:
http://www.cc5311.nl
Your frame is still from the older Gijs van Tuyl period. The bikes were quite good and always looked very good.
Some (or many?) were built by Italian frame builder Andrea Pesenti or at least in his company. But Gijs also experimented with aluminium frames and even with Titanium frames from Russia."
This info is greatly appeciated as my Dutch is not good (non-existent!!)
I have been gathering up a Shimano Ultegra groupset over the past couple of months - this is the 6400 set - or Tricolour as it is also knowns as.
From Velobase -
"The 600 group became the 600 Ultegra and then dropped the 600 all together to become the modern Ultegra groupset.
General Info: Shimano added the word 'Ultegra' to their 600 group set in 1988 with the introduction of the 6400 series groupset. Also often recognized by the tri-color stripe on many of the parts.
The Ultegra group was developed to provide a high-performance racing type bicycle for amateur racers and performance oriented sports cyclists. Ultegra features polished bearing races, high strength steels, a striking modern colour treatment and compact high-tech design theme. This approach creates a new upgraded image for a fashionable high quality racing-type bicycle aimed at the performance cycling enthusiast. (1991 Dealer Manual)"
Being fashionable (joke), I decided that this was the best option for the Van Tuyl. I had assembled all the bits in a box and last Friday i had enough spare time (family were away all day) to build the bike up. The build went well with a couple of minor problems - i had put non-grooved bars into the stem by accident and when I was about to mount the levers I realised the mistake. Luckily, i had a set of single grooved bars in the attic but I then spent 90 mins polishing them. The other minor problem was the bar tape - i think i rushed to get it done and the tape was spongy and non-compliant so i might replace it at some stage (maybe) or re-wrap the bars when I have some spare time. Other than that it was easy to build and i have had a few test rides on it and it is great. I think light and responsive would be the best description.
The frame has a few marks on it - age related and the chrome is starting to show its' age too but it is not financially wise to re-chrome etc and I am happy enough with it as it is. I have sought some advice about the build from fussy people and a few minor problems have been pointed out - feel free to comment, constructive criticism is always appreciated.
The build list -
Frame: Van Tuyl Colombus SLX (ctc 55cm, ctt 57 cm, tt ctc 55cm)
Fork: Van Tuyl Columbus SLX
Headset: Shimano 600 Ultegra / Tricolour HP 6500
Stem: Shimano 600 Ultegra / Tricolour HS 6400 (NOS NIB)
Handlebar: Cinelli Giro D'Italia 64-42
Bar Tape: BBB
Brake Levers: Shimano 600 Ultegra / Tricolour BL 6401
Brake Calipers: Shimano 600 Ultegra / Tricolour BR 6403
Brake Pads: Shimano 600 Ultegra / Tricolour
Brake Cables: Shimano SL (DA)
Shifters: Shimano 600 Ultegra / Tricolour SL6400
Front Derailleur: Shimano 600 Ultegra / Tricolour FD 6400 B
Rear Derailleur: Shimano 600 Ultegra / Tricolour RD 6401
Derailleur Cables: LBS supplied
Cassette: Shimano 600 Ultegra / Tricolour CS 6400 - 7
Chain: KMC 7/8 Sp chain 116 links silver/grey (110 links in use)
Cranks: Shimano 600 Ultegra / Tricolour FC 6400 - plastic cranks caps to be replaced with stainless ones
Chainrings: Shimano SG 52 42
Bottom Bracket: Shimano BB-UN55 cartridge
Pedals: Shimano 600 Ultegra / Tricolour PD 6400 (NOS NIB)
Rims: Wolber Alpine T430
Hubs: Shimano 600 Ultegra / Tricolour FH 6400 RH 6400
Hub Skewers: Shimano 600 Ultegra / Tricolour
Nipples: N/K
Spokes: SS DB
Tyres: Schwalbe Lugano 700 x 23 c - Black. These may be changed to amber walls.
Tubes: N/K (cannot remember)
Saddle: Bassano Selle - not sure if it will stay
Seatpost: Shimano 600 Ultegra / Tricolour SP 6400 B
Seatpost Binder: N/K
Bottle Cage: fitting for 2 - none fitted yet
Extras: Elbow grease - £1000 per Oz
Weight 10.1 kg - 22 lb 4 oz (these are rough as scales may not be great!)
So now the bit you have been waiting for, and i hope you are not disappointed - THE PICS -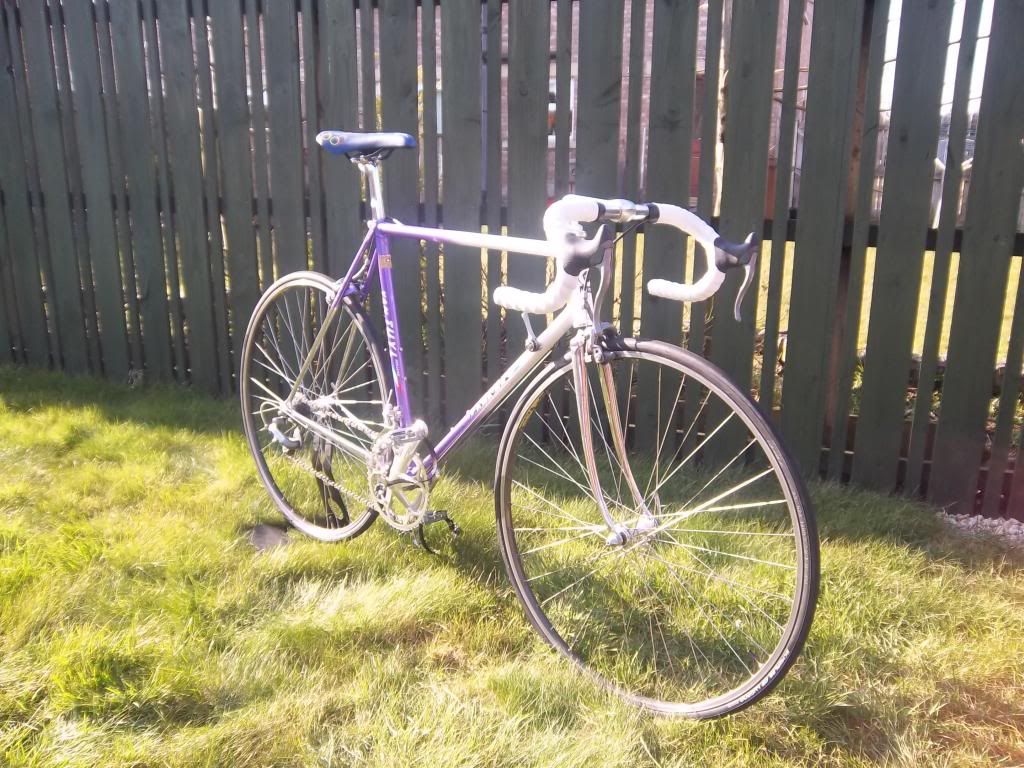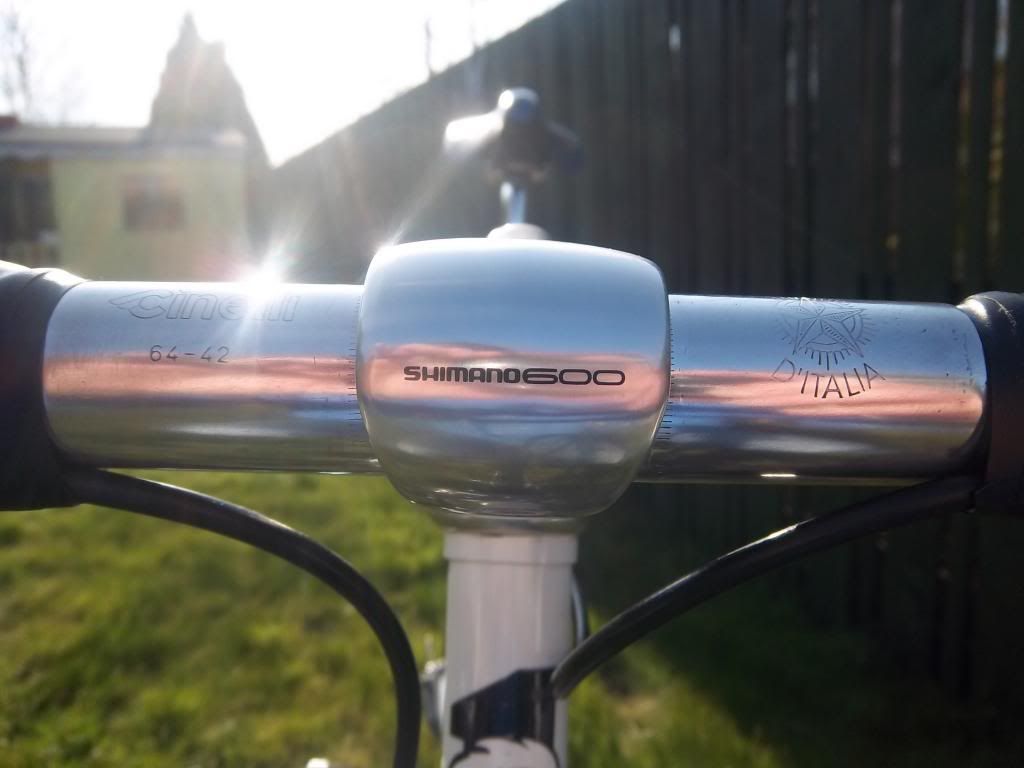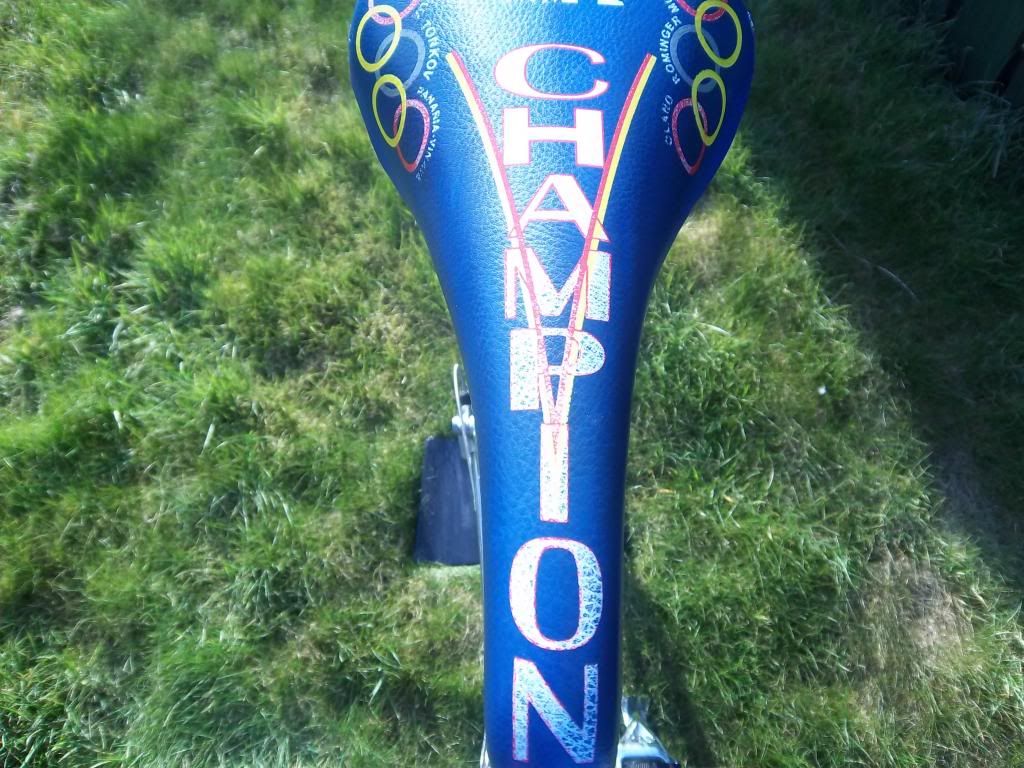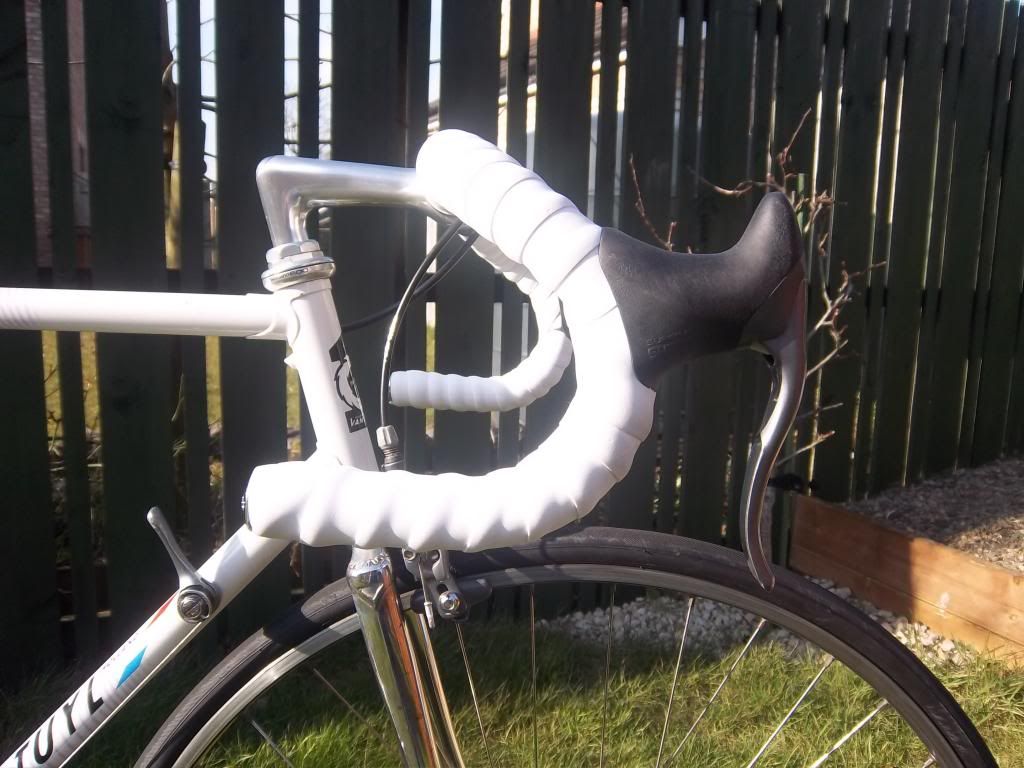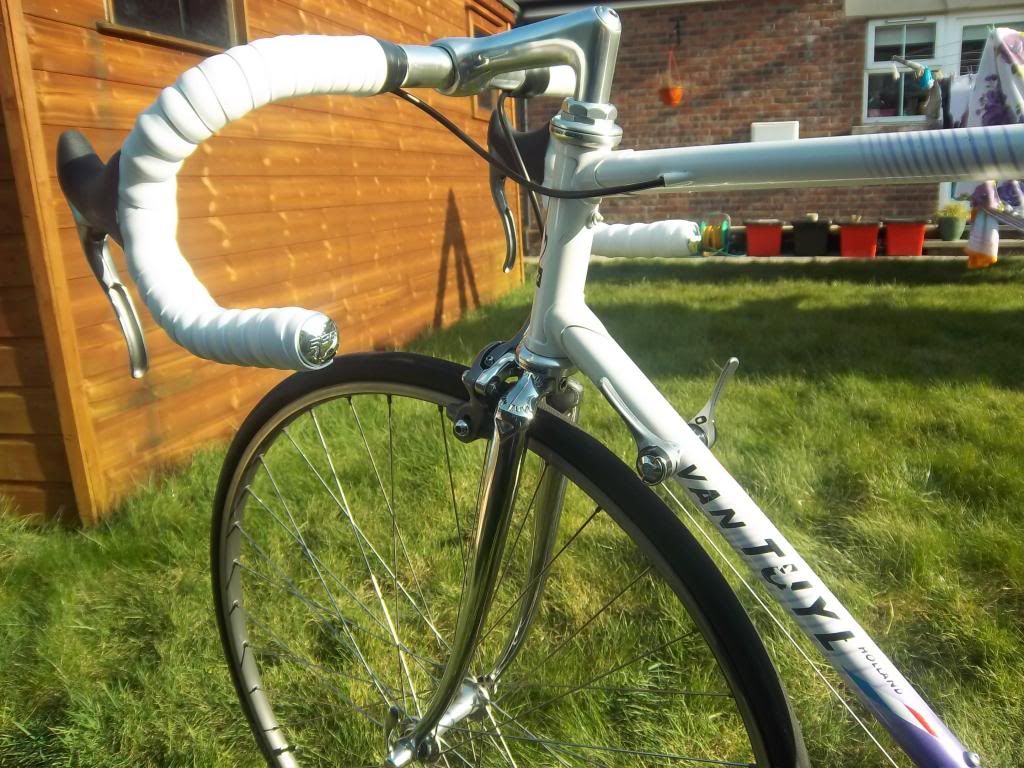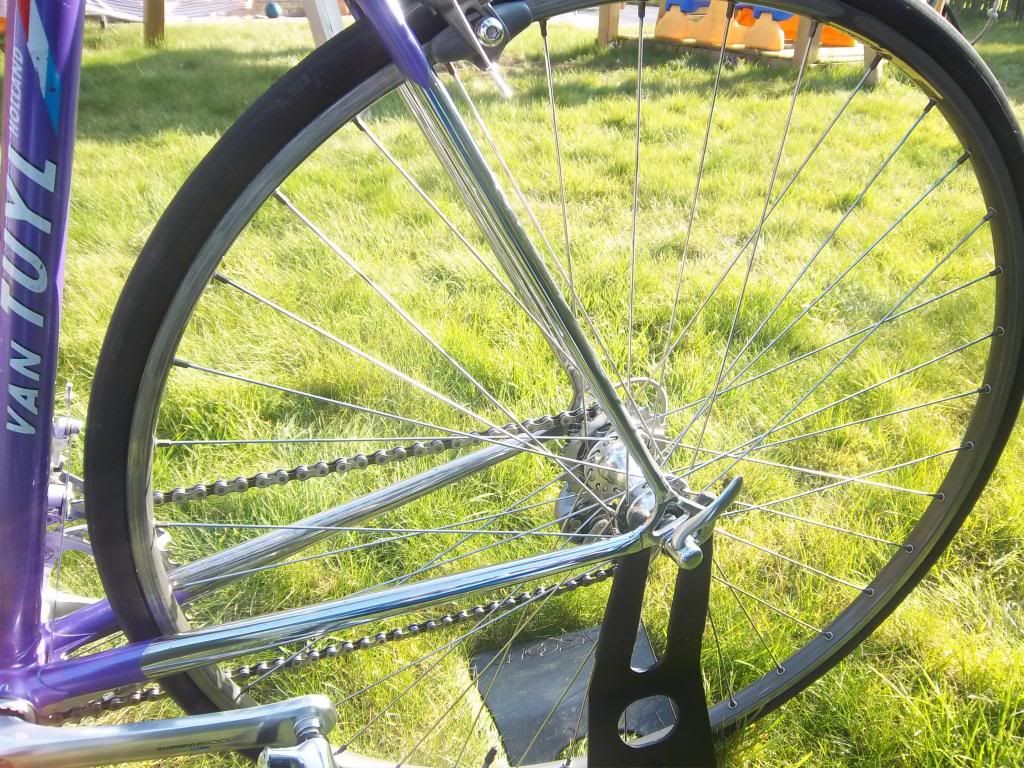 More pics are available here -
http://s1290.photobucket.com/user/TGR15 ... sort=3&o=0
Comments and criticisms always appreciated,
Richard