Today's update -
As mentioned the mixte is the first build and i have wrapped the Pug and put it away safely. My top tip of the day, which i have seen mentioned elsewhere, is that you need to be careful with tools etc around newly painted frames - i managed to mark the frame twice today and on my next one i will buy a 2m length of plumbers pipe insulation for £1 and wrap the frame before i start. Thankfully, my wife didn't see them when i showed them to her - they are small.
Today, between school runs i managed to fit the BB and headset without any major problems however i cannot be completely sure they are running as freely as they can. Having checked Sheldon i found that he recommended replacing caged BB races with bearing - as i didn't have enough i refitted the original items having thoroughly cleaned them and i used plenty of grease so they should be ok (fingers crossed).
I then ventured into my parts boxes and found a pair of GB Maes bars which i will use. I also found a Cinelli stem which is super short (to match my wife's arms) it is that short i doubt i can remove the clamp bolt as i have not got an Allen key short enough to fit. I polished the bars and have just finished a little filing at the stem - it was badly marked at the insertion mark and below but i suspect that i will need it raised a bit so i am planning to wet and dry the marked bit and then polish it. It would be a lot easier if i knew that it would be down really low but i can't take the chance - more work to do ...
Here are some pics of the bars - some before and after and a couple of 'one side done'.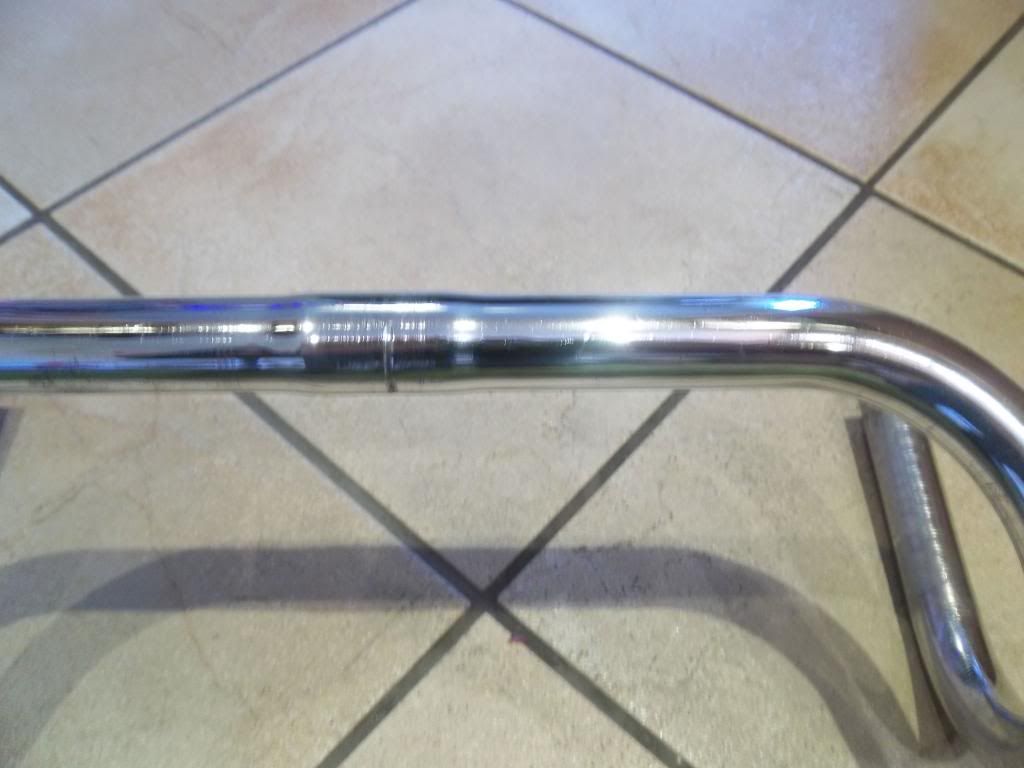 More to follow of the stem tomorrow,
Richard
_________________
Built - Raleigh Rapide / Van Tuyl / Raleigh Ritmo / Forme Longcliffe / Will Cee Winter / Python Rock / Gazelle CM Mixte (aka Townsend) ///// Pending - Rossin Prestige Team / Gazelle CM A / Gazelle CM AB / Fulmar / Peugeot Sportive / Raleigh Flyer / Batavus Champion / Raleigh Flyer / Peugeot / Look 241 Kelme / Raleigh Pro Race