Having almost completed my Raleigh Rapide and being ready to build my Van Tuyl (time permitting), i thought about buying a bike for my 6 yr old - the plan was a mini-Rapide. Ebay got a look and a possible bike came my way - a Raleigh 5sp. This is a very small race bike - i have since seen an identical bike in a slightly bigger frame.
I received the bike by courier - this was mentioned in this thread - 'How not to pack a bike' - a big clue in the title -
viewtopic.php?f=12&t=245937
I unpacked it and initially i thought it was ok, after another look i realised all was not so good - some bad rust in places on the frame and the brakes and cranks were really just lunps of rust. Incredible the ebay pics did not show this and the bike looked ok - from a distance!!! But i will learn after another ebay pic failing - again i have mentioned this before - i really should learn!!!
Here is the Raleigh 5sp -
Not one to be easily deterred, i set about planning the build - i got some NOS wheels - need a little work, bars and then i needed cranks - 113mm ctc cranks - not easy to find. I visited a local bike shop (on the advice of Will911 - thanks) and as this is an old family shop they had plenty of old bits and pieces and second hand bikes.
The guy in the shop checked his parts for cranks - no joy, he then checked his second hand bikes and found a BMX bike with suitable cranks - but i had to buy the whole bike at £50. This was getting expensive!! I asked if he had anything cheaper and he took me to another store with old bikes and there - hung up on a bar was an old Peugeot Sportive childs racer with cranks to fit. £20 for the bike. Beside it was the larger version of the 5sp and a white Townsend Lady Royale mixte bike. I had a quick look at it and paid my money and left. I arrived home and examined the Peugeot and discovered that it was in better condition than the Raleigh and it is a girls' bike so after taking a little advice i decided that this would be a better build than the Raleigh - here are the pics -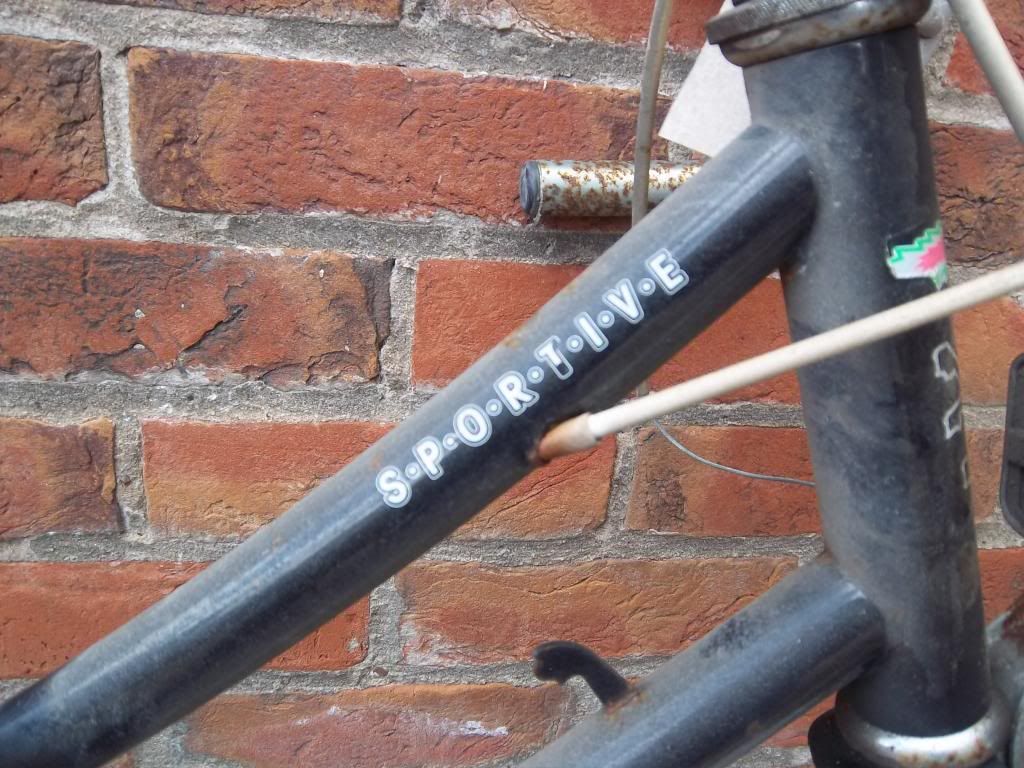 I know it looks a little 'tired' but this was the condition i brought it home in. It is mechanically sound and i have the Raleigh as a donor bike for some of the bits. Having had a look at this, i thought - i have a few bikes, my daughter has a few bikes but my wife doesn't. So, next day, i returned to the shop for a closer look at the mixte - it is NOS and had never been sold but obviously had been in a damp shed for a long time. I paid £45 for it and brought it home. I cleaned up the frame to see how bad the rust spots were and the paint was in ok condition but not what you would call 'patina' so i decided to get it resprayed. I then thought that i would get the Peugeot sprayed too - but not as the mini-Rapide.
Here is the Townsend Lady Royal -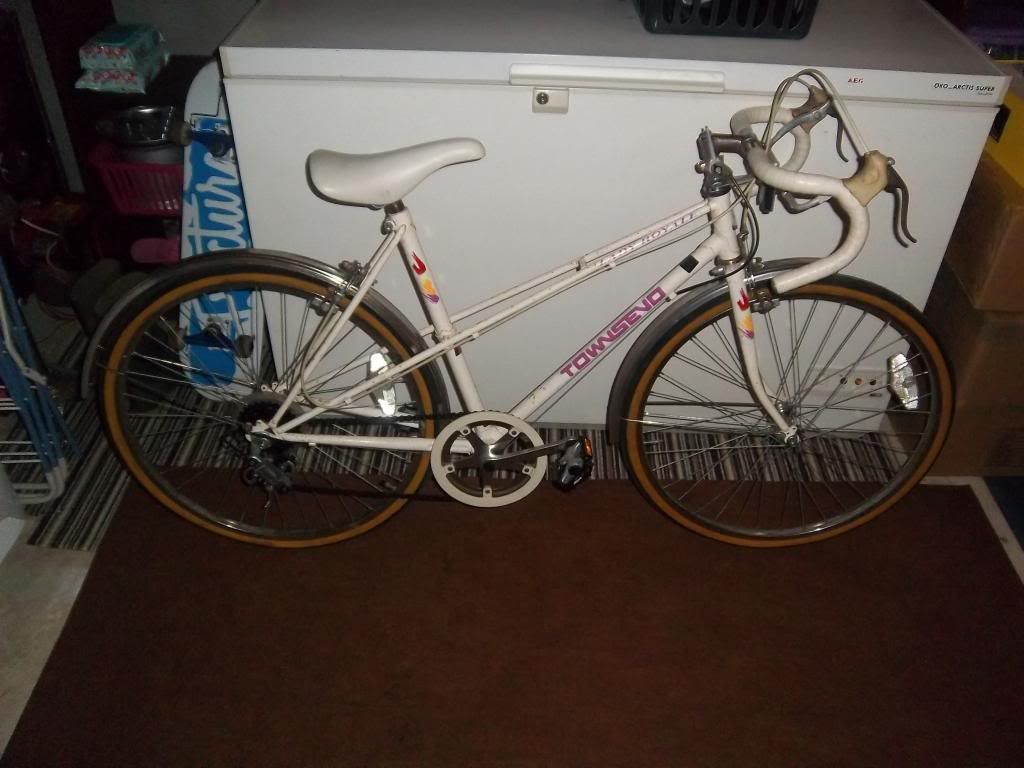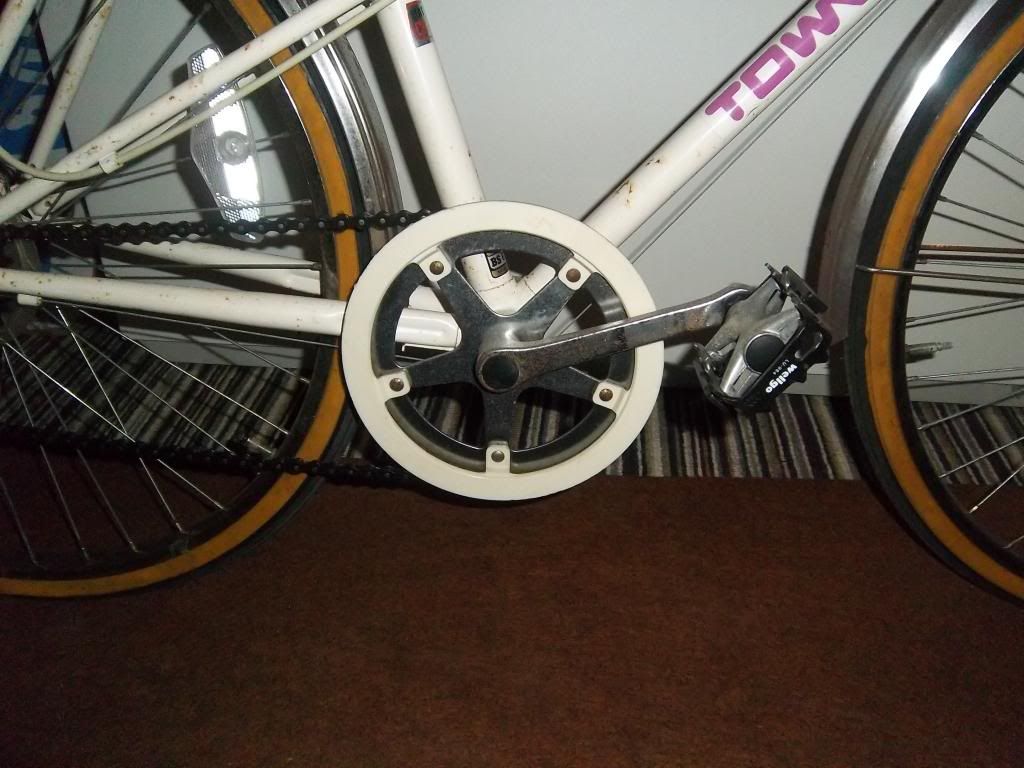 Yesterday, i started to remove the paint - with Stanley blades and sand paper - i managed to get the two fork legs done quite well in about an hour. The plan was to treat the awkward bits with paint remover. As i pondered this (as i ponder everything), i thought i would phone a guy who does sandblasting (a local car painter had given me his number) to check on the price of sandblasting and the time to get it done. He told me £20 for the two frames and to bring him the frames out. I drove to his premises and had a chat about the process etc and he started to blast the frames. I had to check my wallet as i thought i would be leaving them and collecting them later!!! Luckily, i had some cash.
Seven minutes later (i checked) both frames were done and the cost - £15!!!! The paint remover cost more than that. I was in shock and still am at the speed, cost and result!!!
keen eyed viewers (you all are!) will note the cup in the BB - i could not get it out and i might have another go before getting the frames painted but it was masked pre-blasting and a little paint was missed - but no probs.
Time scale for the build so far - bikes bought 11th March, disassembled the following day pending enquiries, bits and pieces sourced and bought (tyres and tubes etc), wheel obtained. 19th March - blasted, 20th March - paint bought - 2 pack car paint in rattle tins for my friend to paint them and primer - £31. Plan is next Monday onwards get them painted and then build. I still have wheels to get polished and built for my daughter's bike - i will be mixing hubs and rims to get something suitable.
Update will follow next week = apres paint - hopefully.
Richard
p.s. this is a rush job, as my daughter is growing and if this was the Rapide - she would outgrow it before it was finished!!! Thankfully, i don't have that problem with my wife
_________________
Built - Raleigh Rapide / Van Tuyl / Raleigh Ritmo / Forme Longcliffe / Will Cee Winter / Python Rock / Gazelle CM Mixte (aka Townsend) ///// Pending - Rossin Prestige Team / Gazelle CM A / Gazelle CM AB / Fulmar / Peugeot Sportive / Raleigh Flyer / Batavus Champion / Raleigh Flyer / Peugeot / Look 241 Kelme / Raleigh Pro Race