I saw Spibblos Aende frame and forks come up for sale and it was what I've been after - a decent frame with lugs for mudguards. I don't have that much use for mudguards most of the time, but when I do...
This is the link to Spibblos original post so you can see how it was:
viewtopic.php?f=23&t=175883&start=15
And this is what it looks like so far at my place: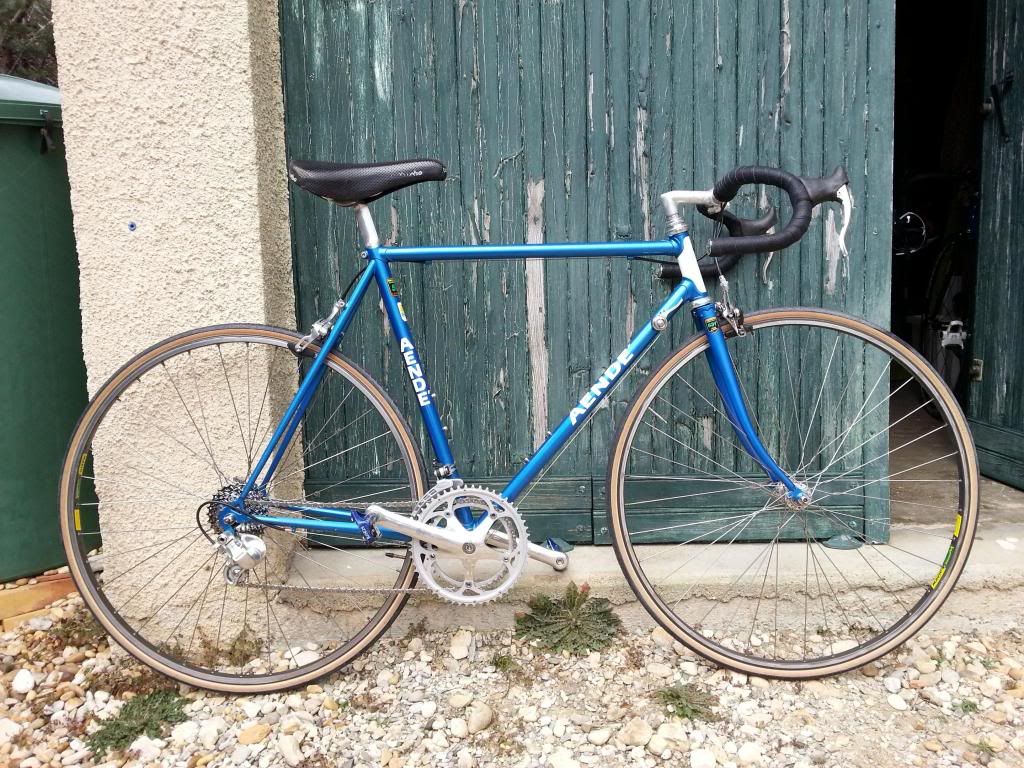 The wheels are Mavic hubs with MA40 rims and I've put a new 7 speed block with a nice spread of ratios on there. The calipers are deep-drop Miche with plenty of space for mudguards.
Levers are Mavic because that's what I had lying around. The transmission is Athena with the exception of the Huret front derailleur.
The shifters are 8-speed indexed Athéna and it was either those or Simplex friction but I want to try the indexing. I haven't compiled a spec list as this might not be the definitive build - I might use a TA triple chainset. The bars and stem are GB Randonneur and the bar tape is some thick Brooks tape. Those pedals are Bianchi-branded pedals that came on a Bianchi I bought some time ago. I put them on because they're blue (!) but they won't necessarily stay.
I'm looking for some nice shiny mudguards next, and the Turbo will probably be replaced by a Brooks. It's coming together nicely and I'm very pleased with it so far.

_________________
"The champions have better bikes, more expensive shoes, many more pairs of cycling shorts than we do, but they have the same roads" - Tim Krabbé