Looking really smart, looks like we'll have a little group of Super U/Castorama replicas when Kettlo gets his pics up. I am in the process of building my team replica too, the frame is at Argos Cycles as we speak and I'm busy collecting all the bits to make up the whole bike - just rear dérailleur and brake levers to go!
What rims are you using? I managed to get a pair of NOS Michelin Hi Lite Comp (700x23C) a few weeks ago via Ebay and they really look the part.
From what I can make out the team used ITM bars and stem rather than 3TTT, although I have chosen a pair of 3TTT Paris Roubaix bars as I like the internal cable routing but have gone for an ITM stem. What bar tape are you going to use? I had a go at the tricolour design on my 531C (see below) but it met with very mixed reviews on here. I quite like it so can't decide to use that on my replica or just plain white.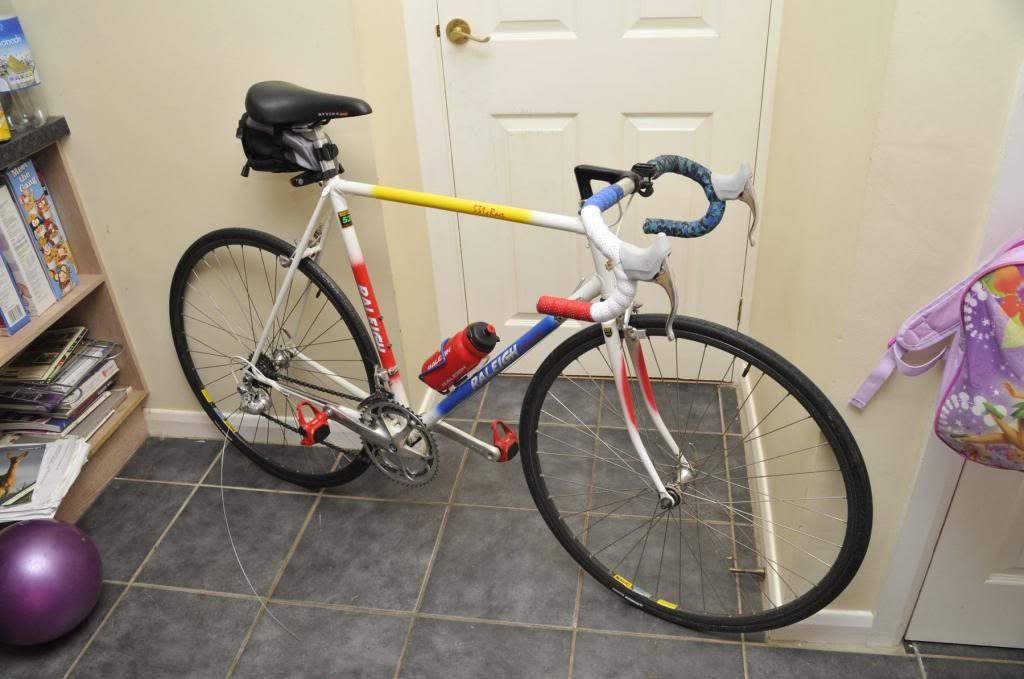 Have you chosen a saddle yet?
Loads of questions I know, I am really keen on these bikes and am now able to fulfil a 23 year old desire!
Martin
Hi rims as pictured are sup and open 4 cd,these are just to give a rolling rig and look at the contrast etc. Have a set of Mavic MA40 on Record Hubs on way (NOS) but looking at all options ,do love the way the current ones look but the rear is freewheel 8 speed so not right for this build ! Yes original bike was ITM my stem is 3ttt will be looking for matching bars tape wise will go with Benotto not sure yet about all white or Tricolour,tough but may just go white.Will keep my eyes open for some of the Hi lite tyres ! Look forward to your pictures. Oh yes at the moment my prefered saddle is the suede 3ttt