Hello guys
I would like to introduce my self, this is my first post in the forum and before anything else I have to congratulate you all for the effort in preserve those wonderful pieces of history.
I am from Venezuela and I have been interested in vintage stuff since I can not remember when and as a bicycle mechanic the vintage bike movement is a kind of natural to me
.
I guess I am not the first to realized that one of the main problems of this hobby is the space need it to work on and storage this gems although I decided to start my own collection. Since we do not have the history or the cultural attachment you guys have in Europe to bicycles, my access to classic examples is difficult but I will give it a try anyway.
This is my last find a 1991 Cannondale SR600 in very good shape, back in 1990 I bought a SR400 for my self and a friend of mine decided he also wants one for him, I made all the research and he got the bike and we used to ride together back in those days, he call me last week to ask me if I know somebody who wants to buy his old road bike and I could not resist and I got it.
The condition is almost new he really did not used or abused at all considering the parts are all original is amazing the the chain is not stretch beyond .75 and the pedals and wheels turn smooth.
This is the pic when she arrive home
Since I was looking for an inexpensive road bike to used it on regular basis I decided to change some parts to update it and perhaps save some weight, so I used an adapter to use a modern stem and handlebars, Sora 8 speed shifters and cassette, 130 mm hub rear wheel and a much more comfortable saddle and a lighter seat post and crank set, all mentioned before from my bucket of spare parts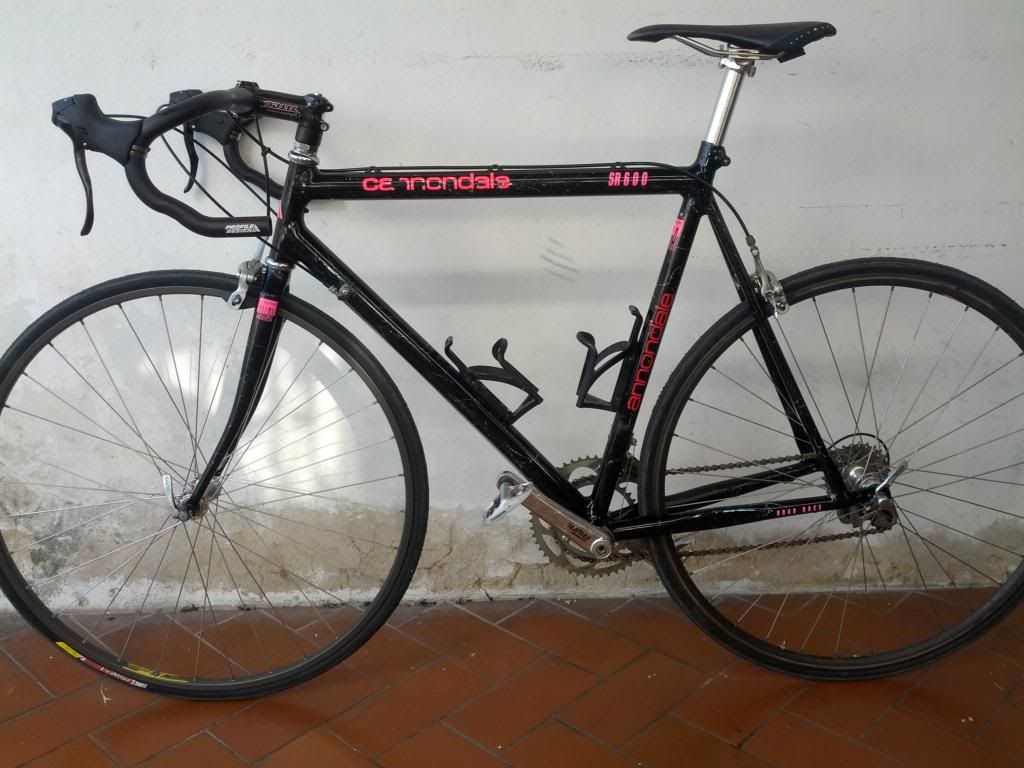 I rode 18 kilometers yesterday to see is every thing was in working order and after a few adjustments she will ride like a charm.
I hope did you like the tale