OK, so it is not steel, but it is retro.
I was aimlessley wandering around the web when I stumbled upon this place. Well, humans are social animals and taking this machine through the mountains on solo training spins is fine but I felt some innate urge to share it with other like-minded creatures: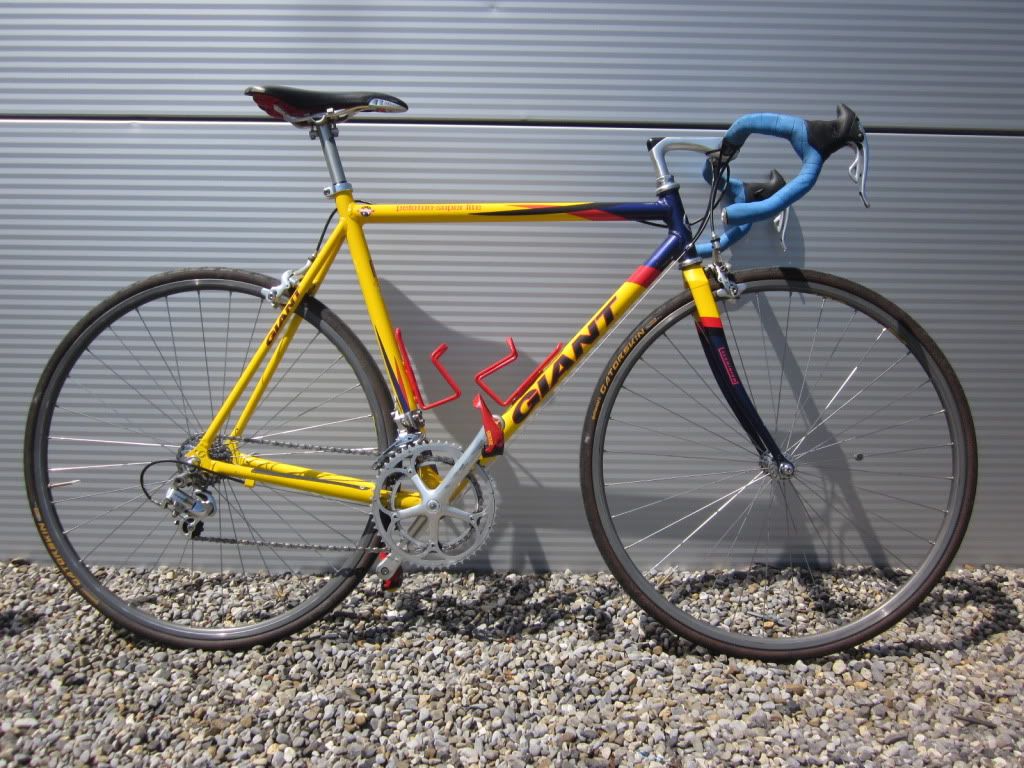 History:
In 1996 I had a Reynolds 753 built for me by Ribble. I had a full Campy Record group and some other nice toys like Mavic SUP wheels and Cinnelli Eubios bars. Late in '97 I had a bad crash in the last race of the season. By the time I got back on the bike I felt a little motivation was needed so I bought a new frame. The steel was already a bit dated before I bought but by late '90's regardless of how much I loved it and everyone was moving to alloy and carbon frames (sorry) so I thought I take a look at what it was all about. I bought a new frame, Giant Team Edition 6061 T6, and had my full group moved to the alloy.
At the same time I found an old Mercian with a crack in the frame in a second hand shop. The shop owner did not realise that there was a full Dura Ace STI group set on it, or if he did he did not know its value. That group now sits on the Ribble.
Why this is of any interest to you retro worshipers is what followed. I never got back on the bike. It sat in my shed, well wrapped up and safe but it sat from 1998 to 2011. Life caught up on me. I grew up and it grew dusty. Last year I decided to get fit again and got running and cycling. The upshot is that I have a brand new 1997 Giant Peloton.Super Lite. It has under 500 genuine miles, one owner and a full '96 C Record group set.
The marks on the rear mech and front brake leaver are scars from the crash but I don't think they take from the bike. Probably add to it's originality. The saddle is a great way to age it by the way.
Hope you enjoy and thanks for reading,
Oh, and forgive the road dirt, at least it is being used now. I'd rather that than the dust.
Dru.