Thought I should post this up.
I had wanted to have a single speed bike for a while and this was a gumtree find a few years ago. It was a complete bike, but the wheels were too far gone as were the mechs, so it was given the single speed treatment.
When I built it up it originally had a set of its own single speed wheels with mavic rims, but a drunk neighbour jumped on the wheels making them look like pringles. The Token wheels pictured get switched out between my Cinelli Gazzetta and the Peugeot Elite, depending what i want to ride.
1987 peugeot Elite
Token Track wheels (flip flop hub) on loan from my Gazzetta
17 tooth freewheel and fixed cog
Shimano bottom bracket
Doctored shimano crank (mounts for smallest chain ring ground off for clearance)
Stronglight 48 tooth ring (ring mounted on inside of spider for perfect chainline)
ITM quil stem from a 90s Raleigh that had been reversed into by a van. (freecycle find)
Chopped and flipped drops
Shimano 600 aero brakelevers from the afore mentioned Raleigh
weinemann brakes (original)
Giant saddle originally from my Giant M1
welgo pedals with zefal cages and straps from a Glasgow freecycle member.
The bike cost a whole £40 to buy and build originally before the wheel incident, with most parts i needed either coming from my odds and ends part boxes or freebies from freecycle or gumtree.
This is probably the bike i use most, and will hopefully have its own wheels again soon.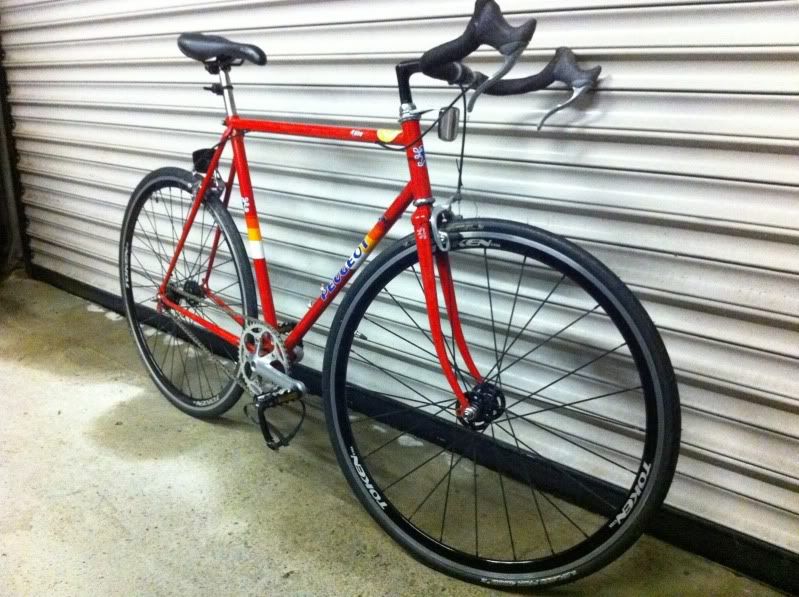 _________________
91 Flying scot (Dave Yates built)
90 Dawes Impulse lightweight.
87 Peugeot Elite single speed

new stuff:
Giant M1 (for general duties)