PART X!
As a front derailleur I will be using a Campagnolo Record 1052/NT (1978 - 1982, 3-hole narrow band) I have in my partsbox, this one:
http://velobase.com/ViewComponent.aspx? ... 1&Enum=113
Because I cant use a braze-on with the frame
Will Put pic up tomorrow, cause it's to dark to get a nice pic at the moment.
PRICE= €0, got it of a Peugeot bike and replaced it with a more suitable Simplex mech that I got for free when I bought an other Peugeot bike.
WEIGHT= 92g
pic I got of the net, not my mech.. but identical: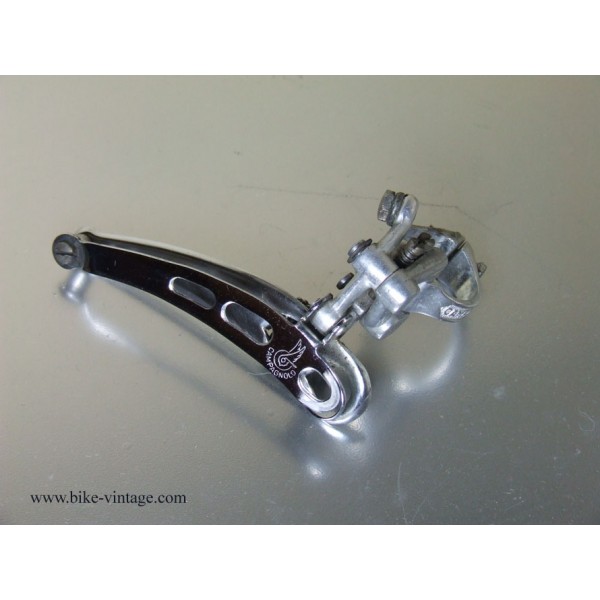 ------------------------------------------------
More than half of the weight gone
(UPDATE: Scale gave me an extra 101g! Because I counted 2,9kg for the fork&frame, but it turns out, they weight is 2,799kg!... so still more than half of the weight to go!!)
Luckely my budget is still ok! This way I can afford some nice lightweight parts: BB, brake calipers & levers, Headset, hubs/rims/spokes maybe, etc...
Ill post the handlebar tapes I have here tomorrow! Ive selected four.. (Black Cinelli, Dark Grey Deda, Black Ambrosio, and Silverish Carbon Look Bike Ribbon) But I cant decide which one to take, so Ill need some help on that one.. Bought 10 tapes as a lot for 55 Euro, so they've cost me €5,5 each, weight will not be much of a difference so It will be comfort and aesthetics to consider.... and of course the tape has to match the lever hoods..

_________________
[size=75]
1982 Peugeot PH12 (Vélo de Centenaire)
1983 Plum Vainqueur
1984 Gazelle Champion Mondial AA-special
1988 Diamant
1992 Concorde Colombo