PART III
-ordered this (new,2011)
Two-Bolt Deda Elementi RS 01 seatpost
,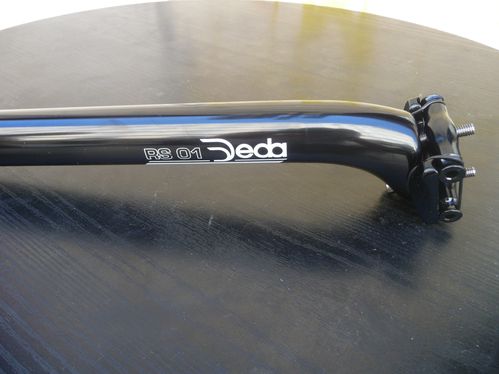 PRICE= €15,95
WEIGHT = the Deda sites says 333g for the 31,6mm-version, so it wil be approx 300g,
scale says 0,290kg
I thinks the fact that it is two-bolt gives it a kinda of retro campagnolo look..:http://velobase.com/ViewComponent.aspx?ID=657E68A0-022C-4D64-9617-29856A826F2C&Enum=105&AbsPos=25 And it fits very well with the black 3ttt you can find below.. I hope at least..
PART IV
Got a
Black 84 (80ies) 3ttt stem
in VGC, but the plastic cap is that covers the bolt is missing
the guy who sold it to me said it was in excellent shape, which it is.. But didnt tell me the cap was missing. Its quite important for this stem because the bolt is really low placed in the stem. so might have to look for another one..
(Unless someone can help me out here??)
WEIGHT= velobase says approx. 275g, scale says
303 grams
because it is a stem with 120mm reach
PRICE= €18 (postage included)

PART V
Will match the above displayed (or possibly an other) black 3ttt stem with silver
70ies 3ttt Competizione handlebars
.. Bought it in a lot with 6 other bars (different qualities/condition/brands/types)
So its hard to put a price on it.. will have to figure out how I can state a price..
WEIGHT= Velobase tells me approx. 340 g, scale says:
327g
PRICE= ?€10?
----------------------------------------------------------------------------------
Will ad some more parts and some missing pictures tomorrow!
At this tempo I will be ready in 5 weeks
Especially The budget will be gone in 5 weeks
And the weight is also starting to form an issue....
I Will have to look for some budget light weight wheels I guess
And will it be possible to keep it all Italian?

_________________
[size=75]
1982 Peugeot PH12 (Vélo de Centenaire)
1983 Plum Vainqueur
1984 Gazelle Champion Mondial AA-special
1988 Diamant
1992 Concorde Colombo