Here's a pic of my favourite bike, an Alan from the late 80s: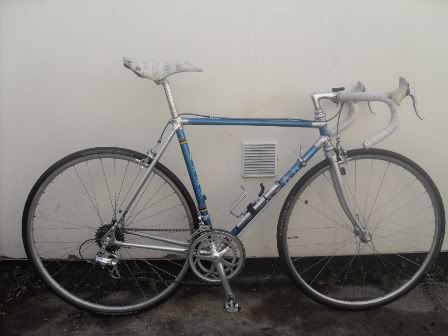 I was kindly given the bike by my mother in law when her husband sadly died on a club run a couple of years ago. I have generally overhauled it although, TBH, it just needed some TLC. Hence, some 2nd hand wheels (Open Pro/Record), new chain/cassette, gear levers/cables, pedals, brake blocks/pads, handlebar tape, tyres/tubes, an old saddle and some elbow grease.
I wrote to the chap in Italy who is the AL in ALAN (Alberto Falconi at Alan bikes) and he confirmed it as '85 to '89 but there is a World champ banding with '89 on it, which ties it down nicely.
The groupset is a bit of a Heinz 57 (Shimano brakes/shifters, 53/39 Standard Campag Veloce BB and 9 spd Chorus rear mech, Suntour front mech) but it all kind of gels and feels fantastic to ride (albeit quite twitchy which takes a little getting used to). I intend to get some Campag brakes at some point but I am not in any hurry as it would be just an aesthetic/purist thing.
Current wheelset (for the winter) is an old pair of Campag Nucleons that I found in my FIL's bikeshed. They seem to do the job and look right too.