Since I wasn't happy with the "ZIPP" disc wheel, I sold it and bought this new PRO (by Shimano)
tubular disc wheel. 12K carbon, Dura Ace hub and about 1200g in weight. It's fitted with brand
new Vittoria Corsa Evo CX 23mm tubular tyre.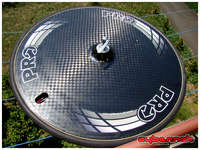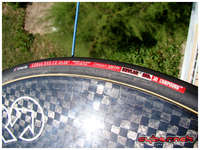 I've also had to get some carbon-specific cork brake pads and a "crack pipe" valve/pump adapter.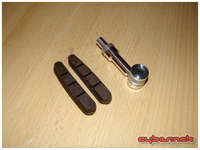 22/Aug/2012 - Bosnia & Herzegovina's National TT Championship at Zaluzani race track near Banja Luka.
It was the hottest day of the year, with 38'C in the shade and 42'C out in the sun on the track!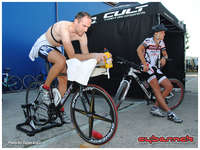 Doing a warm-up on my new Elite SuperCrono turbo-trainer. The term "warm-up" shouldn't be taken
lightly with the ambiental temperature this high!
Rolling to the start ramp, with my new disc wheel, new aero helmet and new team skinsuit
.
Beautiful 12K carbon sheen
. Proudly wearing number 1 and starting from the last spot,
as I was still the reigning national TT champion, though unsure if I will able to defend
the title, as I was not in the best shape this season.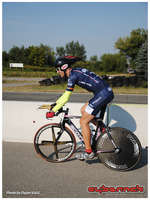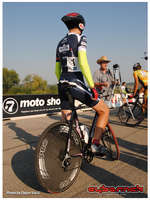 Up on the ramp, during the starting procedure. Aaand... off we go!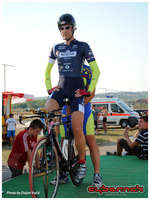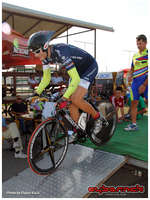 I was feeling the side-effects of 42'C on the first lap already. Although I am generally used
to riding in high temperatures, I was really suffering that day.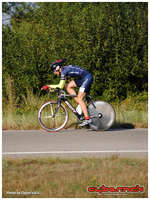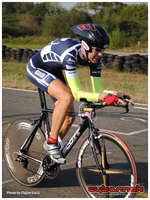 There is a hair-pin turn in each lap obviously, which is a proper tempo breaker.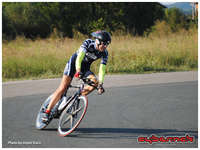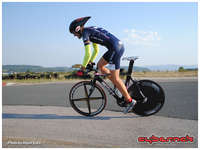 And finally, crossing the finish line, feeling completely spent and with a considerably
slower time than last year's. In the end, I didn't manage to defend my last year's title,
but I got silver, which is still not too bad, considering I've had a knee injury that had
prevented my from doing any winter preparations and riding until early Spring.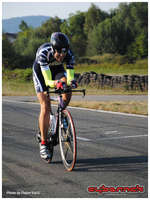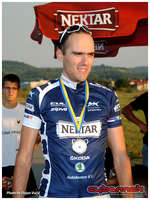 That's it for 2012, as far as TT-ing goes.
Full-size photos:
http://photos.cybernck.com/plasmanck?page=5