Just thought I'd start a thread off about my little project, unfortunately I don't have the budget for full NOS period parts (or patience to wait for them to turn up!) to go to town and make it perfect, so I'll have to cut a few corners.
This is how it started, not too bad, certainly no basket case, but in need of a decent fettle: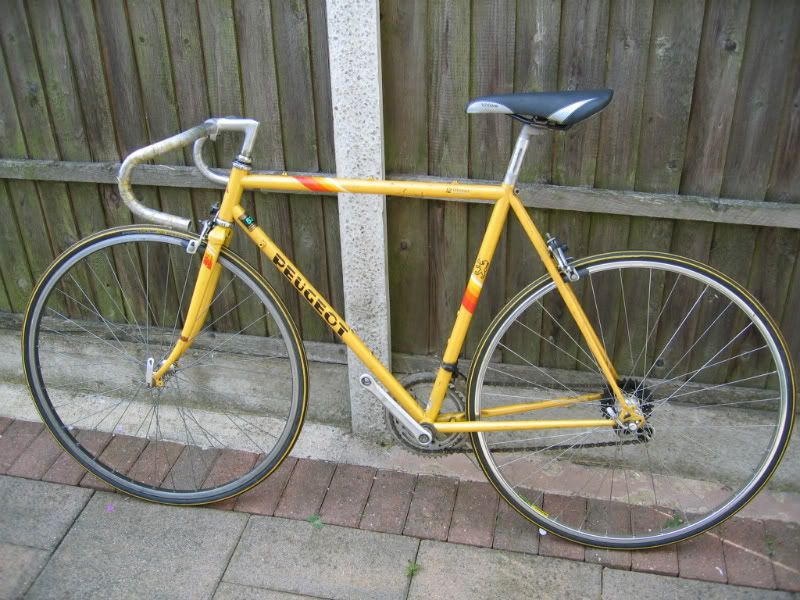 The only snag I'm facing is with the brakes, I've bought a set of 600 short drop brakes, the front one should fit but the rear doesn't, looks like I'll need to fashion a drop bolt/bracket.
I've got a pair of Mavic MA2s on 105 hubs just being trued up and checked over at the shop (no patience for wheel tinkering I'm afraid) no money for new tyres so they'll have to wear the Panaracer 700x26's that came with. Other stuff is mainly 600, chainset, mechs etc brake levers are cheapies for the minute as I can't run to a pair of 600 levers.
I'll have to re-use the Stronglight post, ATAX stem and Philippe bars as well, I should be able to polish them up though, at least.
Frame is away at the powder coaters and the decals are in the post, I've gone for a plain silver, I hope it turns out ok
More pics as and when. Be gentle, whilst I've fettled before I've never done a retro/period (ish) rebuild, I know there will be parts that don't quite match but I'm actually building it to use so I'm not too worried.
Cheers.