I found this bike abandoned next to the industrial wheely bins at the bottom of my flats, it had been there some time and never been moved, so I decided to give it a new home nefore the binmen took it away.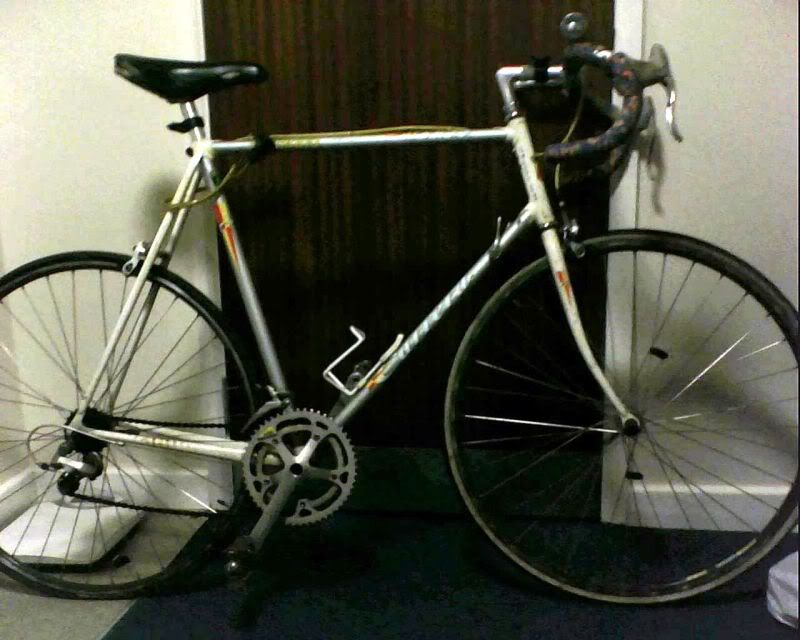 A Carrera Monza, serial number: U00347457, which I know very little about apart from the fact it looks mid 90's to me and has RX100 components.
If anyone has any info or could date the bike a bit better than me then let me know!
It looks scruffy but is in working order, so I'll give it a few rides and see how I like it (it may make a decent winter training bike).
Frame:Carrera Monza Reynolds 531 Butted Tubing
Fork: steel ???
Headset: Threaded style headset.
Stem: ?? Alloy
Handlebar: Cinelli alloy
Brakes: Shimano 100RX
Brake Pads: Shimano
Brake Levers: Shimano RSX
Shifters: Shimano 100RX
Front Derailleur: Shimano 100RX
Rear Derailleur: Shimano 100RX
Cassette: Shimano 7spd
Chain: Shimano
Cranks: Shimano 500EX
Chainrings: Simano Biopace (52T.??)
Hub Skewers: SHimano
Rims: Mavic Open 4CD
Hubs: Shimano 100RX
Spokes: DT
Tyres: Seca FPS / other unknown
Saddle: Selle san Marco Rolls
[/img]