Thought I would say Hi and introduce my small but growing collection!!
I have been regulalrly cycling for nearly twenty years now though mainly mountain biking.
My Paperround as a lad helped to fund some quite nice bicycles in my youth.
However in 2003 I got lucky earned some money, got fat and bought this....
It was the most expensive bike I have ever purchased coming in at nearly a grand with a few mods I had done in the shop,
The Maguras came of my previous Kona A bike which my friend still owns and I regret selling!
I dunno why but I have never got on with this bike and really stopped riding all together and got even fatter!!
Until two years ago I was forced into riding 250 miles a week for work.
I peddled and peddled, still hating it always feels draggy and slow... I lost loads of weight though!!!
I live in quite a funky area of Birmingham and kept seeing these old road bikes with no gears or brakes!!
I later learned they were called fixies!! But I had built my own by then!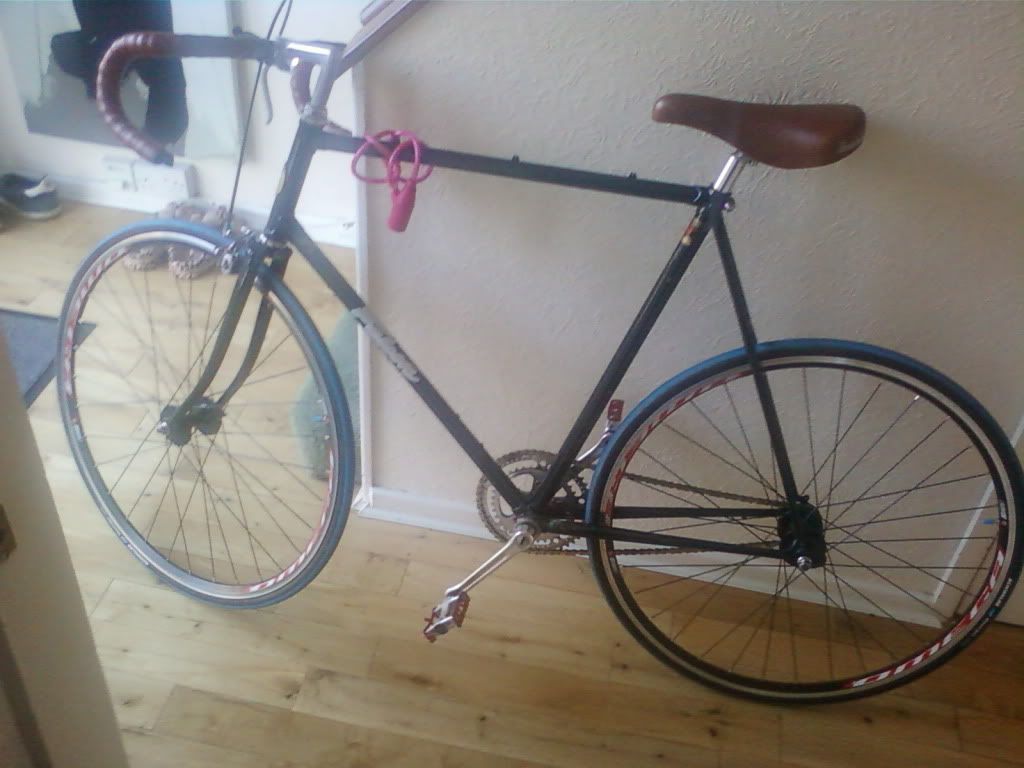 I know no foot retention.... But I had no idea at the time i just built it from an old frame from my mates shed!!
She was sadly to big for me.... but the seed had been sown skinny tyres it was for me what a delight though I soon grew tired of riding fixed.. Its really not for me, I like going down hill fast!! But single speed was somthing a came to rather appreciate!!
Said friend was also now eager to get a road bike so of we went to the shop in search of a nice old frame set.
Lurking in the corner was this......
To small for my friend!! But perfect for me, Black Falcon was sold back to friend! Now being rebuilt as a geared bike! At some expense!!! And I put the money toward buying this!
Its an OLMO I Had never heard of them but it was light and in my size, It also had some lovely Mavic GP4s on with Tubs fitted.
Its a strange bike as it is single speed but im certain it did not leave the factory that way though most of the brazzeons if it ever had them seem to have been removed?? and the brake mountings are of the later allen key fitting type.
It had been porly resprayed and the paint is coming of in chunks so she is being stripped as we speak for a good powdder coating! and to get all that lovely alloy pollished up!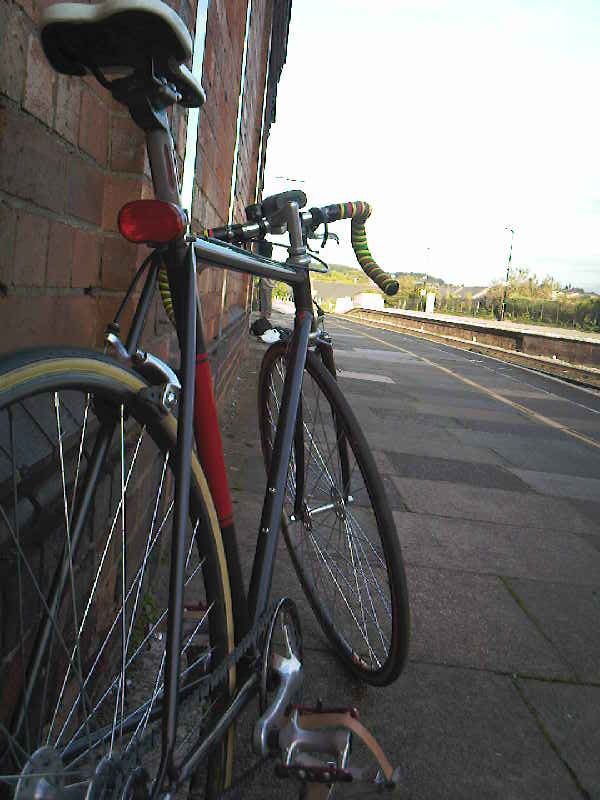 To keep me going over the winter as i commute by cycle and train I bought this eightes Peugeot all I have done is squirt oil at the chain and she has not let me down!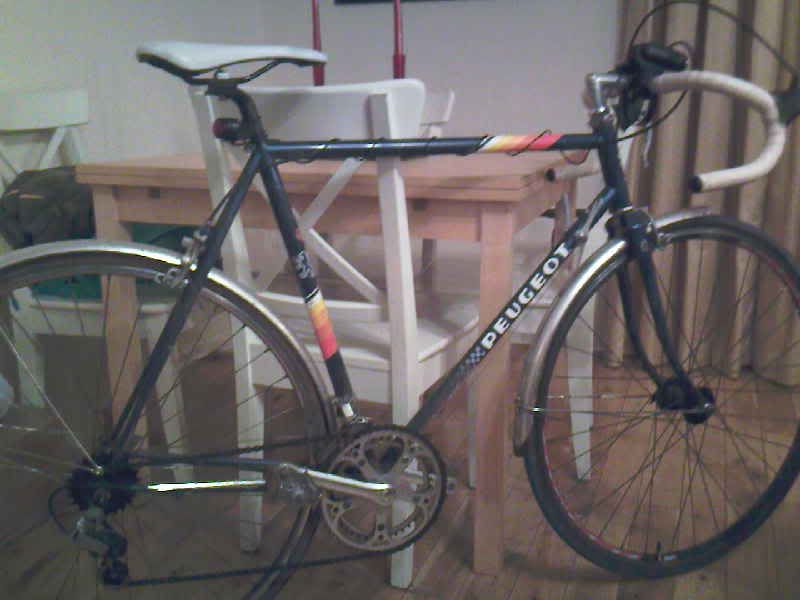 I rescued this Kalkhoff Another brand I had not heard off for my girlfriends use!
She loves Green!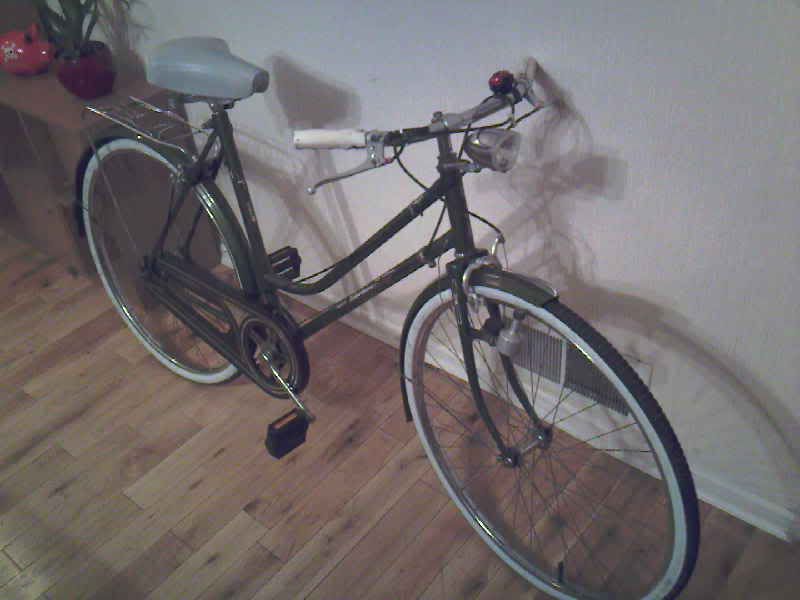 And just to keep me going!! I love riding my Olmo so much and plan to throw some money at it i decided I needed another retro bike to get to the pub on but something a little more low key!!
I bought this old Dawes frame from Evil bay for 16 squid any help recognising this bike would be a great help though im not looking to restore think moustache bars and whitewalls!!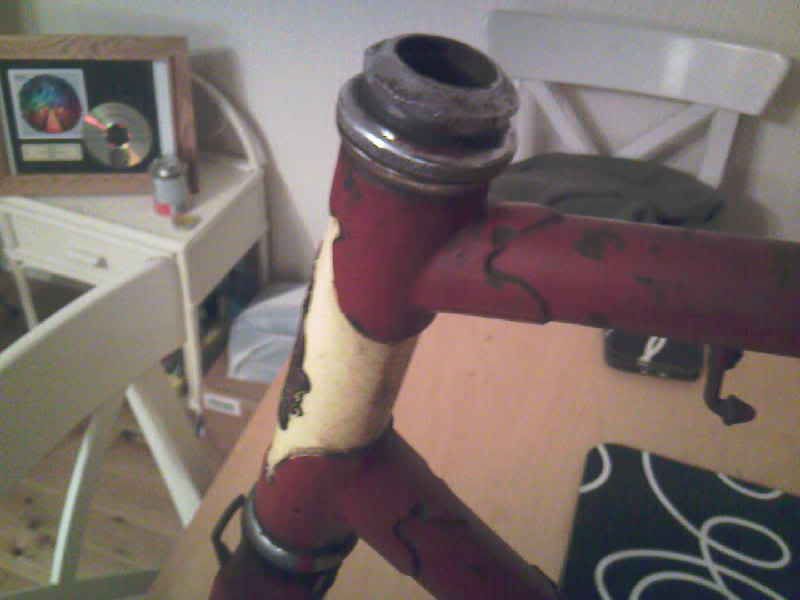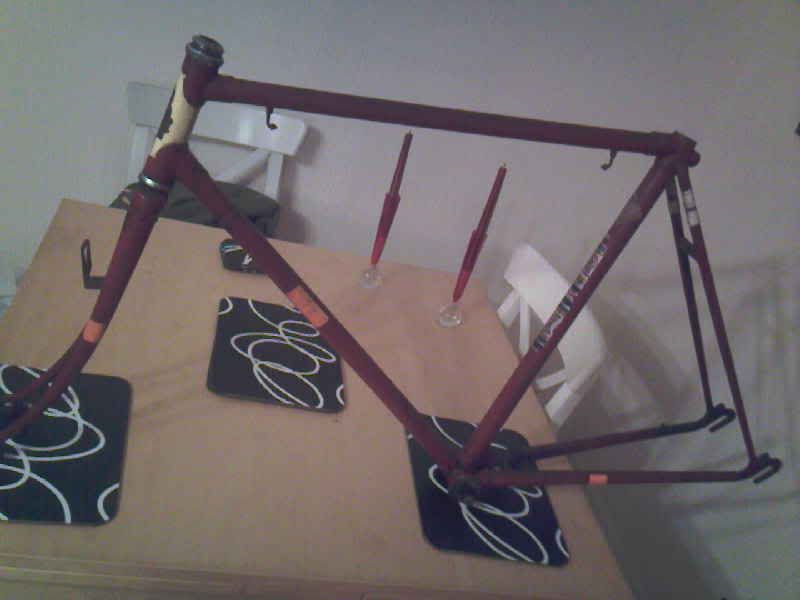 Any info on either the Olmo or the Dawes gratefully recieved!
Cheers.
Stu.