A couple of weeks ago I won this Peugeot on ebay (bit of a impulse purchase!).
Bit of a state when i picked it up it must be said. It had a mixture of Shimano 600 tricolor, Dura Ace and 105 mainly. The only reference i could find to this model is as a frameset only.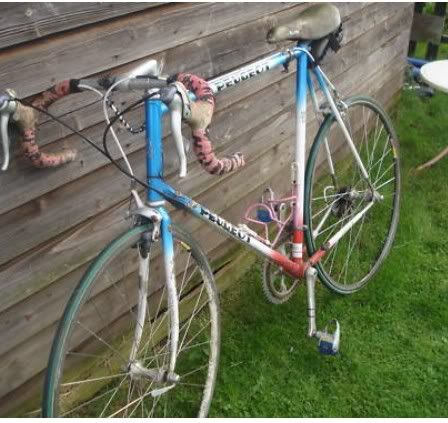 Ive sinced stripped it down completely (including stripping the forks back to the chrome underneath as the paint was flaking badly there). Touched up the paintwork where possible and Ive now rebuilt it up with parts I had, only re-using the rather nice Dura-Ace 7410 chainset (did have to buy a 103mm bottom bracket for this as its low profile). Currently weighs ~9.7kg, quite respecatable for such a large frame.
Its now a mixture of Shimano 600 (including the first indexing 600 rear derailleur which Ive always liked), Dura-Ace and RX100: (Excuse the slightly odd handlebar position i do suffer from some back issues!)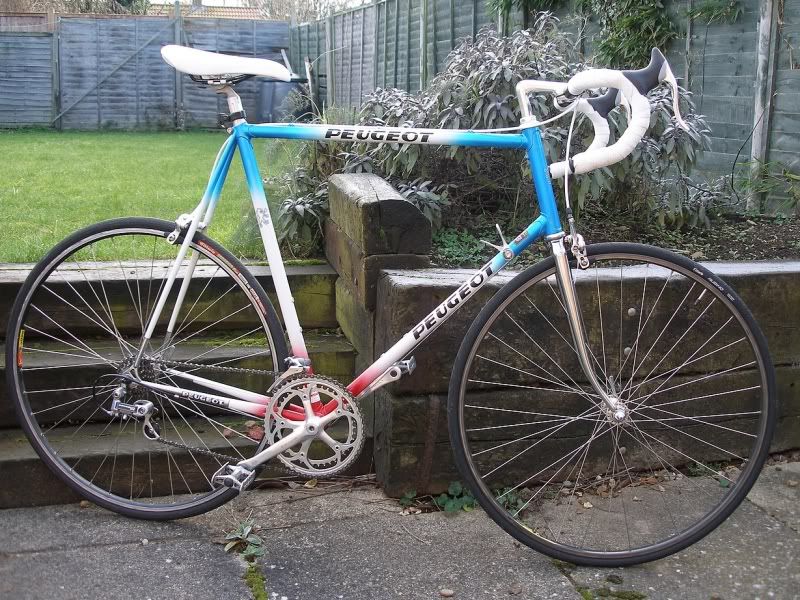 Still work to be done, would like a decent set of 3ttt handlebars from the period and the original wheels should be salvagable. It rides really well though. Might even have to have it resprayed and find more Dura-Ace to match the chainset!
( But im impatient and really wanted to see how she rode!)