Well...my first foray into skinny wheel ownership arrived on Friday in pretty good condition.
Paintwork (Metallic Mulberry) is excellent bar some minor rust veining near the bottle mounts and some scratches to the non-drive chain-stay.
Full (circa 96) Campagnolo Record throughtout bar the post which is Dura-Ace.
So far I have cleaned up the drivetrain...and attempted/failed to rebuild the rear wheel which felt a bit rough. This is now at my LBS to see if they can rebuild it.
Jobbies to do? Bar tape obviously needs replacing and I was considering natural cork finish. Oh...and I need pedals but I will probably go spds as I don't want seperate shoes etc.
Saddle is a bit sad...but it can wait.
I'll update with a finished picture when its done.
Cheers
Carl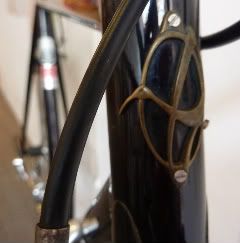 _________________
For ever changing my mind and my cars