flash wrote:
I recently inherited my Uncle John's Allin. He had it custom built in 1970 and it has some really nice touches (e.g. Quick release mudguards, etc). It was originally fixed gear but he added a SA 4 gear rear hub as his health deteriorated. I'm going to ride it as is for a while but need to raise the gearing however I am tempted to build up a fixed wheel. One challenge is it's fitted with 27 x 1" tyres and there is no clearance at the rear for a wider tyre. I've removed the gigantic saddle bag and bag support as well as the mudguards, as this'll be my Sunday best bike.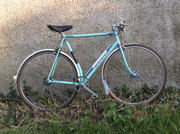 We have exchanged a few pms about this machine - very nice and unusual to see a genuine pre 1981 Allin. You could try 700c wheels,might give you some additional tyre clearance.
Rk.

_________________
V-CC member #584, co-founder of V-CC Lincolnshire section, member South Eastern Road Club. In the garage - 1987 Roberts(lugless)Audax, 1986 Raleigh SBDU Pro Super, 1984 Raleigh LU Corsa, 1984 Roberts Tourer, 1980 Allin Stan Butler Special, 1977 Geoffrey Butler(Cliff Shrubb built), 1976 Geoffrey Butler(Roberts built), 1975 Bill Philbrook(lugless)tourer, , 2 x v.early Roberts #107 & #127, 1966 Raleigh Superbe Roadster, 1964 Allin Stan Butler Special Belgique, 1951 Hobbs of Barbican S/C, 1950 Hobbs of Barbican S/C, 1947 Hetchins Super Special. MTBs - 1988 Specialized Stumpjumper, 1988 Muddy Fox Courier(Wife's).