I mis-spent a fair amount of my disposable income on my last couple of bikes only to never ride them. My Orange Dynamo was too big and my Surly was not the singlespeed road bike I actually wanted.
Click the small pictures to make big
53cm Surly Steamroller Frame and Forks
This is the '08 bike in a sort of maroon-brown colour. I loved its unpretentious looks and simplicity. I had the forks chromed and replaced the decals with pukka Surly ones. It comes with the Constrictor seat clamp and there's loads of steerer for adjustment.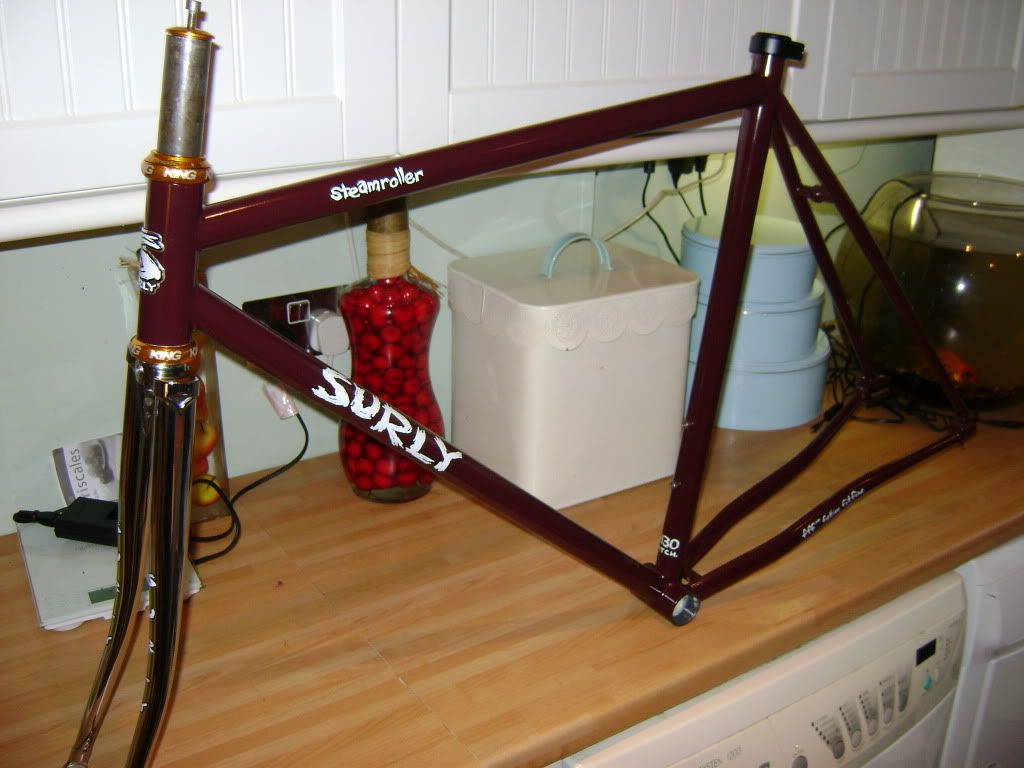 The thing about this bike is: I have barely ridden it. I've covered maybe 30 miles (possibly less...) since I built it. I realised that it was never the right frame for me pretty much immediately and it ended up in the dreaded loft. I tried to capture in the pictures that the paint on the dropouts is unmarked. The bike is in near-pristine condition.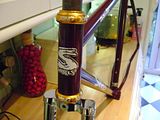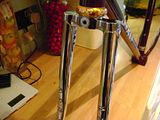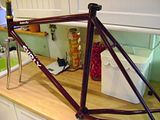 These frames still retail @ £299 and the '09 version only differs to this one in colour only. I'd like
£175
for it including UK delivery.
Please note that the gold Chris King headset isn't included in the price - this is for frame and forks only
SOLD
Gold Chris King Headset
As pictured on the Surly, this is a 1 1/8" NoThreadSet.
Please note that this was the last thing I had fitted to the frame.
I never rode the bike after it was fitted; it is unridden and hasn't seen the outdoors. Fitted but as new.
I'd like
£75
for it including UK postage.
SOLD
Brooks Swallow saddle
This is the chrome-railed version and has only completed as much mileage as the Steamroller. You can just see where I've started to make an impression on it, but it hasn't fully molded to me yet.
It is still boxed and includes a tin of Brooks Proofide.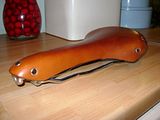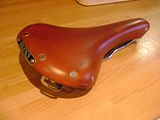 There are a few small marks to the saddle from having being indoors but nothing worth worrying about. The rails don't even look like they've ever been mounted.
These are £115 new - I'd like
£75
UK posted.
Nitto UI-5GX stem and Noodle handlebars
Anyone familiar with this sort of stuff will attest to the gleaming perfection that Nitto are noted for. The stem is 1 1/8 and 110mm long and front-loading. It has a slight rise and can be mounted either way up. The Noodle bar is the 44cm version and features a slight 'kink' near the drops, which makes for a more natural /comfy wrist postion. These are as new-looking as you'd expect after barely any use.
Hubjub are selling new Noodles @ £32 and UI stems are £50 (see
http://www.hubjub.co.uk/nitto/nitto.htm
)
I'd like
£30
for the stem and
£20
for the bars, including UK postage.
Both SOLD
Dura Ace downtube shifters
These are boxed with instructions and have barely seen action, with only a handful of rides under their belt. They index for a 9-speed double-chainring setup but can be used friction too. Shifts are as clean and satisfying as you'd expect with new Dura Ace running gear.
These are £50 new; asking
£30
posted within the UK. Pictures of these are available on request.
SOLD

_________________
Pegoretti Marcelo
Fixie Inc Betty Leeds
Wraith Fabrication Hustle
Traitor Ruben CX

Lynskey Cooper Frame for sale - medium Kona Grand Wagon Whole bike for sale Tonic Fabrication Vanishing Point - Di2 For sale